Recent Posts
61
« Last post by stocktrader on October 09, 2016, 09:08:51 AM »
Hello,

I'm trying to find a software to play with a graphical interface on Windows or Mac.
It seems to me that most of the software are not maintained anymore and their download link is broken.
3dFIBS seems gone... Many backgammon server are gone as well....even the famous one from GOTO software is not accepting any 'paid subscription' any more and probably will close.
Seem that FIBS is the ''last server standing'
Is the interest in this game vanishing?
Kind regards,
Marco - StockTrader
62
« Last post by TimDugan on September 23, 2016, 09:59:00 PM »
hello Terje ... There are a few people from FIBS that come here to FIBSBoard on occasion, but not enough on a regular basis.

Please keep up the good work at BackgammonStudio, it is very well done!

63
« Last post by PillowFighter on September 15, 2016, 11:41:34 AM »
Hi!
Today I added another training track, Bullseye! and realized it has been a while since I have updated the version number. So here is what has happened recently on Backgammon Studio:
Backgammon Studio 3.2
Improvements since 3.1:
New actiontags:

Blot contact or not.
Blot positioning.
Homeboard blot or crossover.
Cover which homeboard blot.
Make which homeboard blot.
Hit blot in homeboard or not.
Increase directshots or not.

New training tracks:

Bullseye! Hit a blot in your 5 point board or pass on this opportunity?
Coverup! Cover which homeboard point? Not always as obvious as it may seem!
Volunteer! Volunteer a directshot or play it safe? Sometimes the answer is surprising!
Last hope! Take a last attempt at avoiding gammon. Worth a try!
Contact! Try to maintain contact with your back blots or don't worry about that?

Play as with PR summary.
Tournaments overview.
My matches versus opponent.
Scaled chat homescreen.
Sound settings.
Access buttons to privately shared databases.
Some images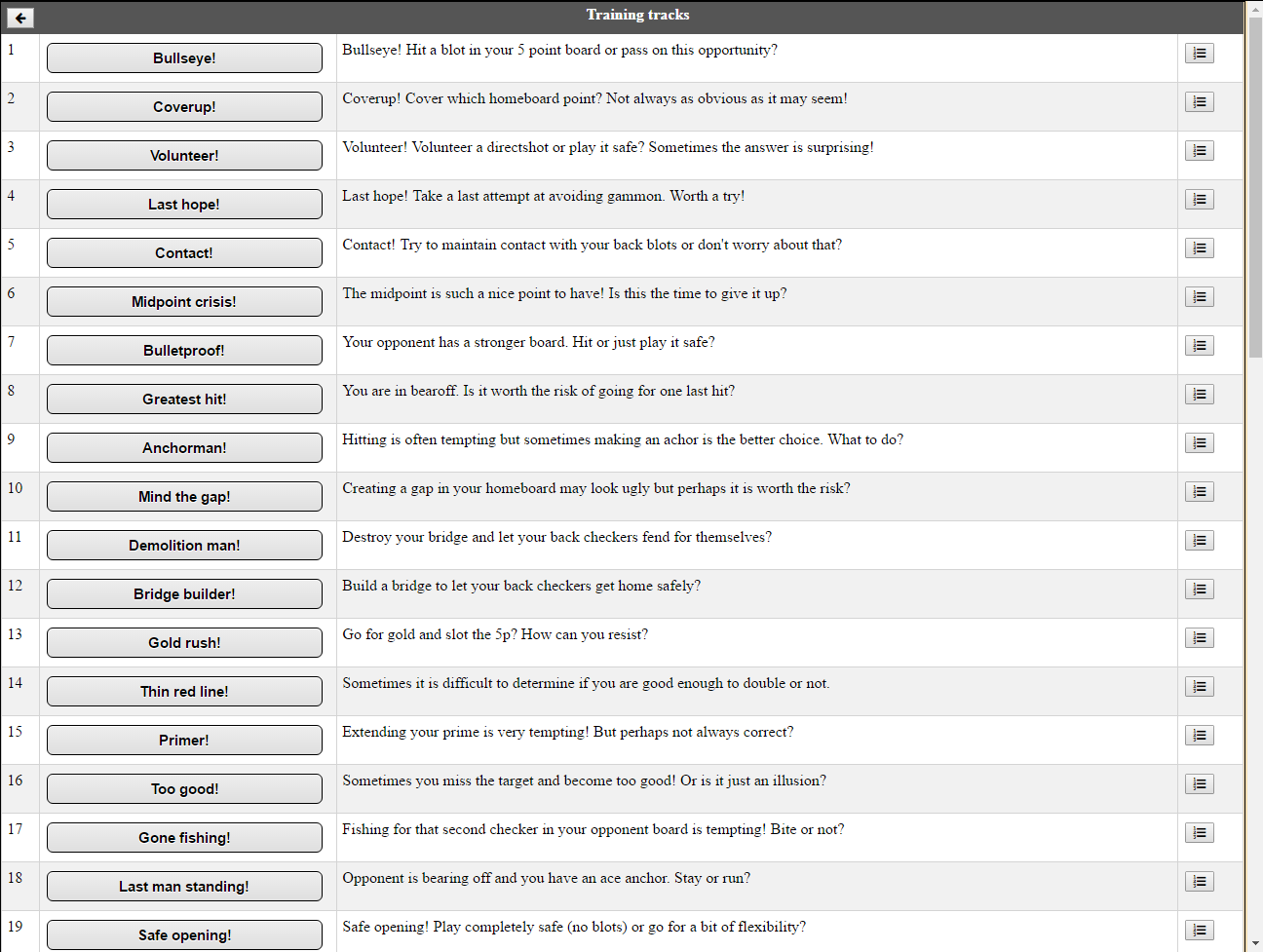 An ever growing number of training tracks! Current total is 52.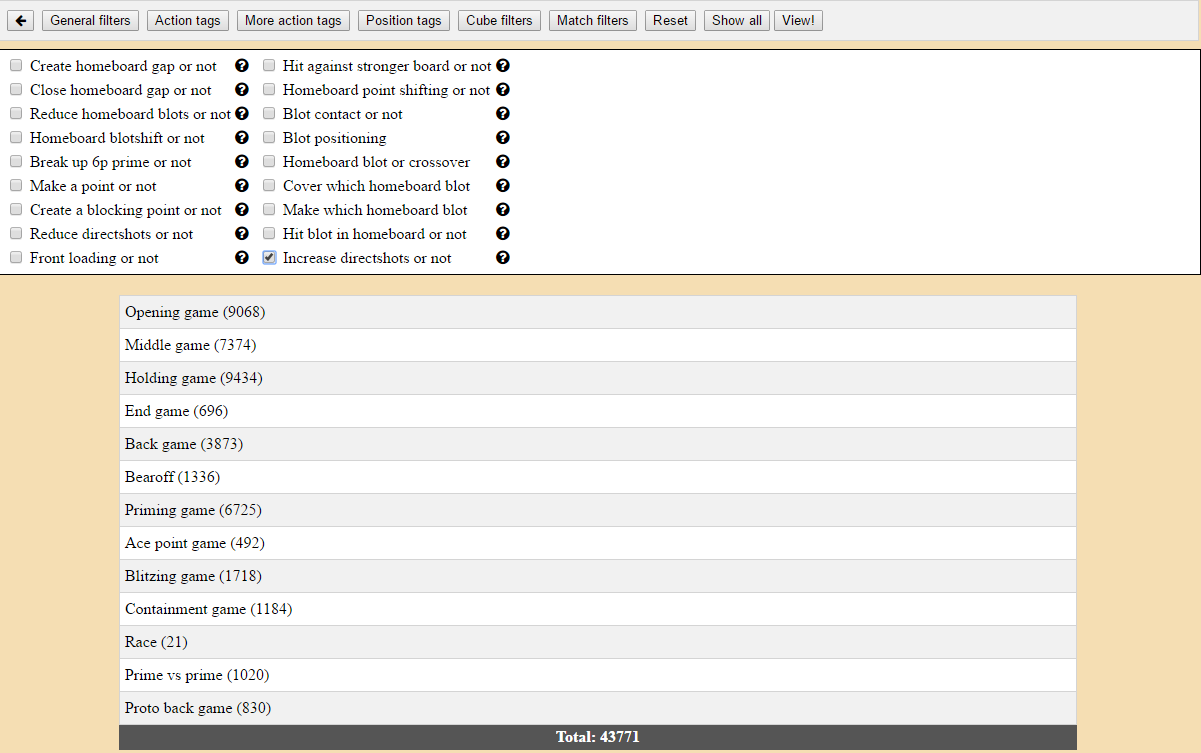 The number of actiontags keeps growing too. Can't get enough of these!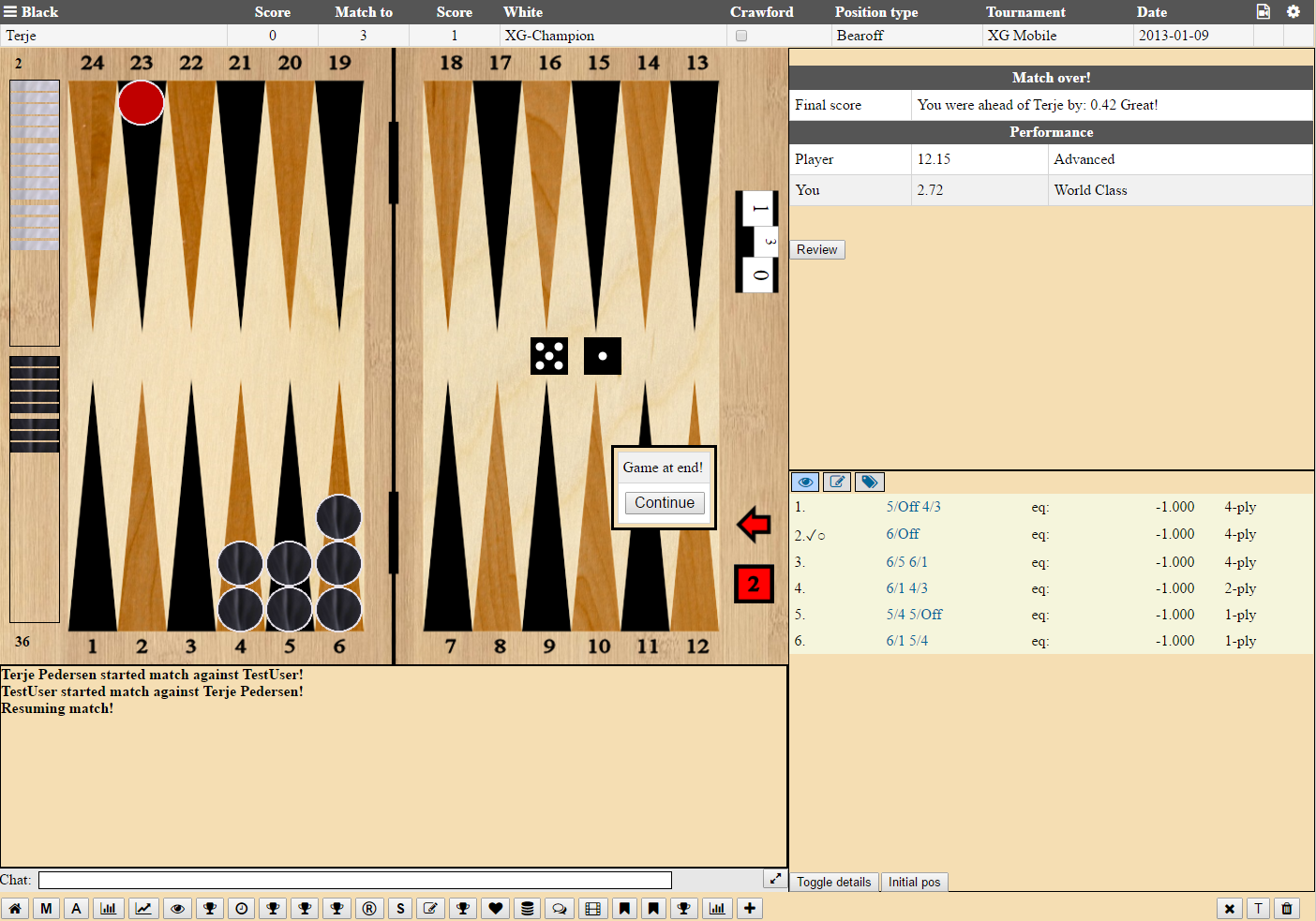 MCG wanted to see a PR comparison at the end of playing through a match in 'Play as' mode (play as one of the original players in the match). I had to try this with a match I played a few years ago (while commuting to work). It was surprisingly fun to compete against my former self!
[With your private database you can do this too!]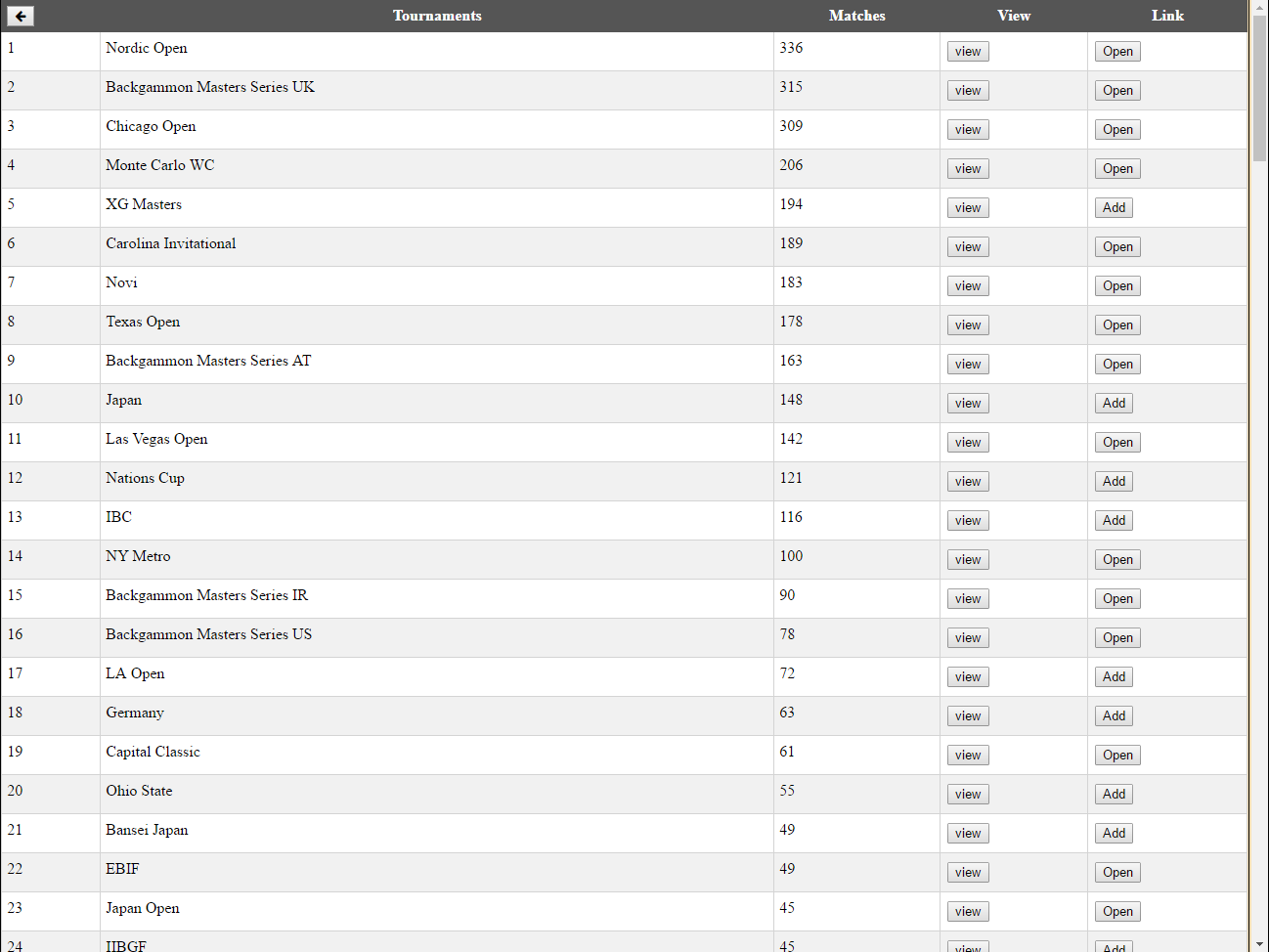 Which tournaments generate the most matches? The biggest change is Carolina Invitational that jumped from 11th to 6th place after a heroic transcription effort by Michelle Steinberg and her transcription team! Well done!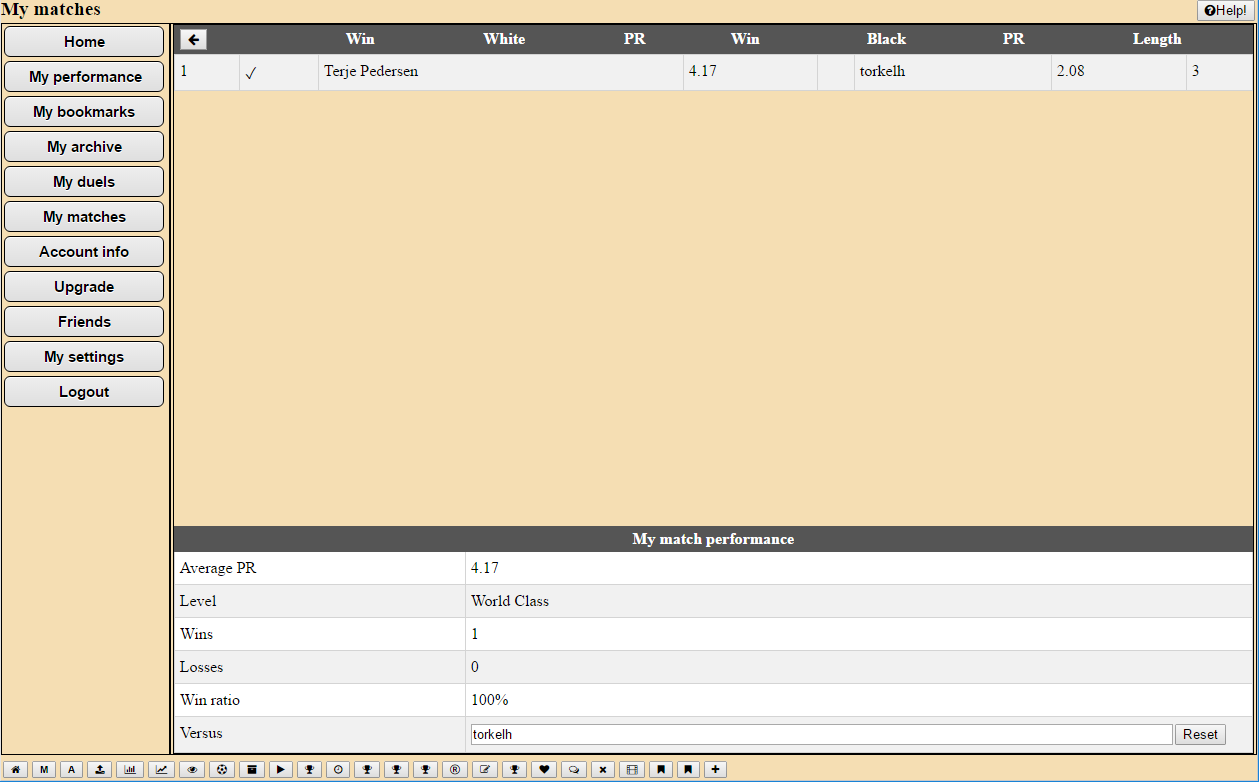 In your online matches overview you can now find out how well you have played against a particular opponent.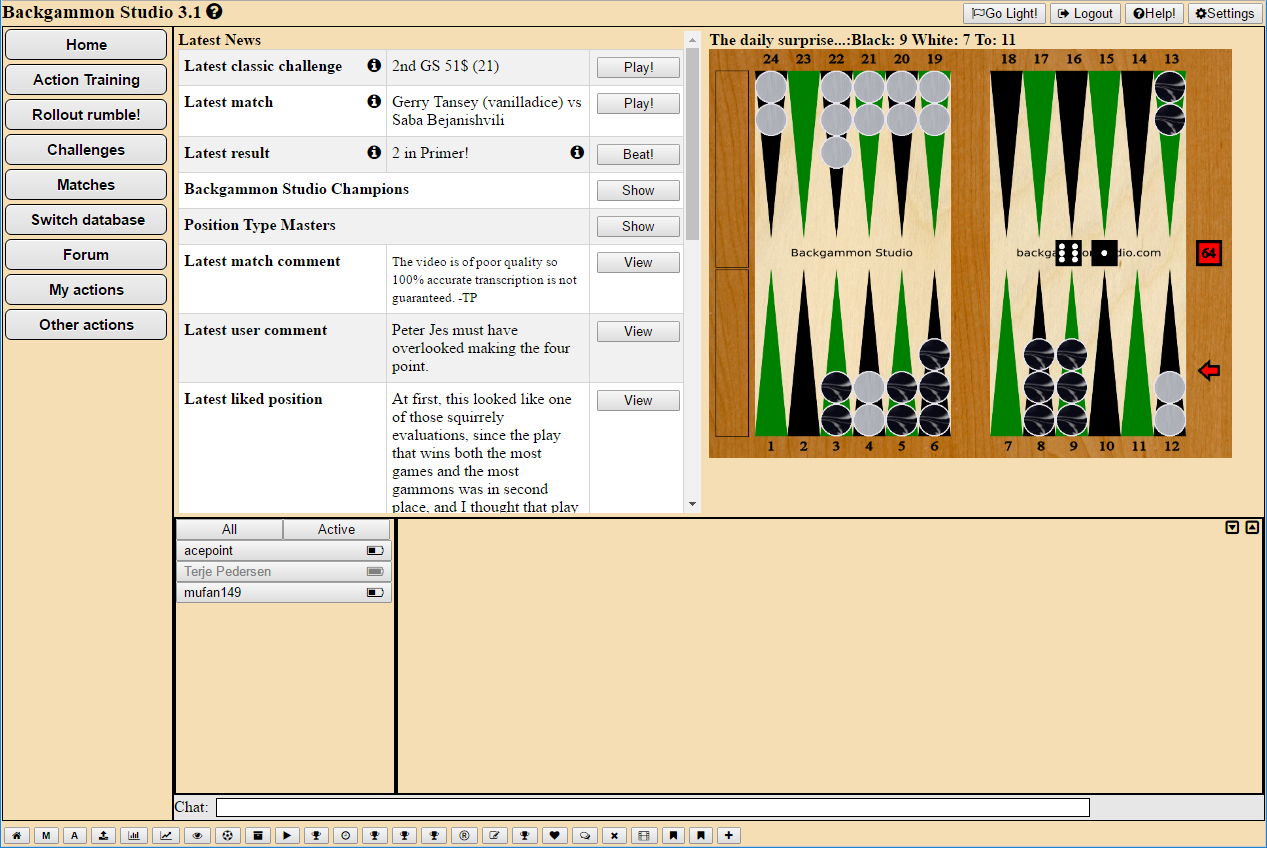 I find this homescreen option very useful (dynamic update of results in the latest news section and updates in the chat log) but it might not fit all screens so you can adjust the size of the chat area.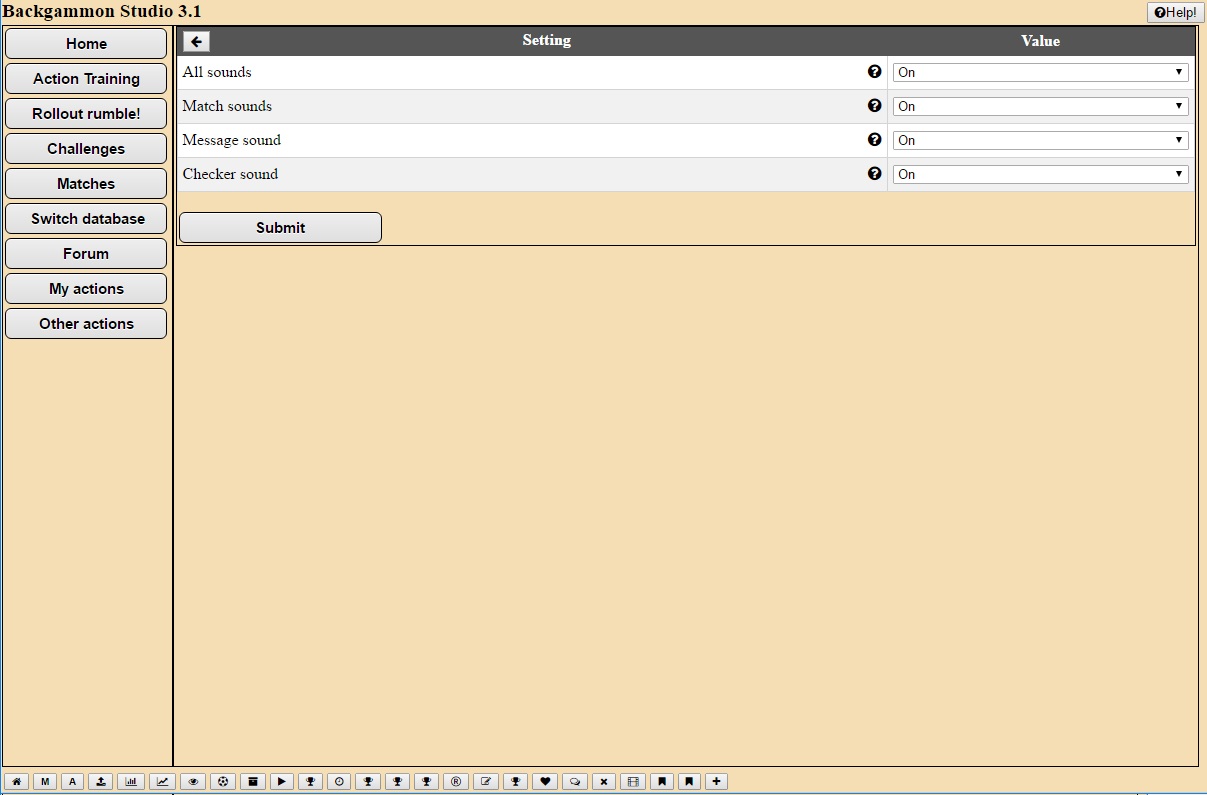 I suspect the sounds that Backgammon Studio uses can sometimes get a bit annoying so you can now turn off the ones you don't like.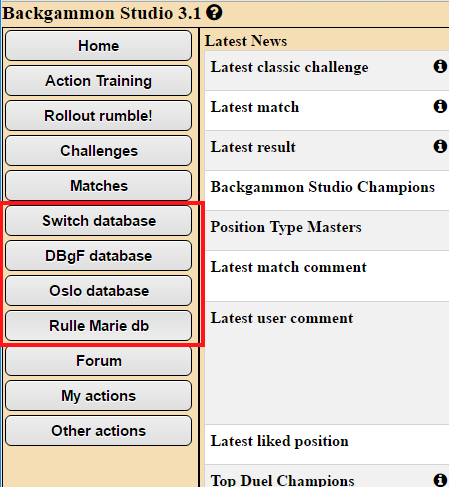 If you have access to a privately shared database you should now see an access button in the main menu so you don't have to navigate to the databases section and then select your database from there.
In other news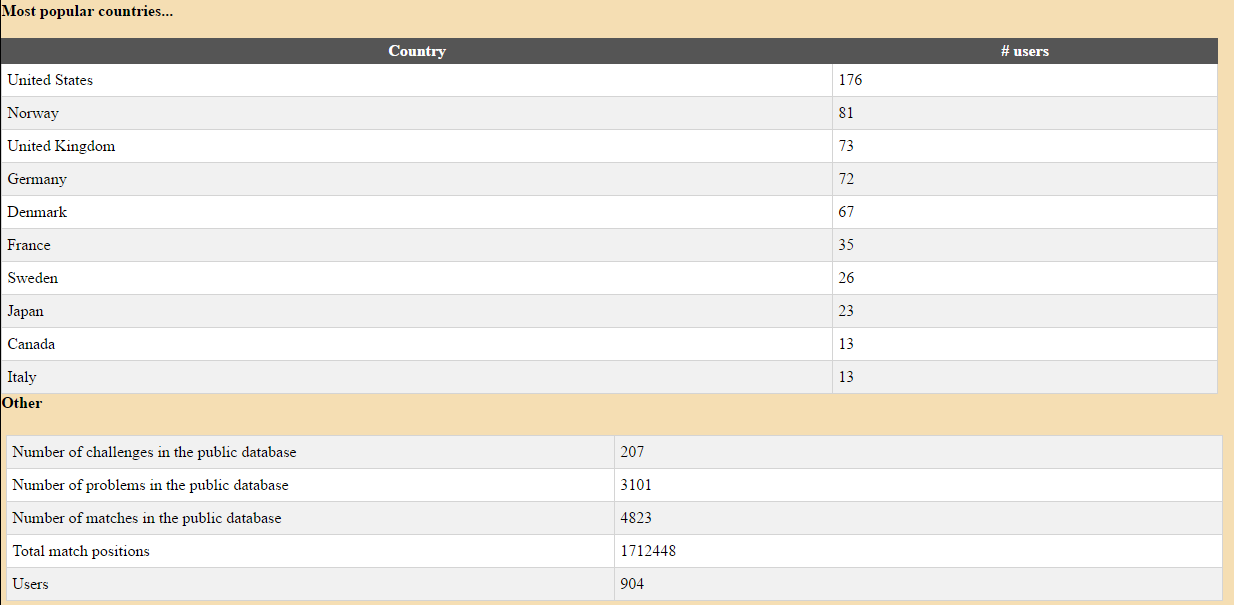 Yesterday Backgammon Studio passed 900 users! I'm super happy about that but surely there are more backgammon players out there?
The US is getting a pretty good lead here but there is a chance to fight for second place!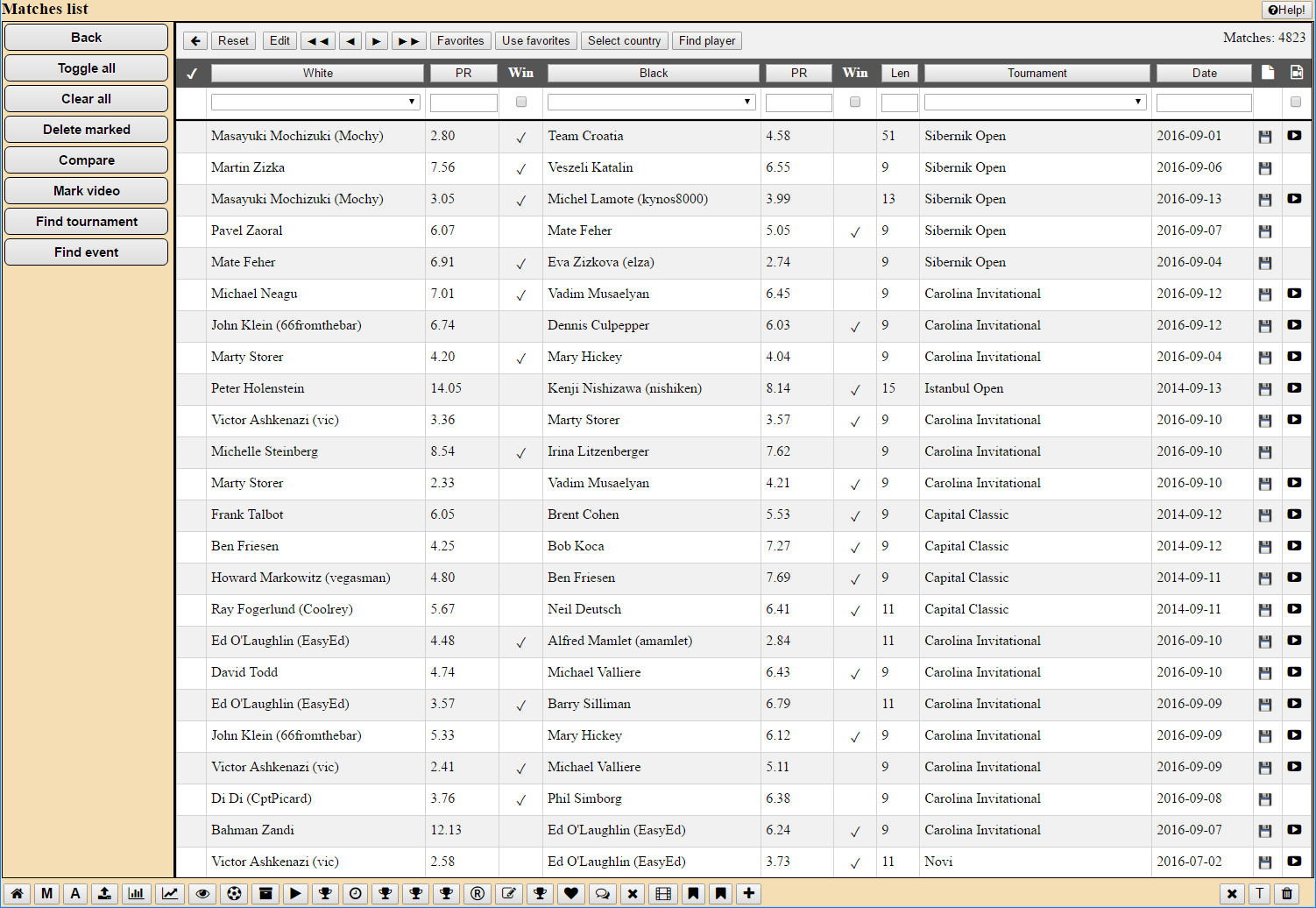 The number of matches in the database keeps growing and is now at 4823 which isn't too bad! I also got a few matches from the Sibernik Open that was recently held in Croatia. This includes the 51 point match that Mochy played against the croatian team. Thanks Mate Feher!
Michelle Steinberg, Rick Janowski, Lawrence Powell, Robert Wachtel, Achim Müller, Kevin Finch, Michael Nielsen, Mochy and possibly more have all sent me matches. A big thanks to everyone!
While writing this posting I got a few emails about match transcriptions uploaded to Backgammon Studio from Janos Csendes. Awesome! Thanks! If you enable email notification of this event you will also get an email whenever this happens.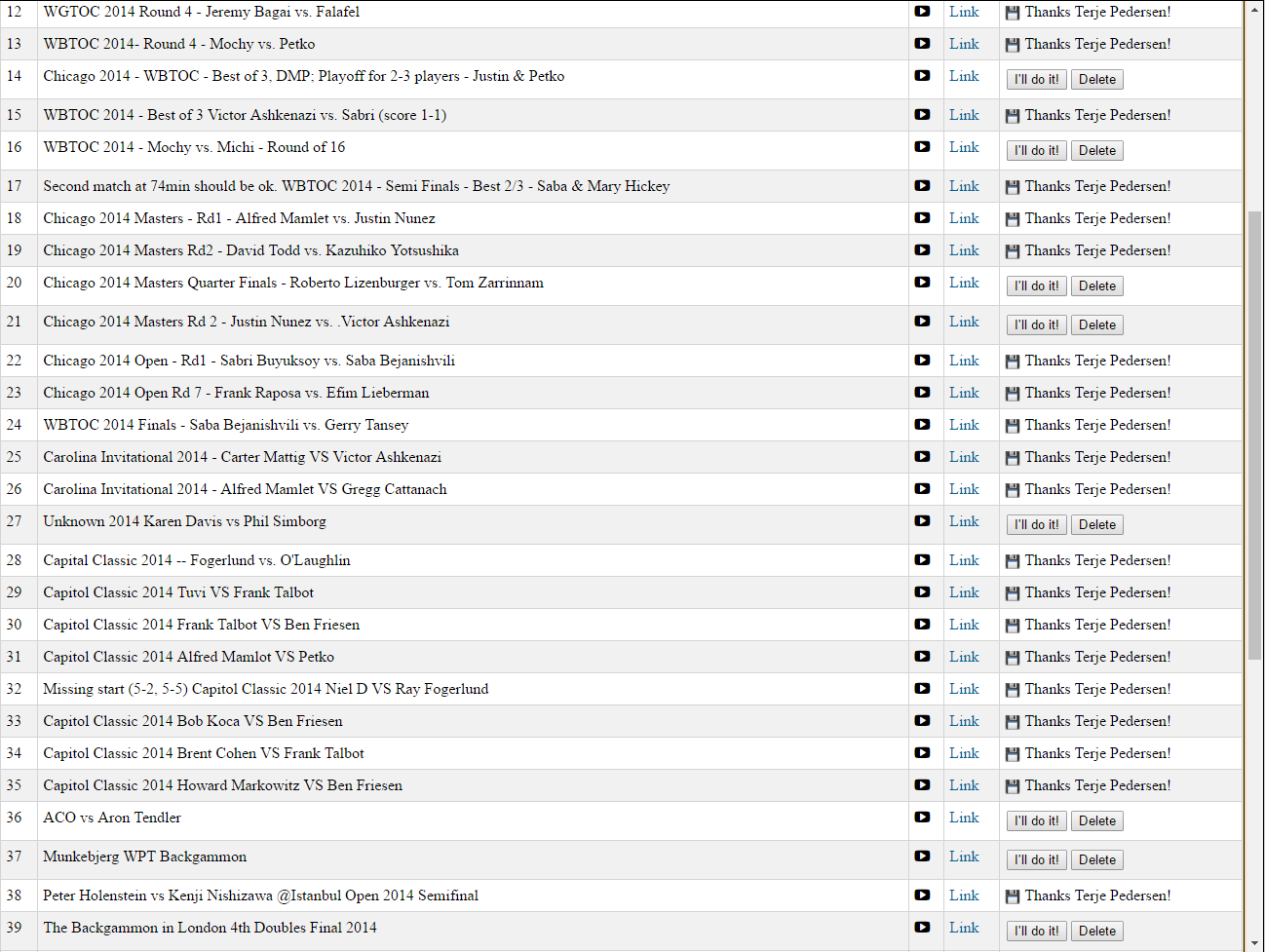 I suspect I have transcribed a few matches myself recently and currently working my way through 2014.
I am in the process of setting up a new server (more memory, cpu, disk) so Backgammon Studio will become unavailable for a few hours (perhaps longer) sometime next week. I haven't tried this before so wish me luck!
http://www.backgammonstudio.com
The swiss army knife of backgammon!
Best regards,
TP
PS. I don't think I have ever seen a reply to any of my postings here. Very mysterious!
64
« Last post by stog on September 03, 2016, 06:04:54 PM »
added some of the things we had on the old forum -- but things that needed some hacking, one was the mod that allows us to display and read the fibsboard forum matches from the first game of a match (although when they were live and underway, their most recent posts were ordered at the top.

also added a spoiler tag for posts, and re-installed the Membermap.

another was this
65
« Last post by Lordb on September 02, 2016, 12:13:27 PM »
I Agree!! Parlorplay have the 20th century graphic and looks really ugly.
But to avoid this error again so i can logg in with the one acc from different server... it's okey
anyway 2 days ago i tried to play backgammon online on Parlorplay from my smartphone.
I muss keep looking a way playing from my android device..

66
« Last post by maria on September 02, 2016, 11:52:07 AM »
I strongly advise using Fibzilla for both your accounts. ParlorPlay is just AWFUL!

67
« Last post by Lordb on September 02, 2016, 11:16:52 AM »
Hello maria,

yes, indeed. I logged In for 1 min yesterday but after that I coudnt logg again.- with both acc i got this error.
Your idea was really good.Now I can logg into parlorplay with this acc and Fibzilla is working with the other one.
I will keep idle while loggedIn for a while till thing are normal again.
Thank your for the fast support!!!
Have a nice day!!
68
« Last post by maria on September 02, 2016, 10:47:59 AM »
Lordb, I was just on FIBS and it shows you logged in yesterday for one minute. Also I got that same notice when I logged out. It just means you left FIBS. Just log back in again and play or stick around a bit. But you WERE there, if only for 1 minute.

Information about Lordb:
Last login: Thursday, September 01 05:44 EDT from x4d0b9fe7.dyn.telefonica.de
Last logout: Thursday, September 01 05:45 EDT
Not logged in right now.
Rating: 1531.62 Experience: 47
No email address.
69
« Last post by maria on September 02, 2016, 10:25:27 AM »
Not sure why you are getting that, but have you tried logging in using a different client other than Fibzilla? Might be worth a shot.

70
« Last post by Lordb on September 02, 2016, 09:13:37 AM »
hello,
I got the same error when I tried connecting with my second fibs acc.
- this error appears.
Since 16 hours I can't connect with any acc
IT'S A FIBSASTER!