Recent Posts
91
« Last post by erikgalstian on February 19, 2017, 07:43:11 PM »
Thanks for your work.
92
Hi!
Backgammon Studio keeps improving and today I have updated the version number to 3.6 with these fine improvements:
Backgammon Studio 3.6
Improvements since 3.5:
New actiontags:

Slot the 7 point or not.
Outfield slot or not.
Opponent outfield slot or not.

New training tracks:

No hitter! You are far behind in the race (>40) and now you can hit! Surely you must hit! Or?
Ante up! The stakes (cube) just got raised even more! Perhaps not part of the plan but what to do?

10 new timed training tracks.
Layout overload! You can now put together the home screen in any way you like with most sections available on Backgammon Studio.
Week in review! Upload your most recent matches and get a quick look at recent errors.
Edit/delete buttons are now visible in comment areas.
You can now choose between 4 different cube graphics. Amazing! :-)
You can now see if any live matches are being played (observe option not included yet..)
Backgammon Studio now uses its own alert/confirm dialogs to prevent blocking of cube handling if user has disabled all browser popups.
You can now copy text from friend chat dialogs. Suggested by tnt-foxtrot.
Server statistics section have been 'dialogified' and also shows number of completed online matches.
Friend section has been 'dialogified' and friend requests have been made easier to handle.
Easy access to users list and serverchat from the header on the home screen.
Easy swap between users list and friends list.
Champions seciton has been 'dialogified' and also added average PR highscore list.
You can now see details on how many online matches are played each day on Backgammon Studio.
Rematch button - suggested by EbiKord, NCMC and others.
Match/Duel challenges now expires after 3 minutes. Suggested by Hall.
You can now disable the chat notification as it seems to be a problem on Mac/Safari.
Add a note directly when bookmarking without leaving challenge.
Showtime! section was renamed to 'Online matches!' as the old name was perhaps a bit obscure. The section is a bit obsolete as you can access the same info in the header. But it has been updated with more info making it more useful again.
Black&White board graphics support.
Completed online matches dialog now also contains how many completed matches you have. Suggested by Hall.
Missed cube EQ is now added after each game instead of at the end of the match.
You can now get an overview of which training tracks you have tried and which you have yet to try in my performance section. Suggested by Torkel.
Bugfixes:
Pick&pass wasn't displayed correctly when displaying answer in challenges.
Online matches longer than 7 points didn't work.
Some images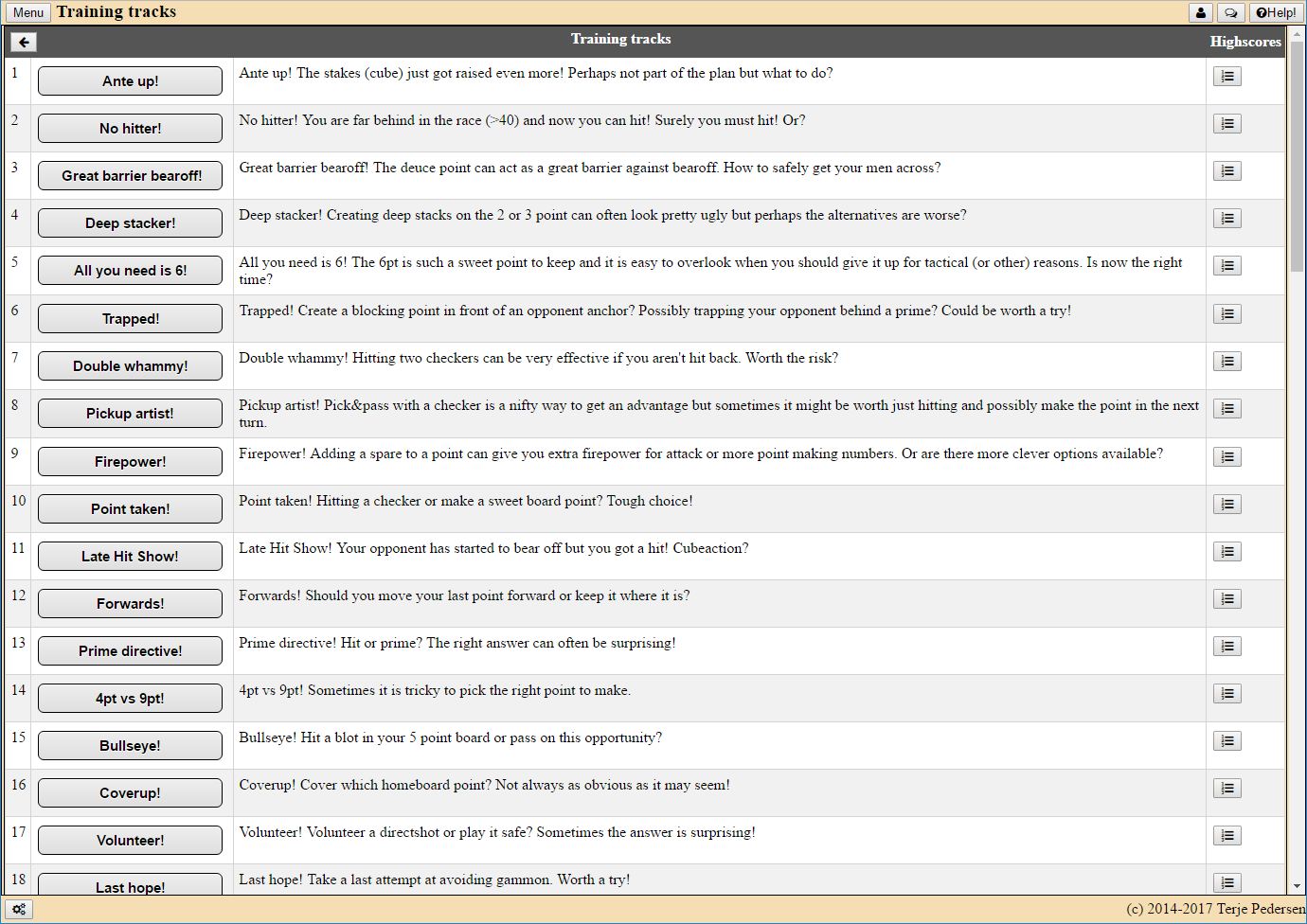 New training tracks are always fun to try out! Recube action (Ante up!) was suggested by Daniel Sørensen. Thanks!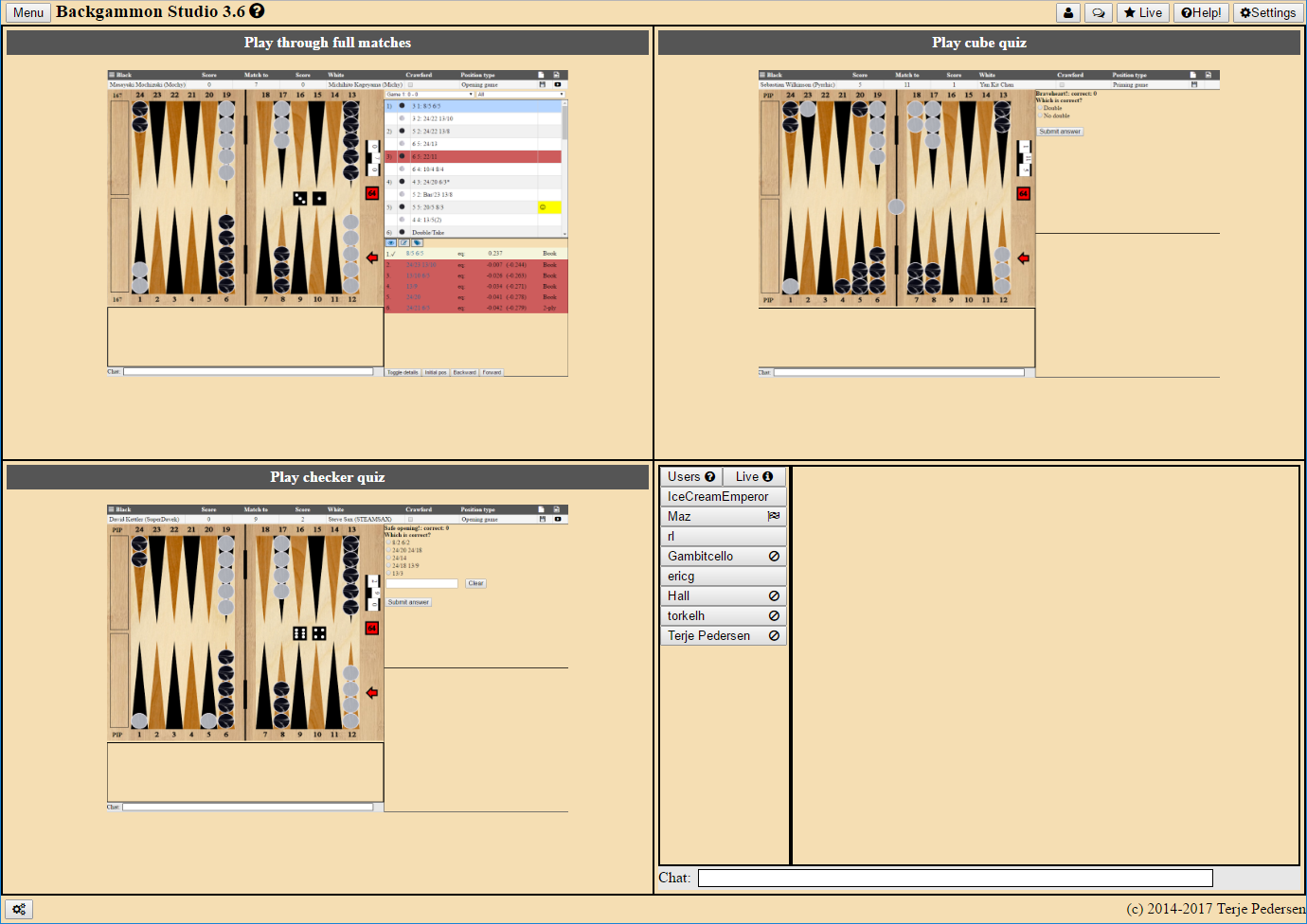 The light home looks deceptively similar to the old one but it has learned a new trick which you can uncover with the cogwheel icon in the bottom left corner.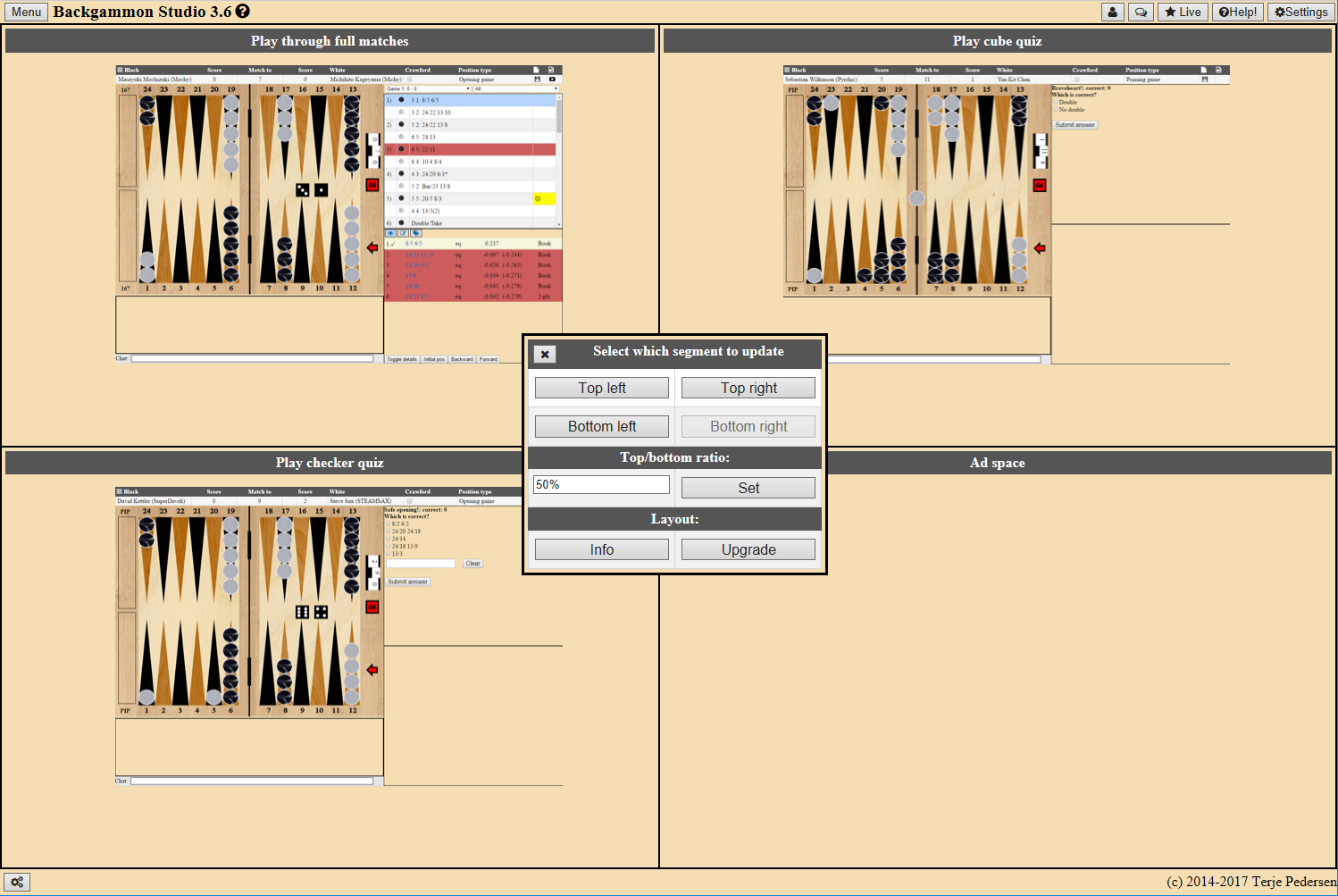 What is this then? You can now change what is displayed in each quadrant (non premium users can't change the last quadrant.). Click on one of the buttons that identifies one of the quandrands and you'll see: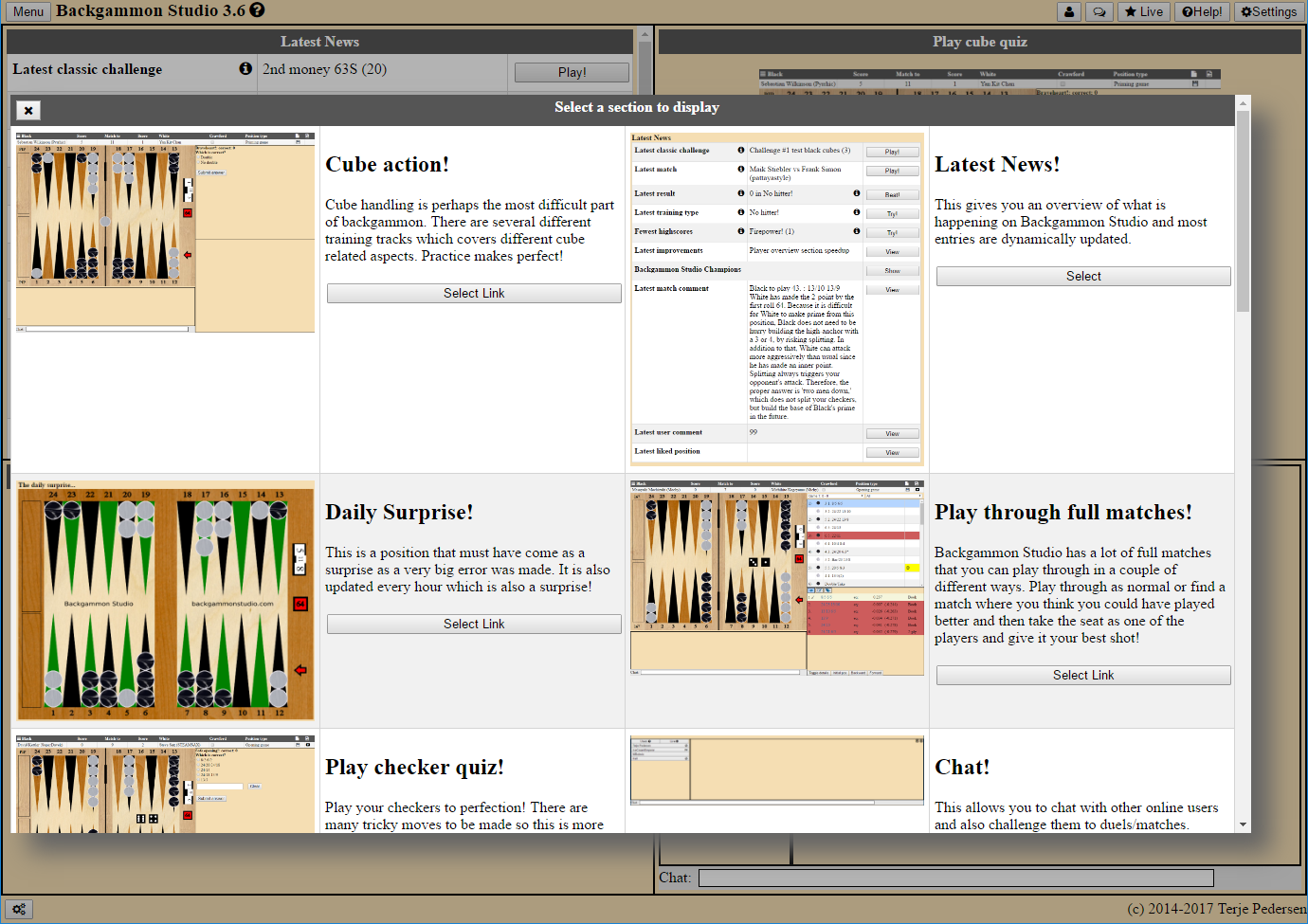 a lot of different sections you can place in this quadrant. This is also a nice overview of the different sections of Backgammon Studio although not all are included.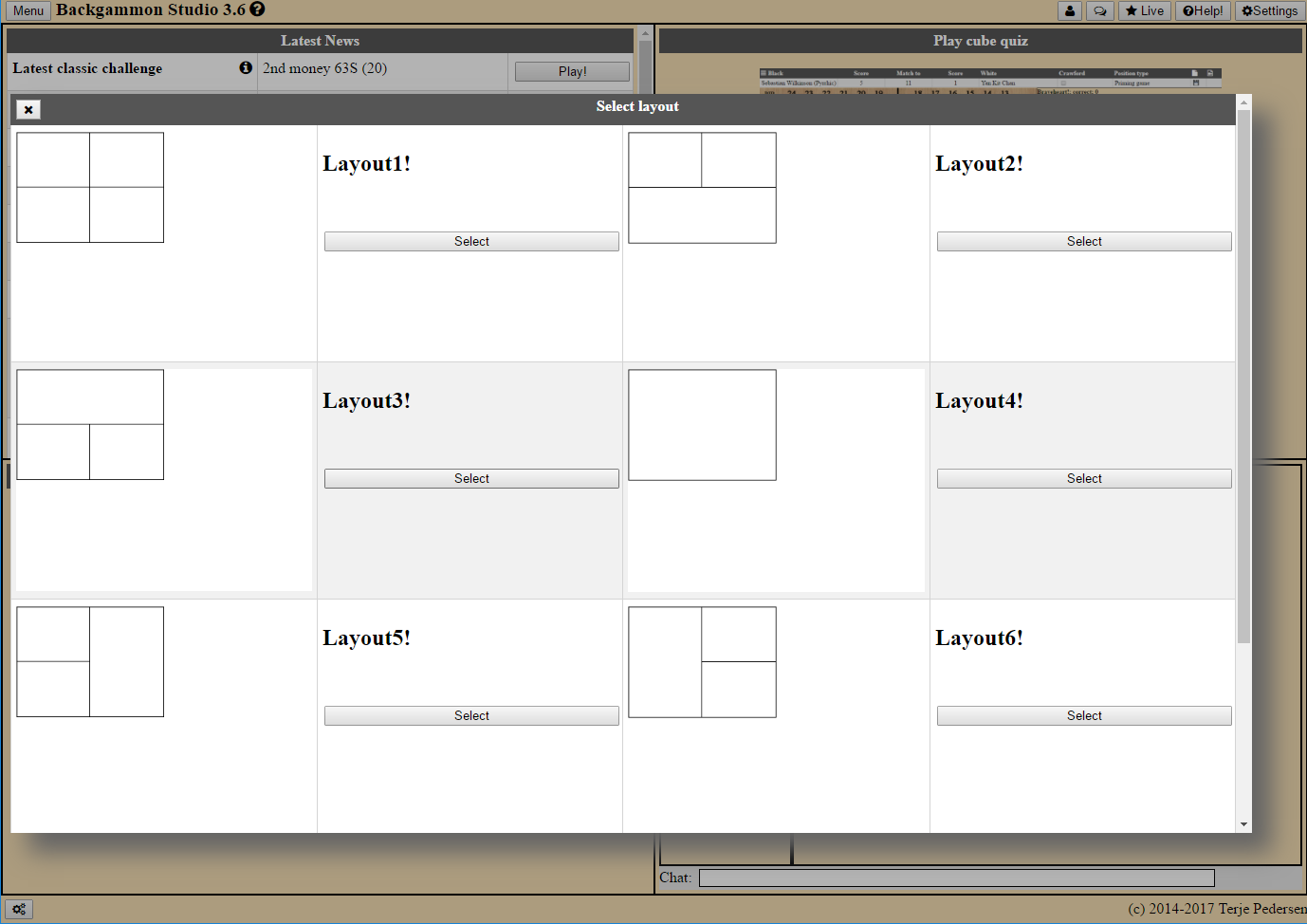 You can even go one step further and select what kind of layout you like. So what can you use this for? Well, perhaps I went a bit overboard when I got this idea and you probably shouldn't need this level of customizability (I can't imagine any other site has done this!) but if you're primarily interested in playing online matches you could change the home screen to look something like this: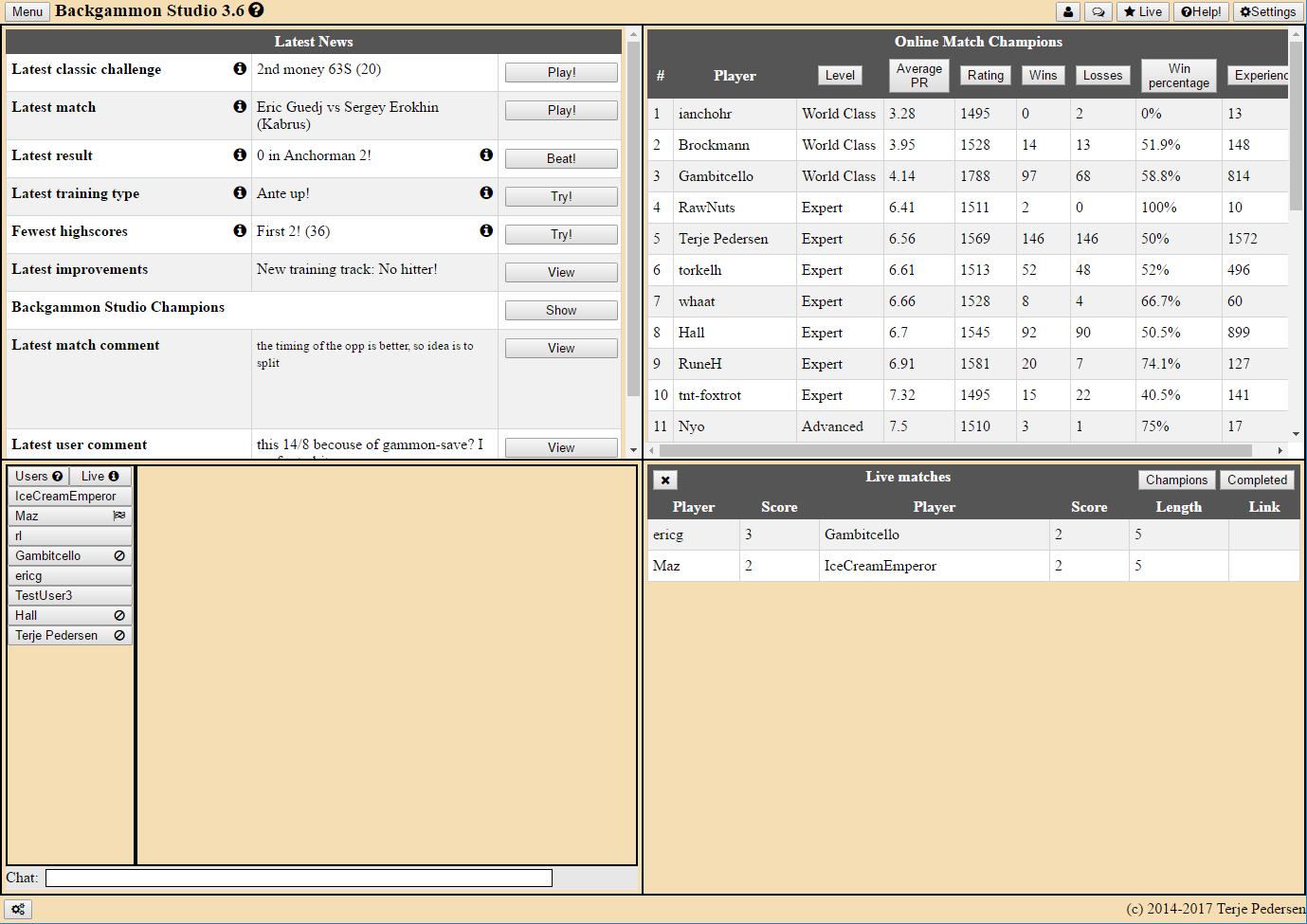 or if you don't care much about the latest news you can get rid of it and expand the bottom chat area instead: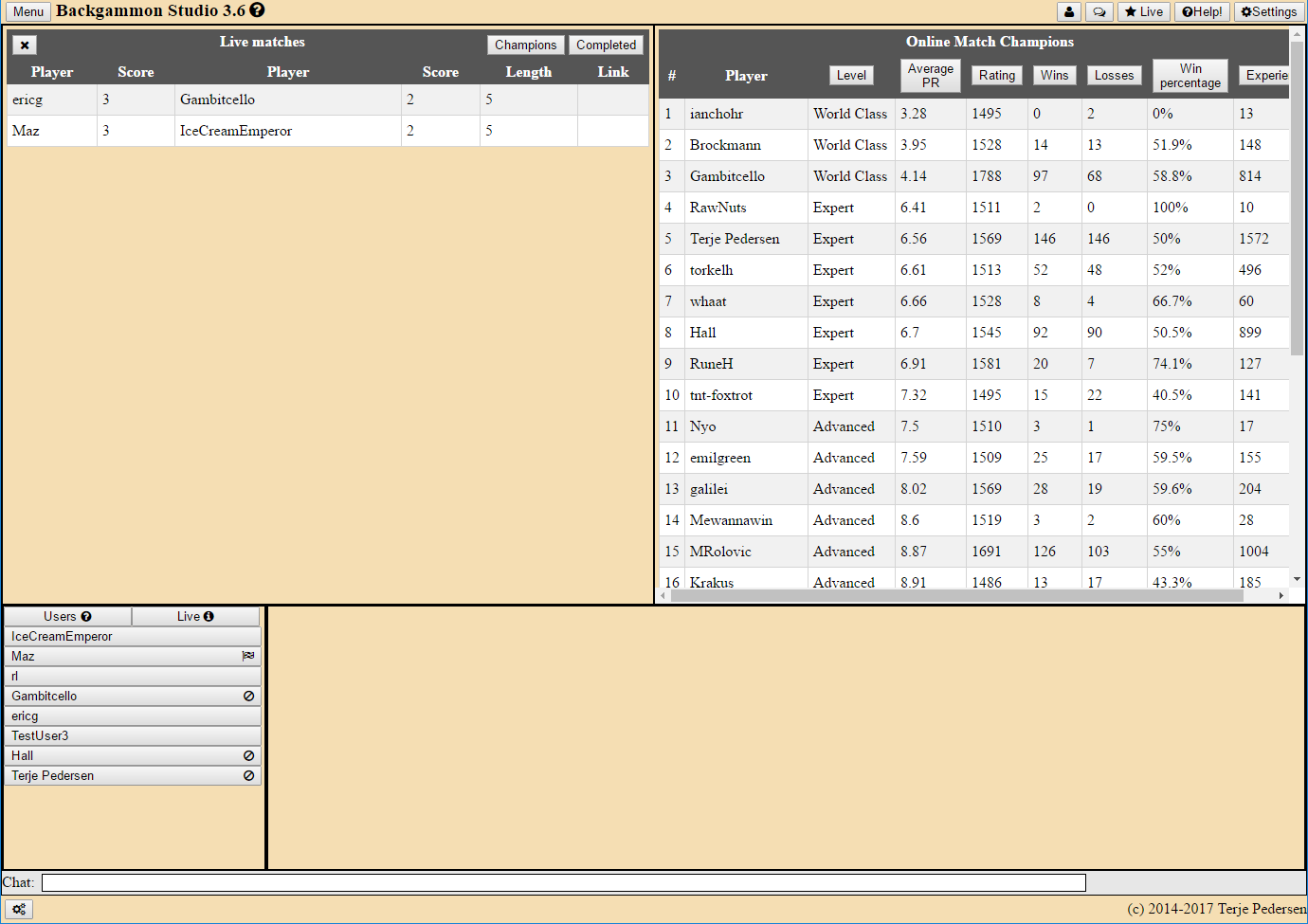 And if you're interested in other aspects of Backgammon Studio you can play around with other alternatives.

In your private database there is now a Week In Review section where you can quickly take a look at your most recent errors.

You can also exclude correctly answered positions and just focus on the ones that you haven't managed to answer correctly.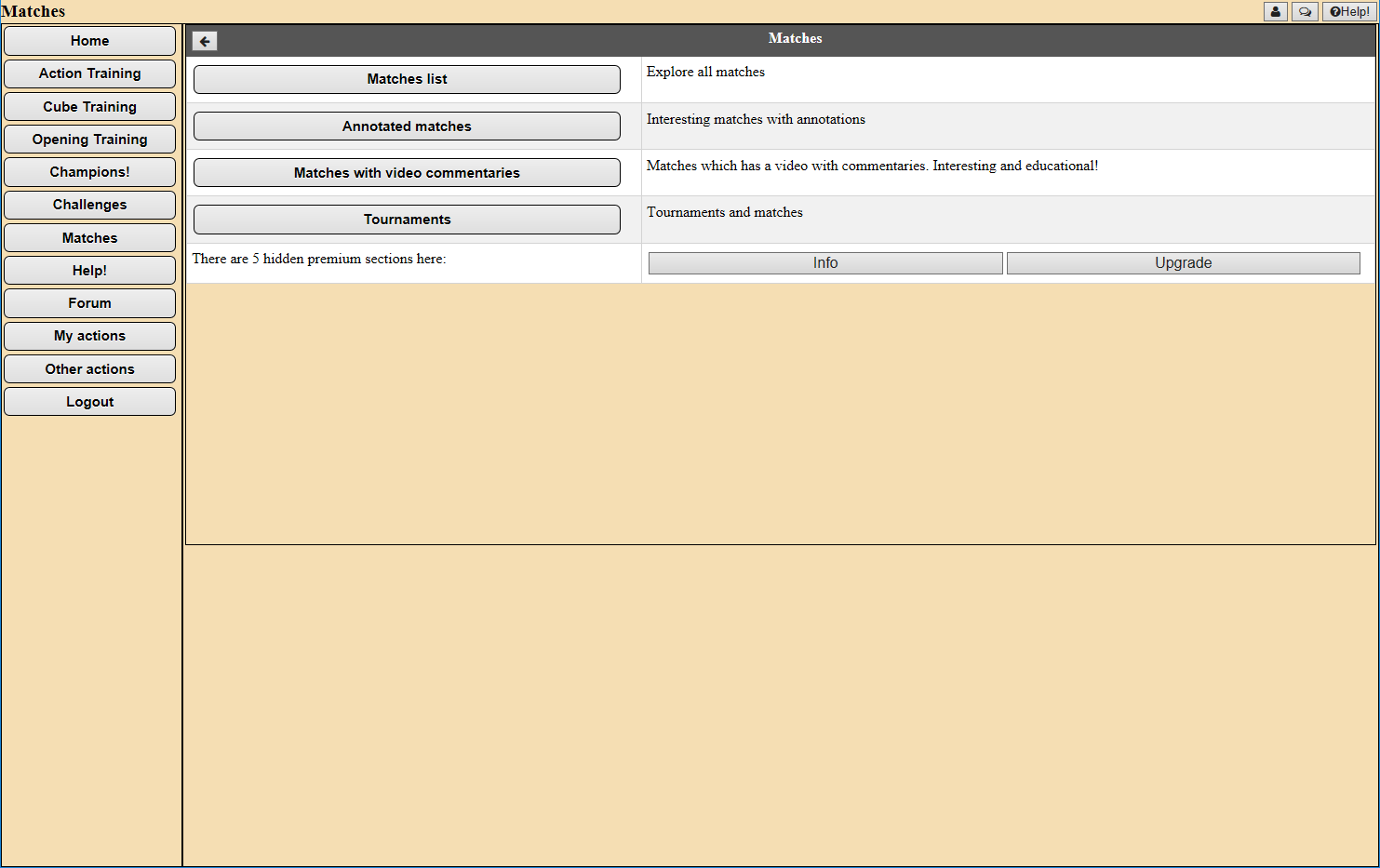 Some sections now display information about the hidden sections you will get access to as a premium user.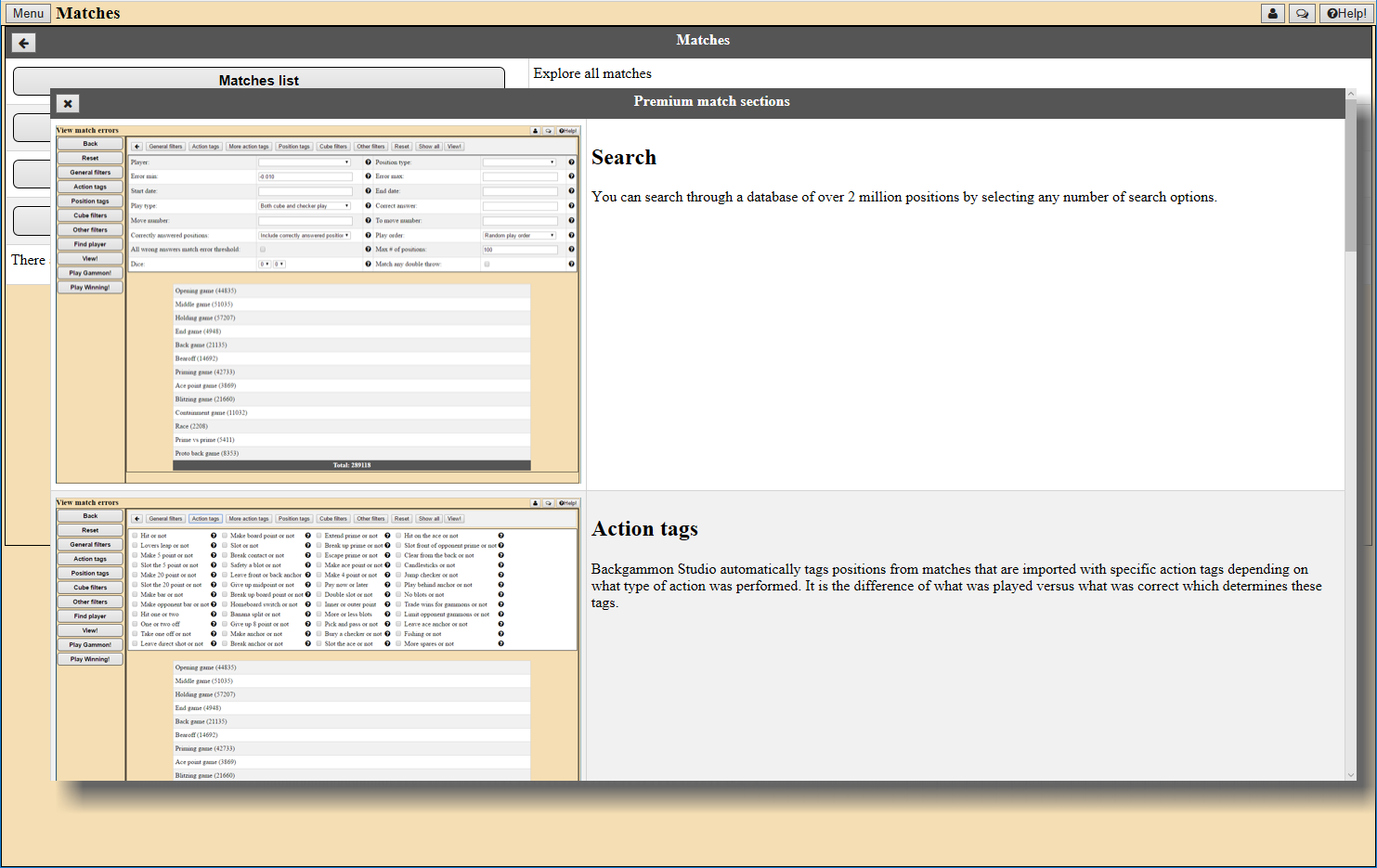 Always nice to know what you are missing out on! :-)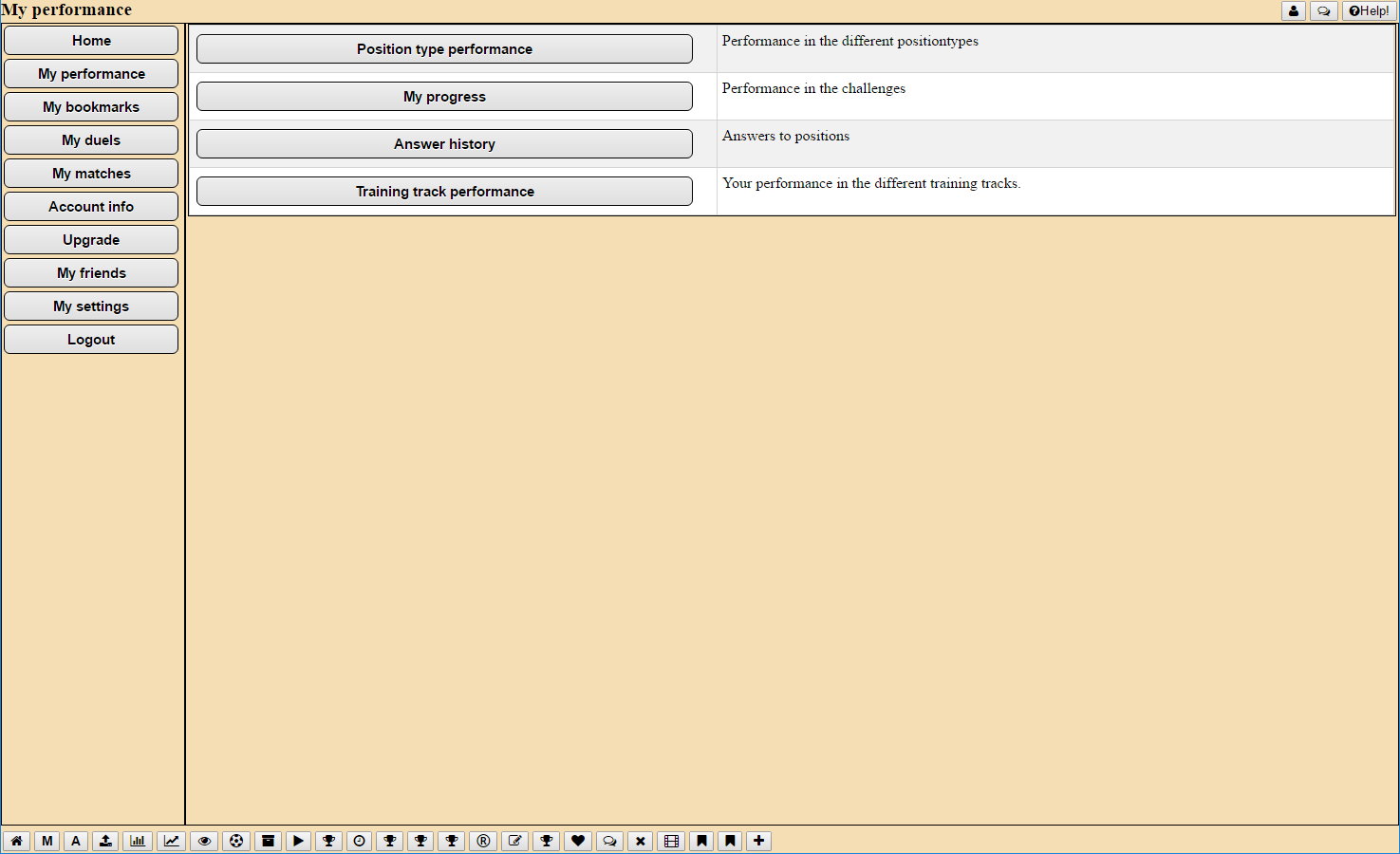 There is now a new subsection in the my performance section that will give you an overview of all training tracks and your performance in these: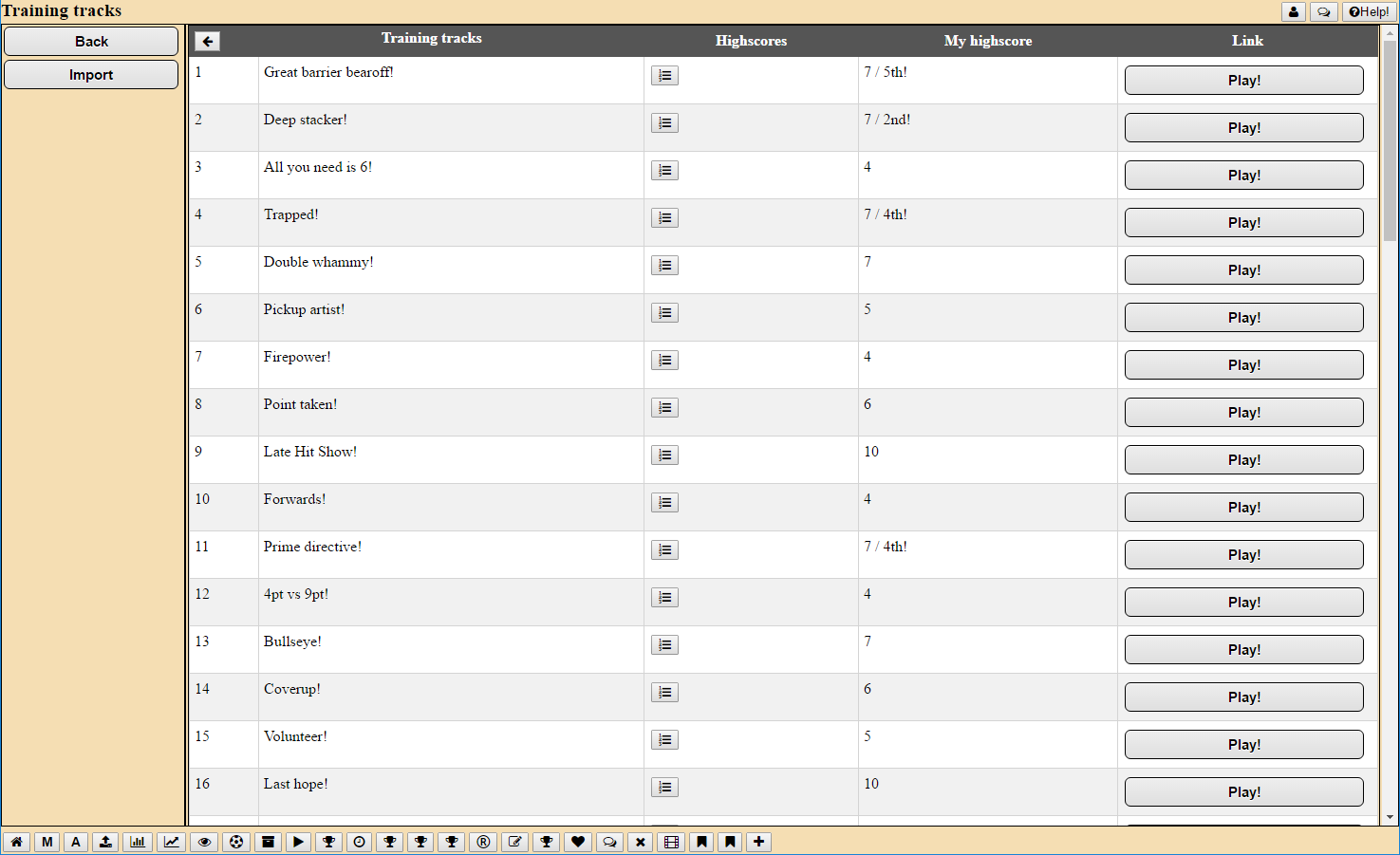 It is currently a bit slow so I have to look into speeding it up.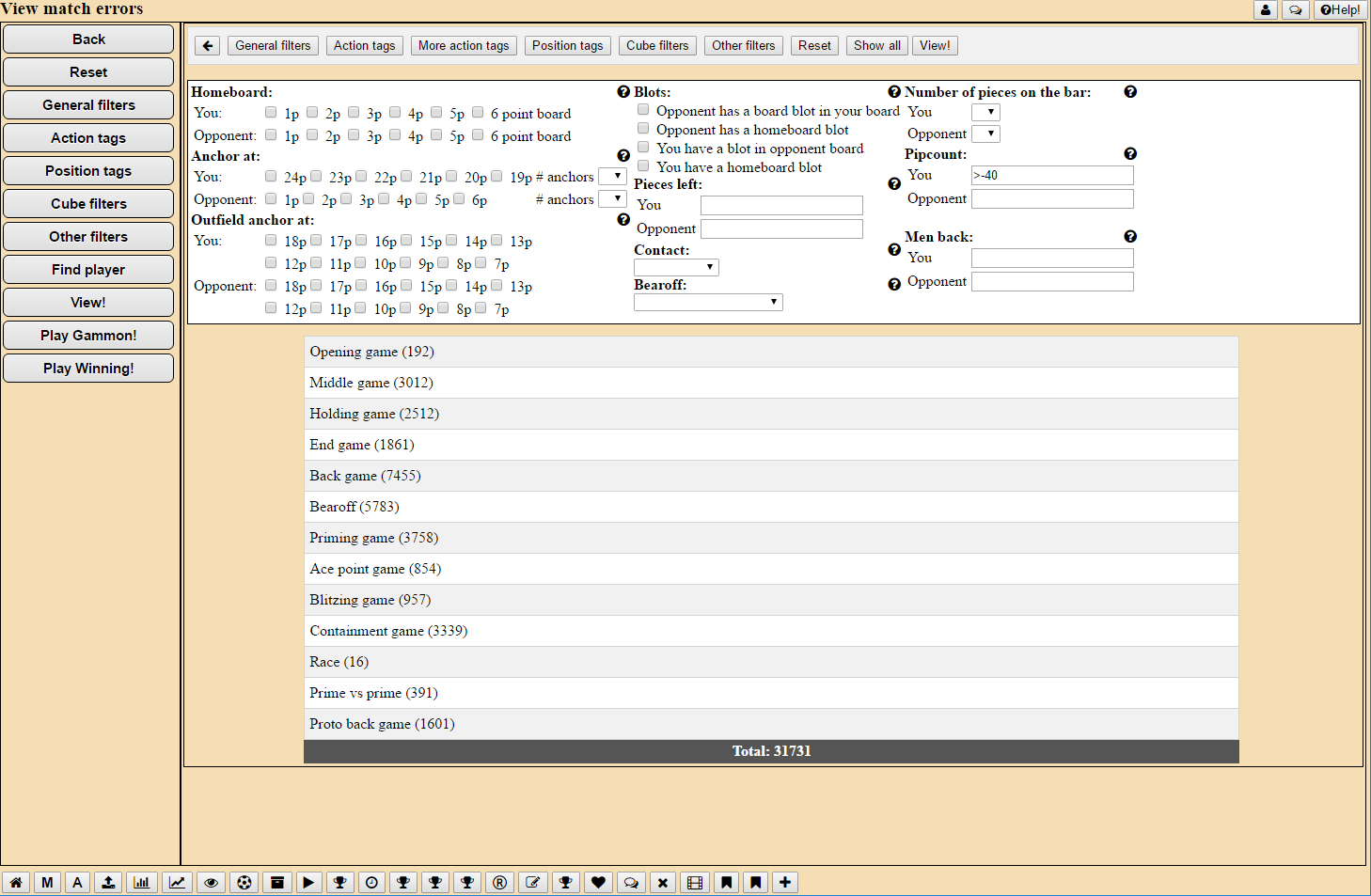 It is now possible to search for positions with a relative pipcount. If you enter a negative value in the pipcount section along with a larger sign for instance >-40 then this says you should be more than 40 pips behind in the race.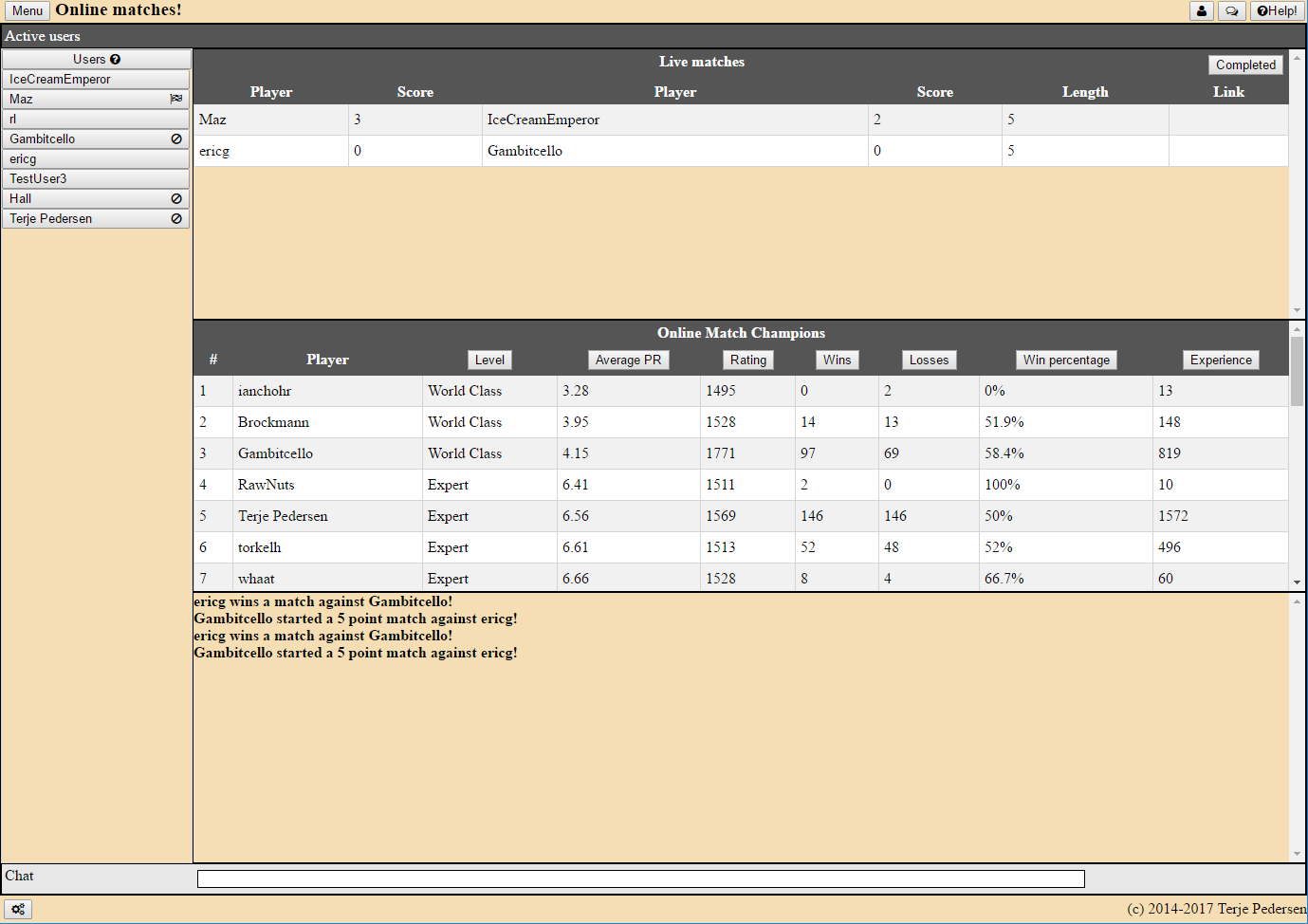 The live section has been brushed up a bit with some additional information making it more interesting.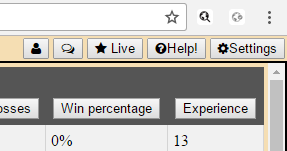 There are now a few more header buttons which will give you easy access to the users list, server chat, and the live match section.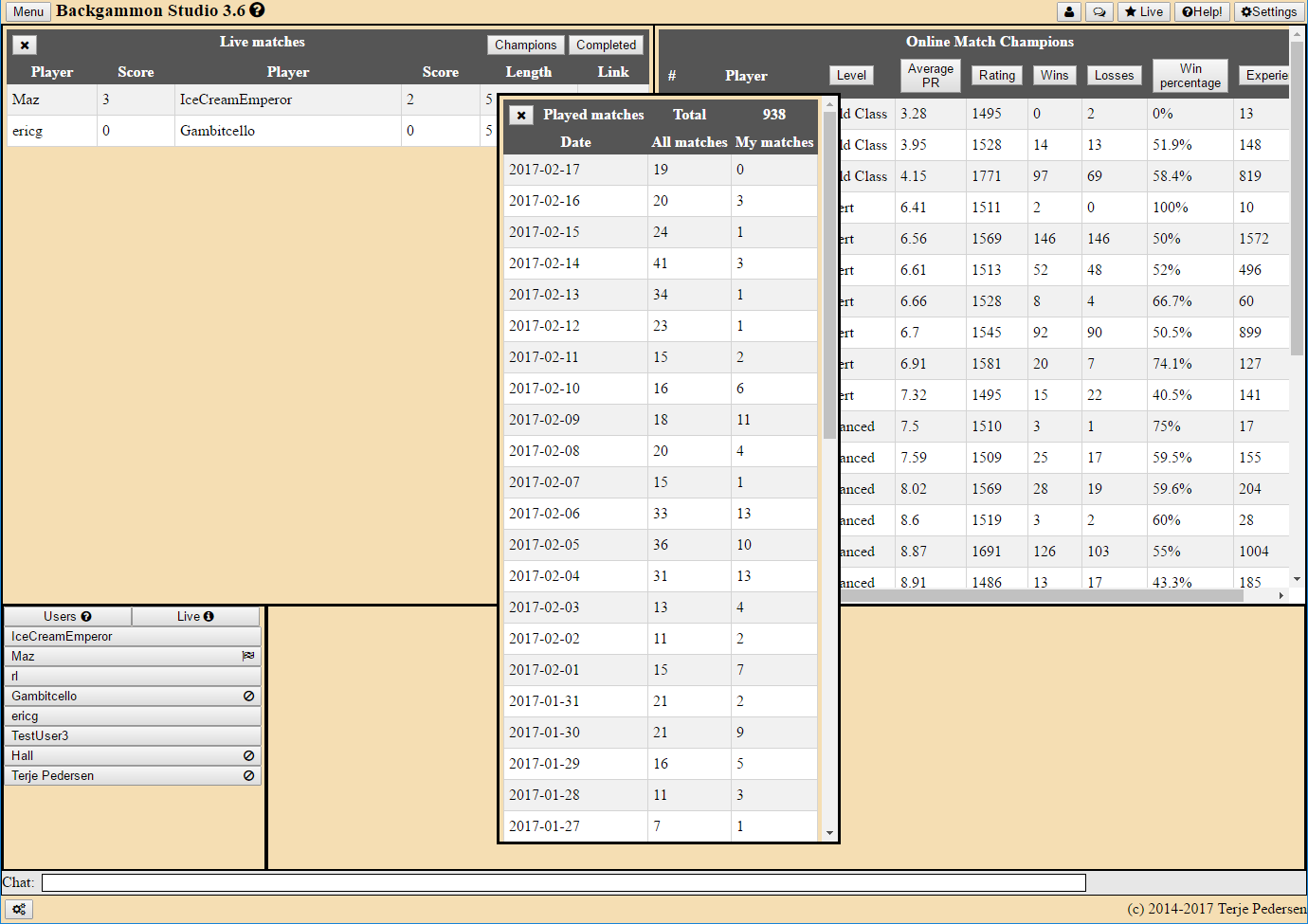 It is now possible to see how many matches are completed per day (last 50 days) and also how many matches you have played. The numbers aren't very high yet but I am optimistic they will increase once more backgammon players gives it a try. The running PR and error highlighting is probably something that isn't found on any other play site to my knowledge. Pretty cool stuff! :-)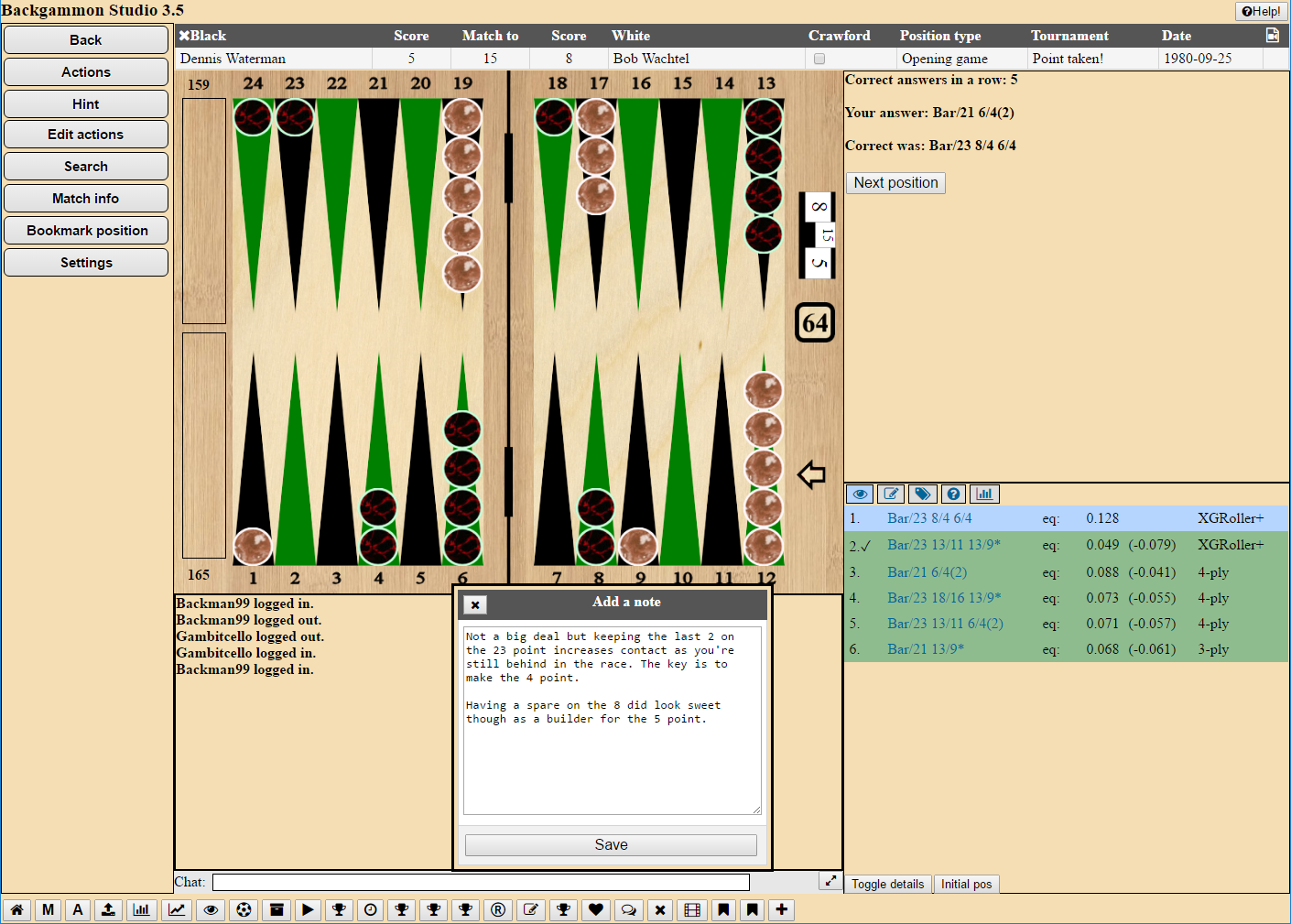 You can now attach a note to a bookmark you are adding directly from a challenge without leaving the challenge. Nice to attach some newfound enlightenment while it is still fresh and still be able to continue the challenge.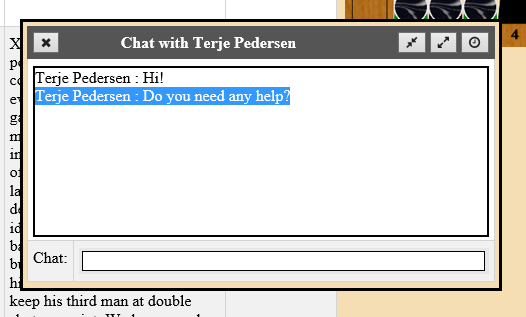 If you see some text which could be worth saving you can now copy text from friend chat dialogs.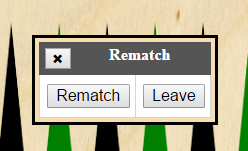 Can't start a rematch fast enough? There is now a rematch button that will quickly put you into action again!

Messages are displayed on login along with friend requests.
In other news
The number of matches just went past 5700! Thanks a lot to everybody who sends me matches!
If you have any problems registering/logging in don't hesitate to contact me directly (terjepe@gmail.com) and I'll help you out!
https://www.backgammonstudio.com
The swiss army knife of backgammon!
Best regards,
TP
93
« Last post by stog on February 12, 2017, 09:01:08 PM »
then this one.. Thomas (red) on roll -- does/should he re-cube? and what is the response?
94
« Last post by stog on February 12, 2017, 08:40:41 PM »
ok this was the first major one.. Thomas (red) on roll -- does/should he re-cube? and what is the response?
95
« Last post by stog on February 12, 2017, 08:06:15 PM »
super Final at Gibralter. There were some amazing cube decisions to be considered in the match. I will search out some screenshots but for now here are a couple from the final game (top one-- red on roll or ship cube?) second one red has cubed-- does white take?)
the match with commentary is here
https://livestream.com/accounts/23201337/events/6934534/videos/149220278
97
Hi!
Backgammon Studio keeps improving and today I have updated the version number to 3.5 with these fine improvements:
Backgammon Studio 3.5
Improvements since 3.4:
New actiontags:

Make one or two points.
Close board or not.
Make anchor or homeboard point.
Counter blot or not.

New training tracks:

Great barrier bearoff! The deuce point can act as a great barrier against bearoff. How to safely get your men across?
Deep stacker! Creating deep stacks on the 2 or 3 point can often look pretty ugly but perhaps the alternatives are worse?
All you need is 6! The 6pt is such a sweet point to keep and it is easy to overlook when you should give it up for tactical reasons. Is now the right time?
Trapped! Create a blocking point in front of an opponent anchor? Possibly trapping your opponent behind a prime? Could be worth a try!

Pass criteria on equityloss in cube training. Suggested by sita.
Unrated online matches. Suggested by tnt-foxtrot.
Forum postings now show who posted the initial message.
You can raise dialogs by clicking on the header.
You can now attach notes to bookmarks.
Dynamic thumbnail generation when viewing positions and no limit on the number of thumbnails displayed.
Board menu now says 'Menu' instead of 3 horizontal stipes as it wasn't immediately obvious to everyone that the stripes opens the menu.
Bookmarking positions now has options where to place the bookmark.
You can now search for bookmarks.
You can now tell what time a chat message was sent by hovering over the message.
A new welcome dialog.
Money game cube action in cube training (rather few money games in public database though). Suggested by Tony.
Search for comments by specified user. Suggested by Tore. (++)
Added ability to specify men (checkers) back in your opponent homeboard/bar. Suggested by Tore.
You now receive an email when someone answers a position you are seeking an answer for.
Bugfixes:

Gnu hint dialog on mobile didn't use fullscreen dialog (content is too big so it should).
Swiping on phone while checking answer moved you to the next position.
Menu button (3 stripes) was hard to hit on phone and replaced with 'menu' button instead.
Button could be hidden behind empty div (tab commands) and require scrolling instead of being directly visible.
Some tabs (statistics++) didn't display content on ios (old ios hack was removed but is still needed).
My progress report challenge answers didn't scroll properly.
Moving and resizing chat dialog on iOS now works (ios browser doesn't support resize argument).
Error bookmarks folder could end up with hundreds of bookmarks after some time and visiting these was painful. Now thumbnails are dynamically generated so everything won't grind to a halt when you visit these folders.
Fixed some view by date bookmark inconsistency.
Invalid moves no longer enter the equity loss overview in player statistics.
Swiping in forum had some unexpected side effects.
Chat dialog didn't behave properly on Internet Explorer (kept expanding when it shouldn't).
Scrollwheeling through a match and moving between games could make the navigation stop working.
Scorecard on frame was displayed wrong on firefox (possibly firefox bug). Thanks Nyo!
Playing as white was reported incorrectly at the end (playing as black).
Play as: taking a nodouble while a pass was played didn't give you equity bonus for taking.
The switch to https created a limit of 15 concurrent users. I have increased it to 150 now. Thanks Nyo!
Prevent online match to continue after completion (you should now get an alert that the match is over.)
You could end up with nothing found if you enter a space in one of the numeric input fields when searching for positions. Thanks negheonegu!
You are no longer sent to the friend section when you send a friend request (say while playing an online match and clicking on ctrl-u).
Known issues:
When playing live matches you will sometimes see the spinning wheel continue forever. This is a network problem where a message fails to show up on the client. Click to roll dice again and they will quickly show up. The message that never arrived will show up later as a strange dice briefly displayed until some other dice are displayed.
If you start to look at previous positions while playing an online match you may have trouble getting back to the current position.
Some images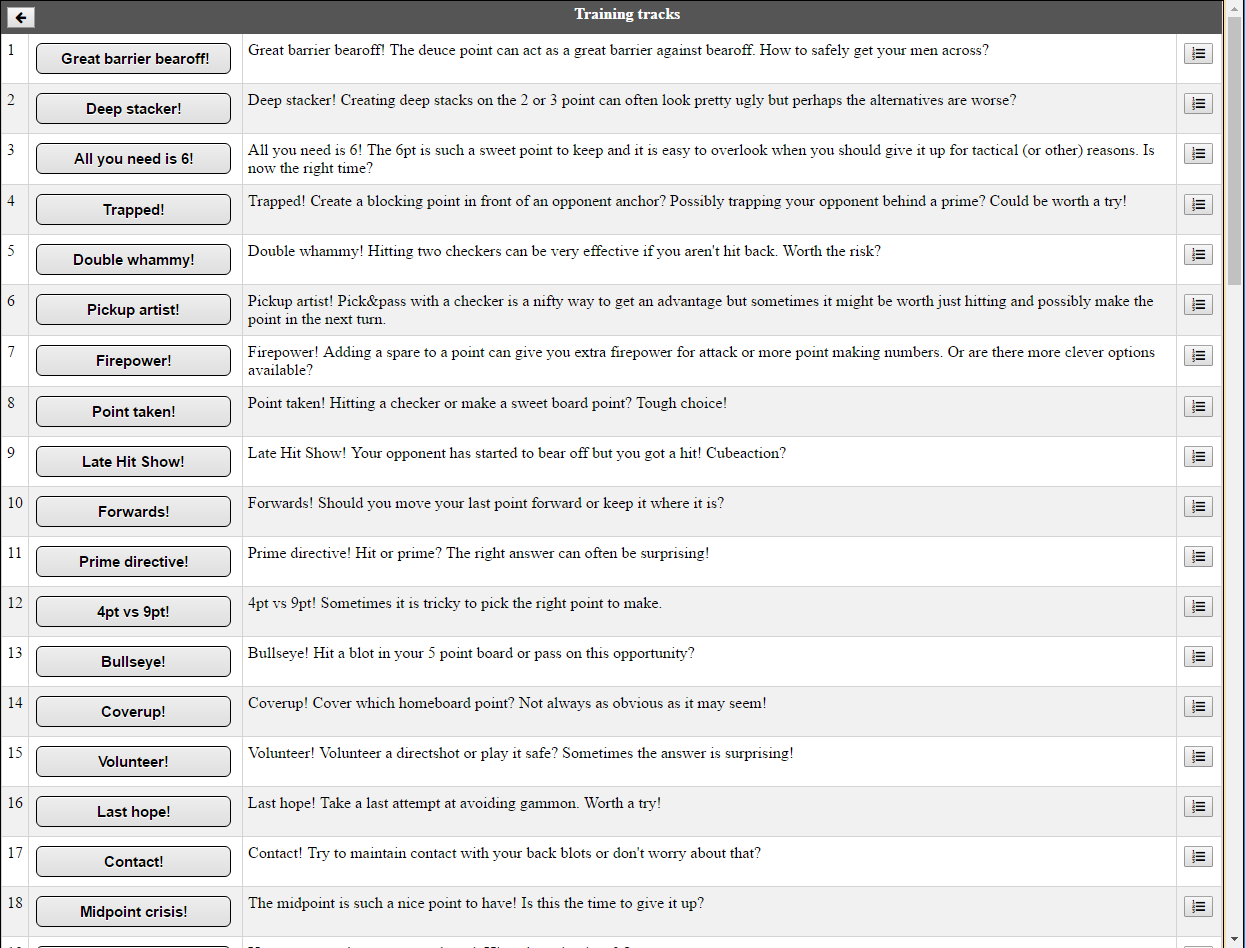 I was wondering which new training track I should add for this release and then yesterday Michy asked about how he could locate positions where the player is bearing off against a 2 point anchor. Hey! Problem solved!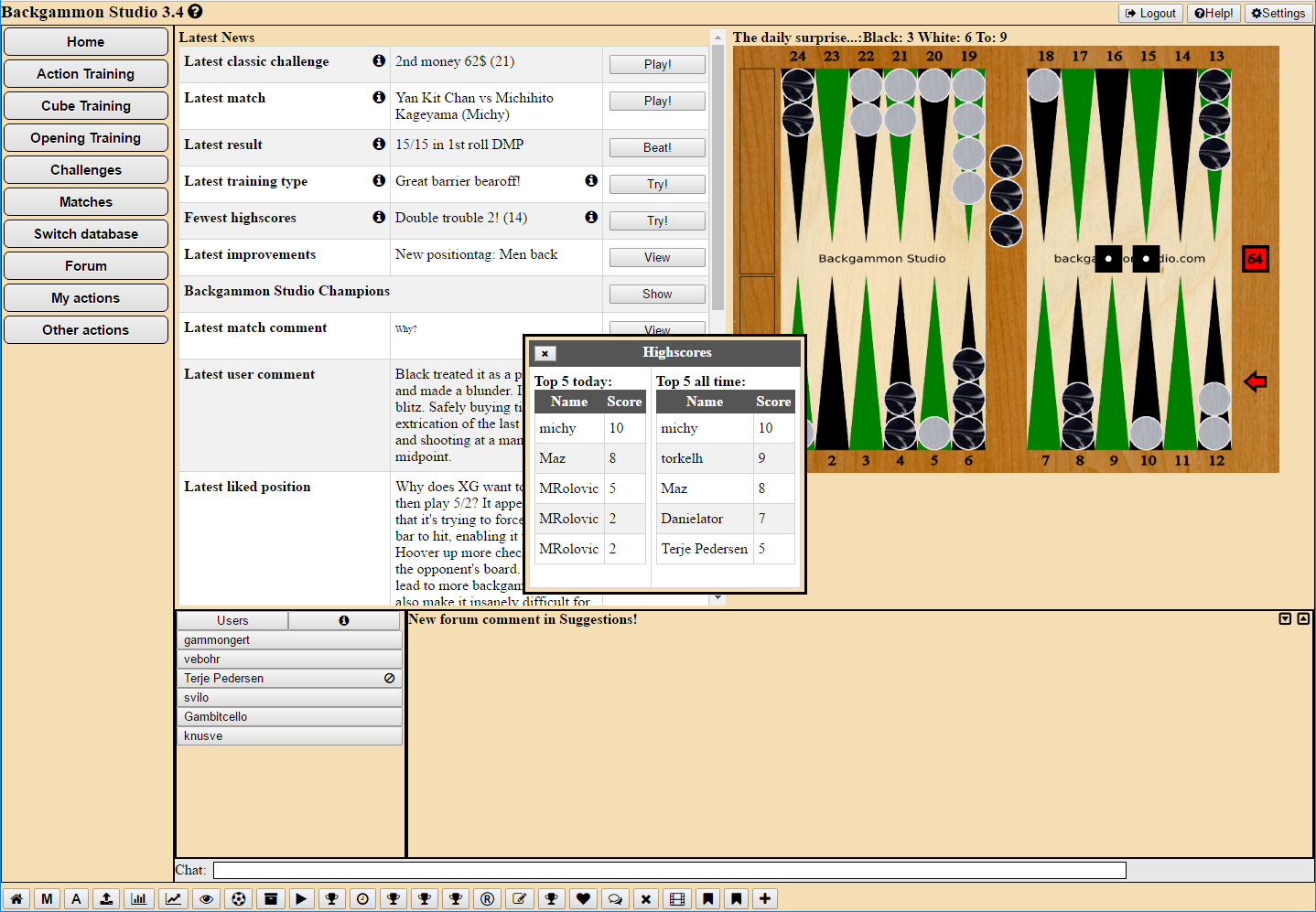 And today I see Michy has taken a shot at taking the champion title and that he did! The sharks at Backgammon Studio are an eager bunch so who know how long it will last?
And I see I have to give it a few more tries or I'm the next guy out of the highscore list...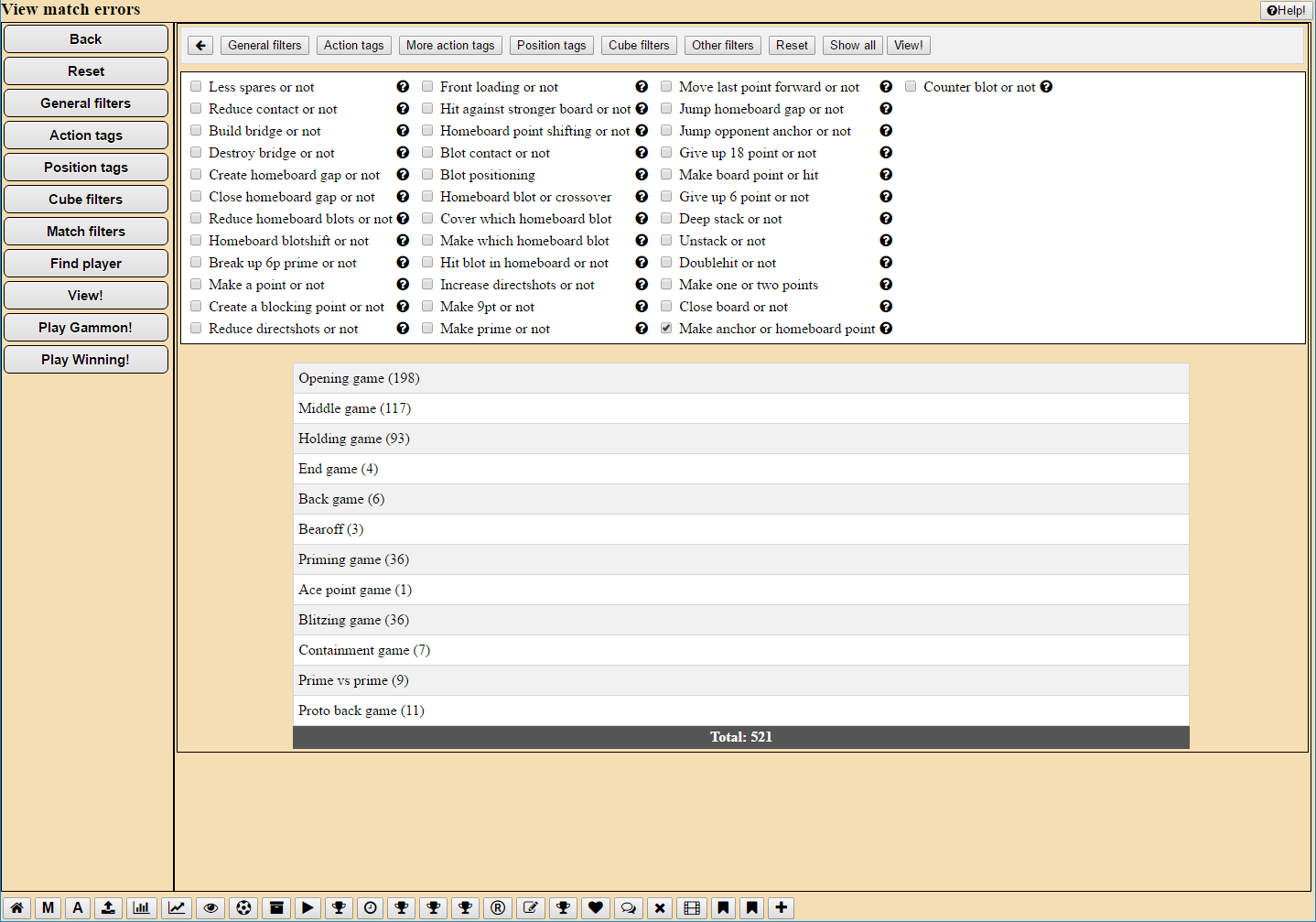 The ideas for new action tags were piling up so I had to throw in a few more. How many action tags are there? 87!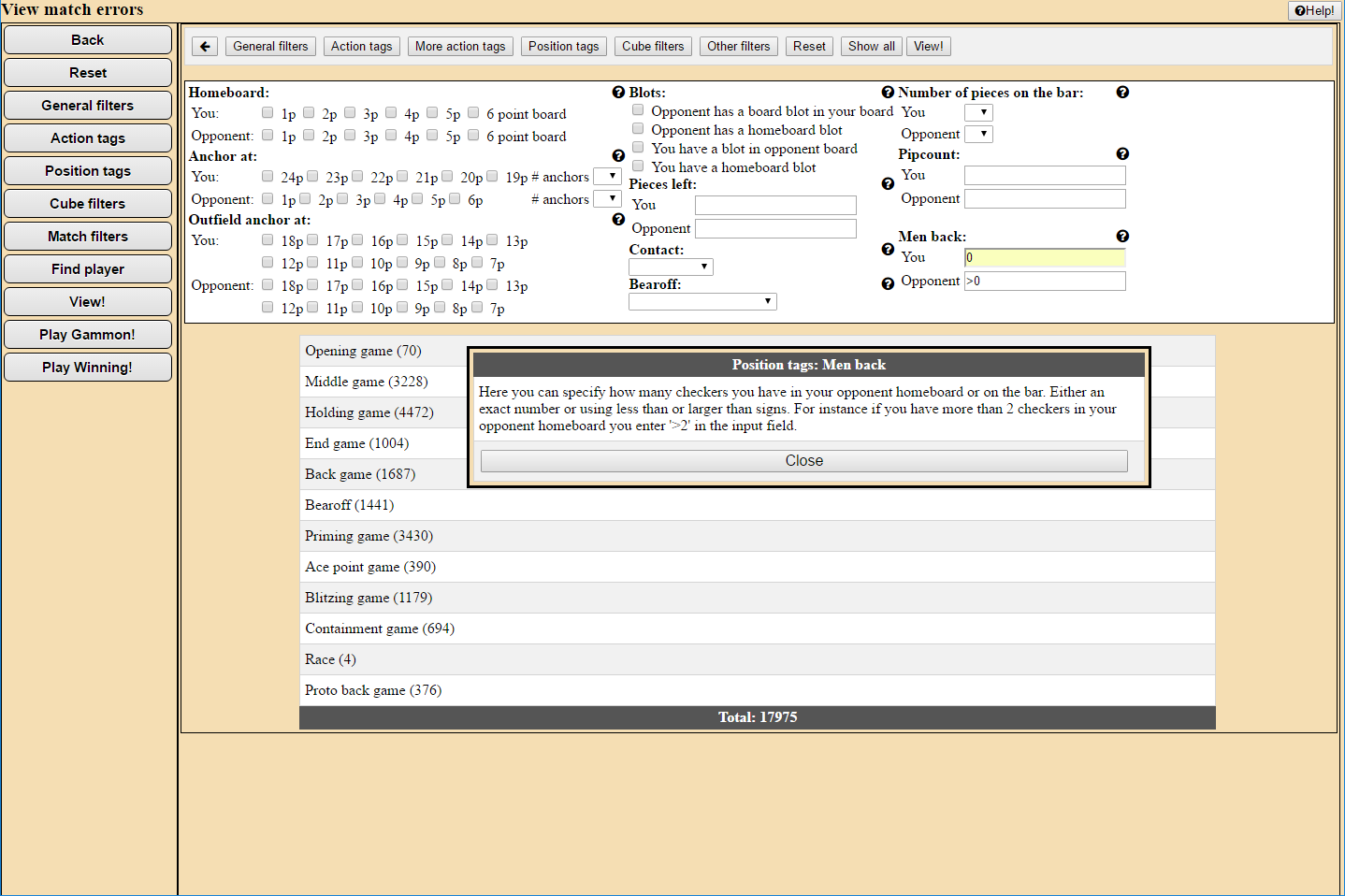 Some time ago Tore asked about creating an option to search for positions where you can specify how many men (checkers) you have in your opponent homeboard/bar and the same for your opponent. Tore suggested a usecase: "This would allow us to practice positions where we have escaped our men and need to find the right balance between leaving shots and getting flexibility and playing safe."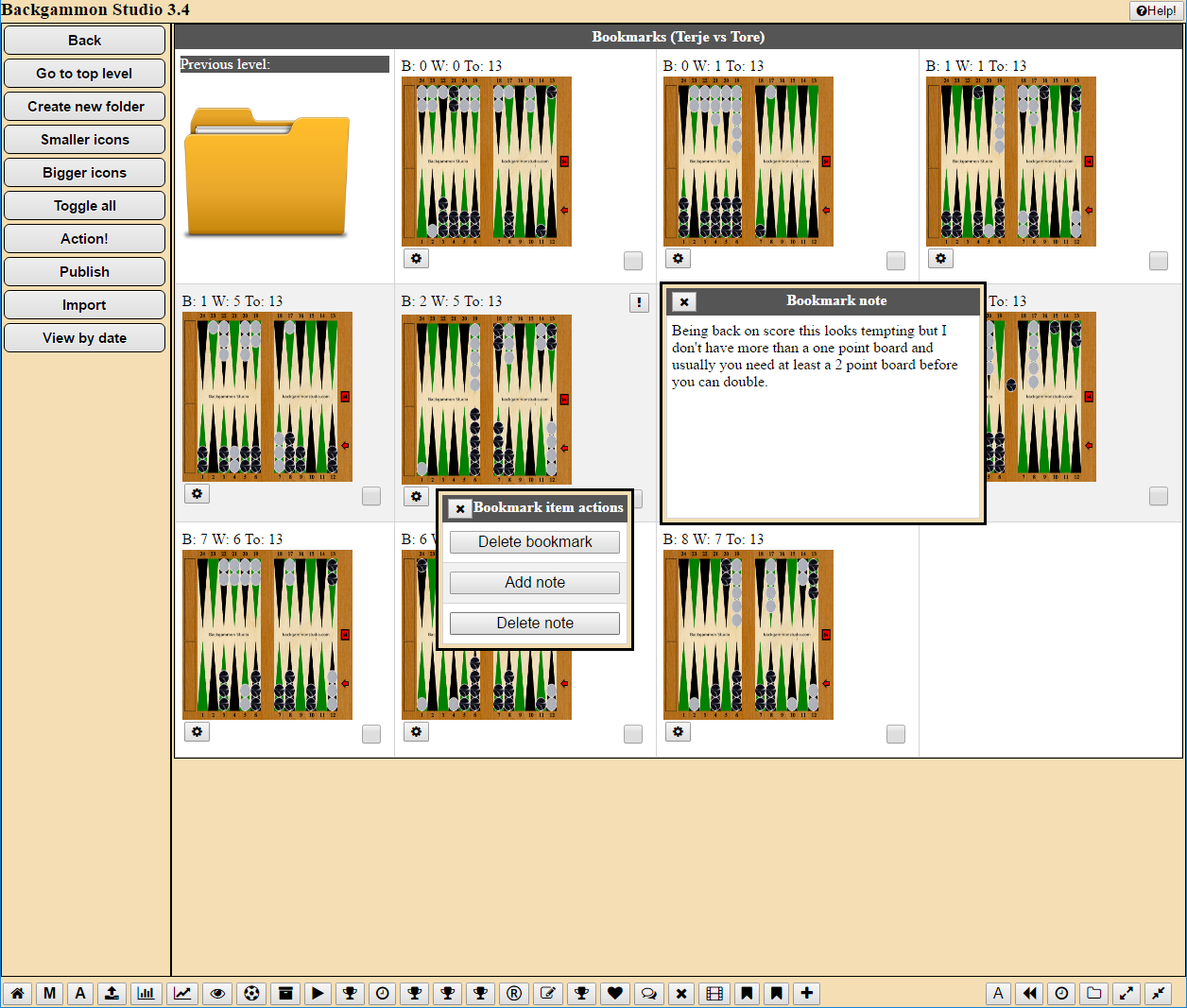 Inspired by a presentation held by Michy during Gothenburg Open I added the option to attach notes to your bookmarks.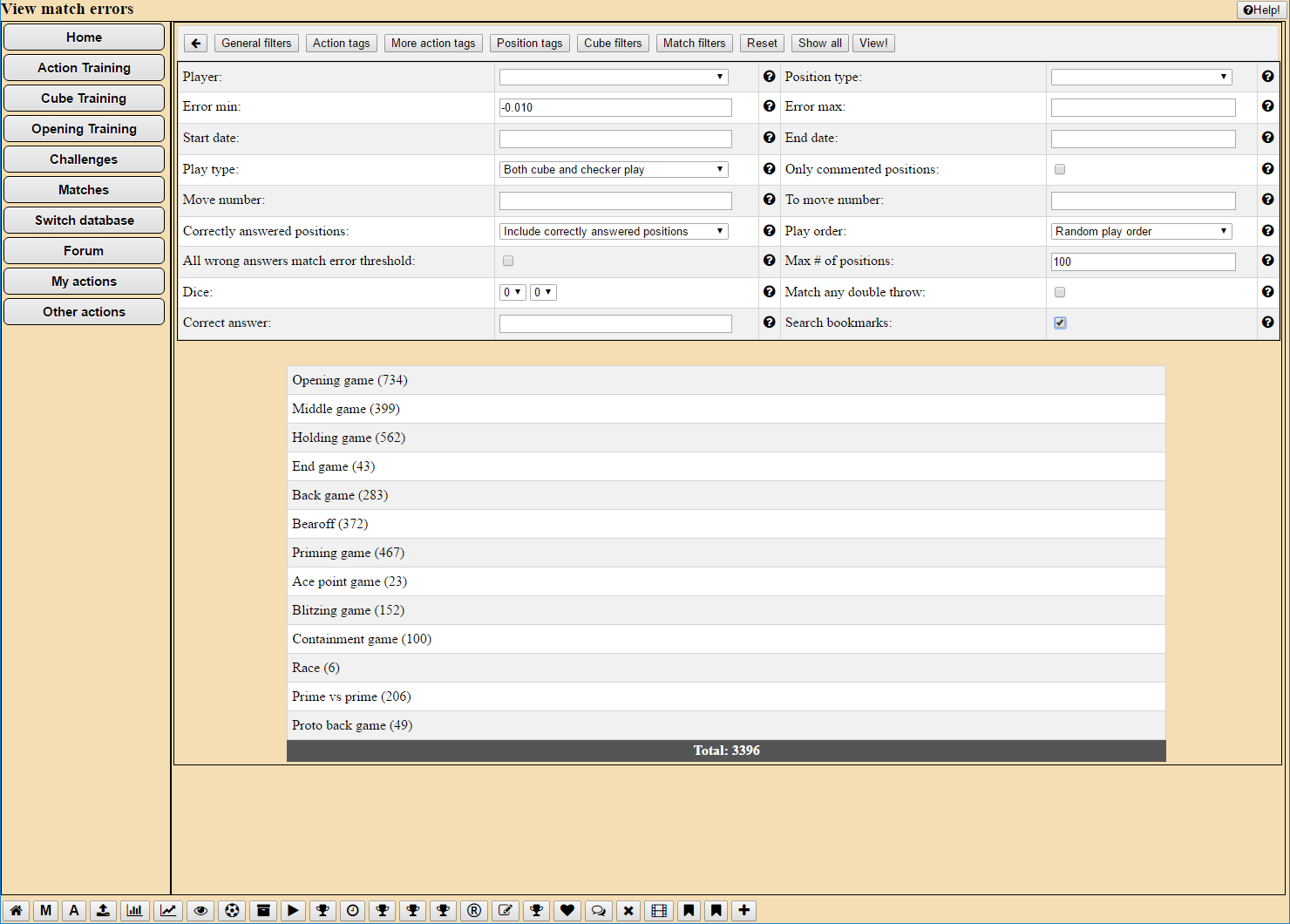 Also inspired by the Michy presentation you can now search through your bookmarks.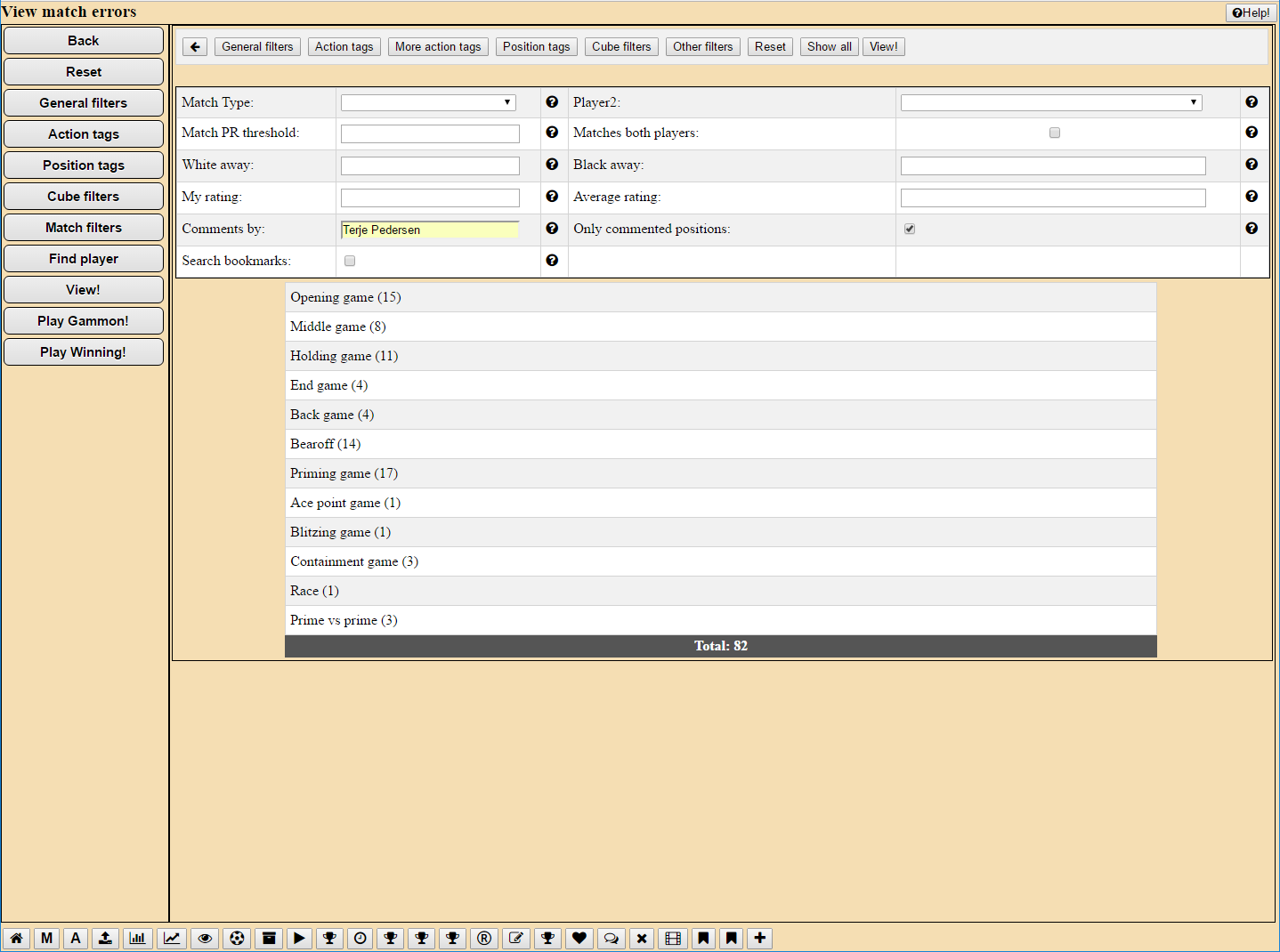 You can now search for positions that has comments and also search for comments by a specified user. Suggested by Tore and I seem to remember someone else also suggesting it. The name must be an exact match or the number of positions found will drop to 0.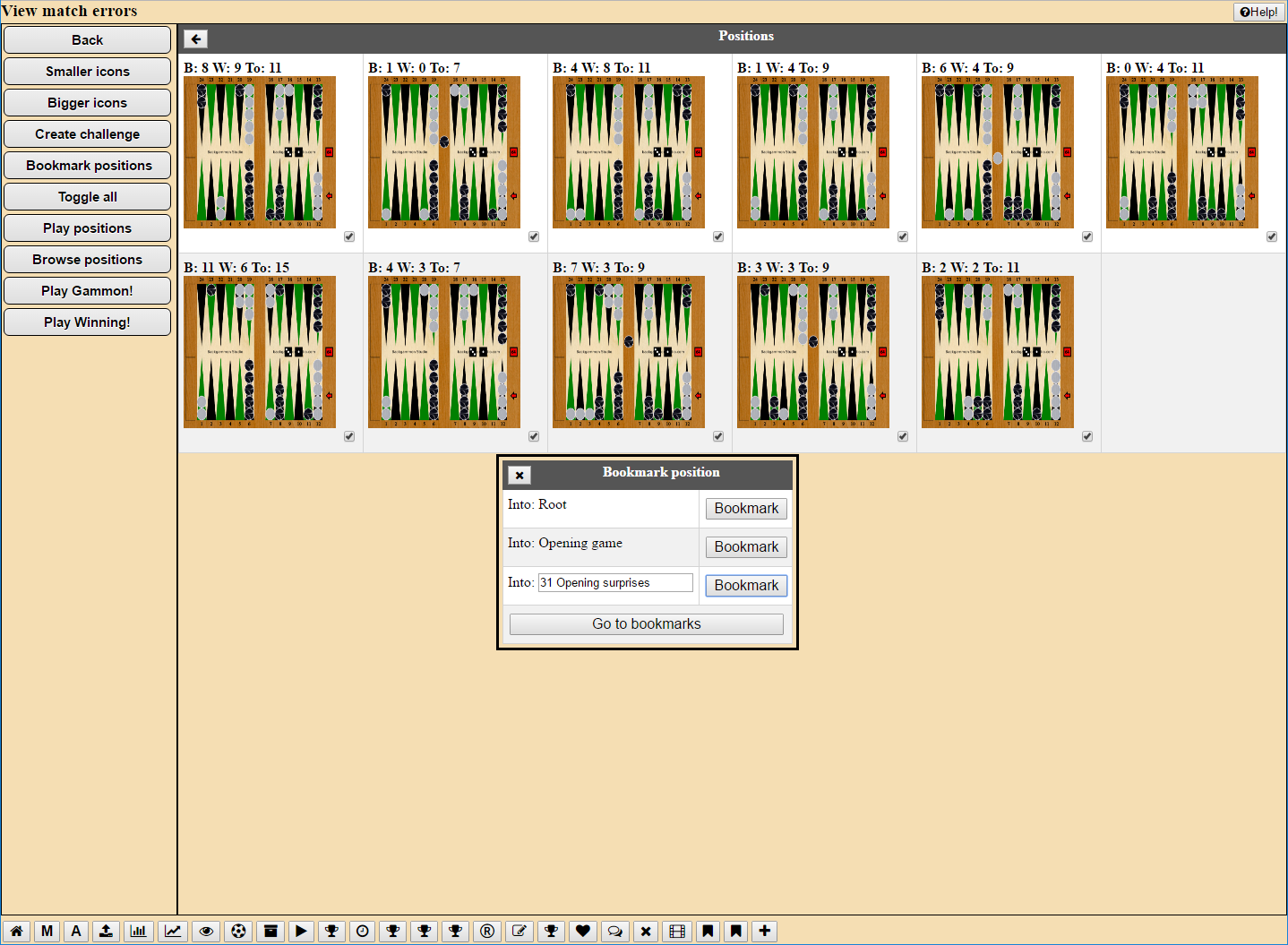 You can now toggle all positions you locate instead of manually checkmarking each position. Also when bookmarking positions you now have an option to specify where the bookmarks are placed. Earlier all bookmarks ended up in the root of your bookmarks and you had to organize them later.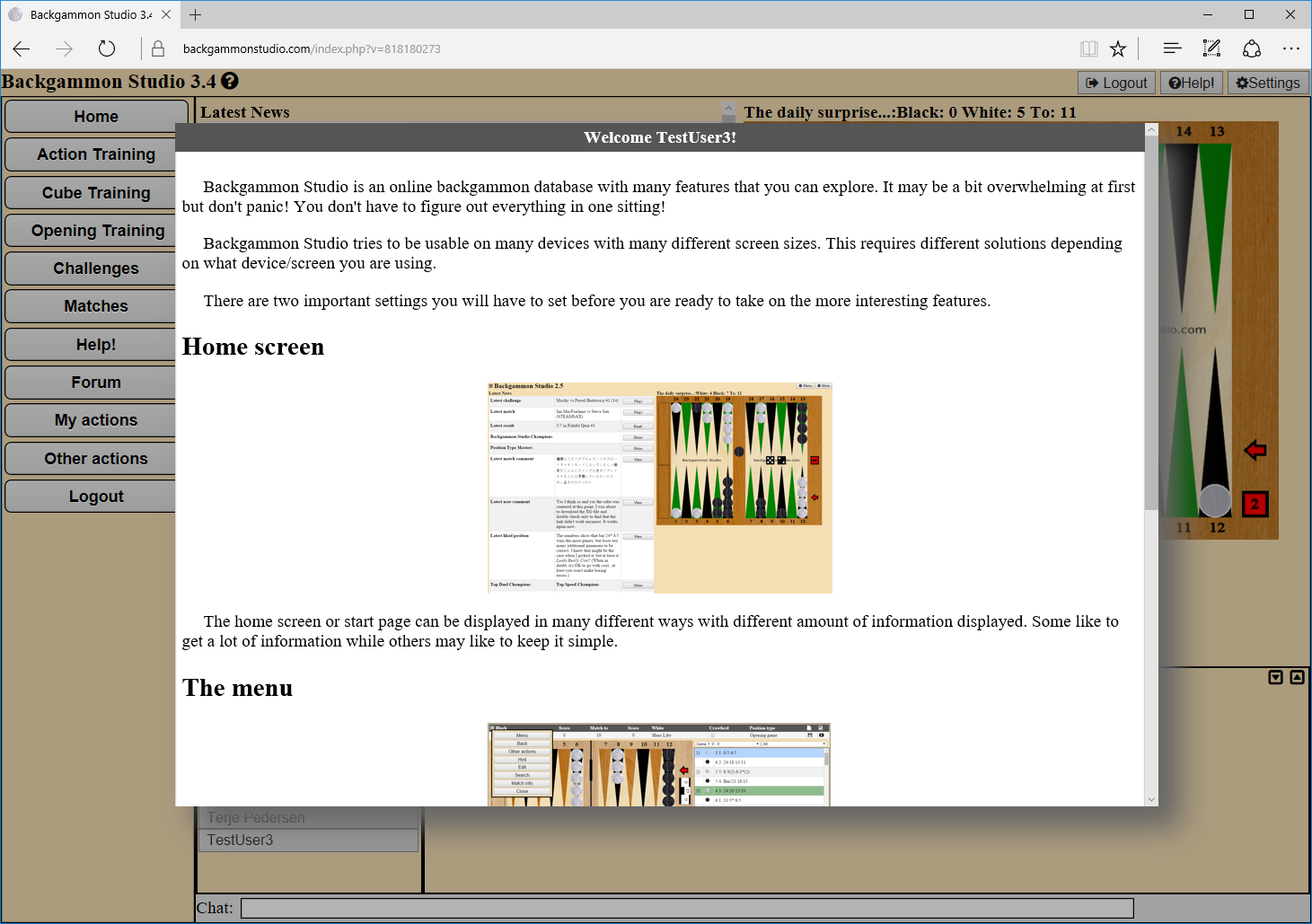 There is a new welcome dialog when you login on Backgammon Studio. This explains a bit of the basics around selecting how Backgammon Studio should look on your device. Returning users will also see this and you can scroll down and close the dialog if you're happy with your current selection.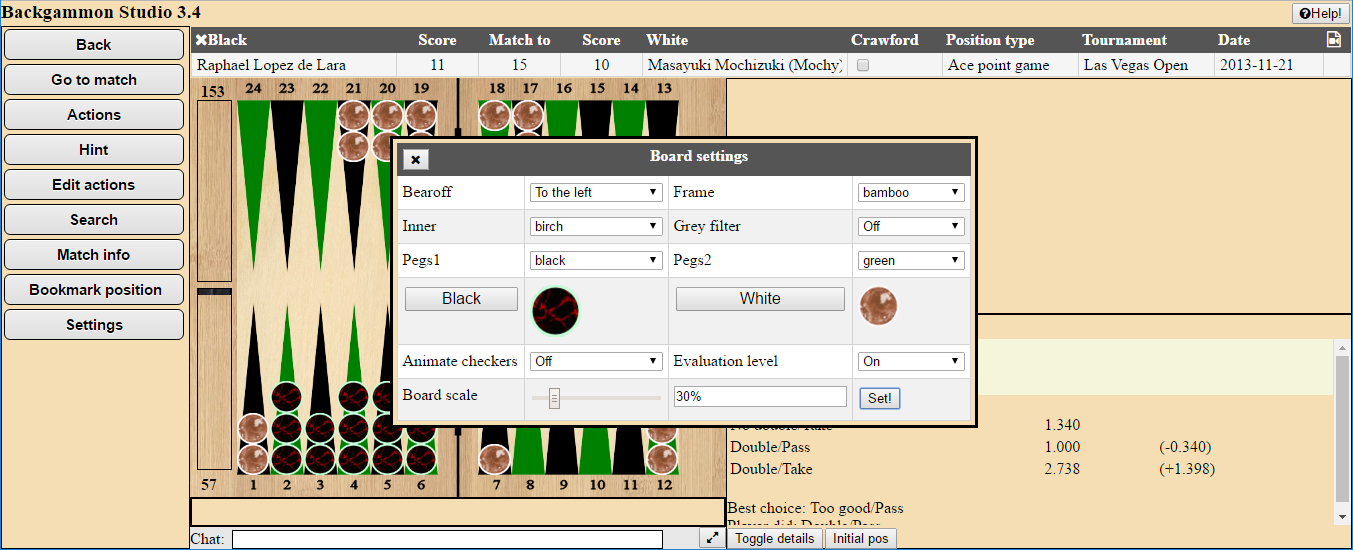 If you have a widescreen monitor the board may sometimes be displayed outside your screen which isn't ideal. Earlier you had a couple of ways to solve this by either using the classic menus which takes some screen width or narrowing your browser window. You can now also manually change the size of the board to fit your preference. This is useful to do before you play online matches as you may want to see the chat area below the board.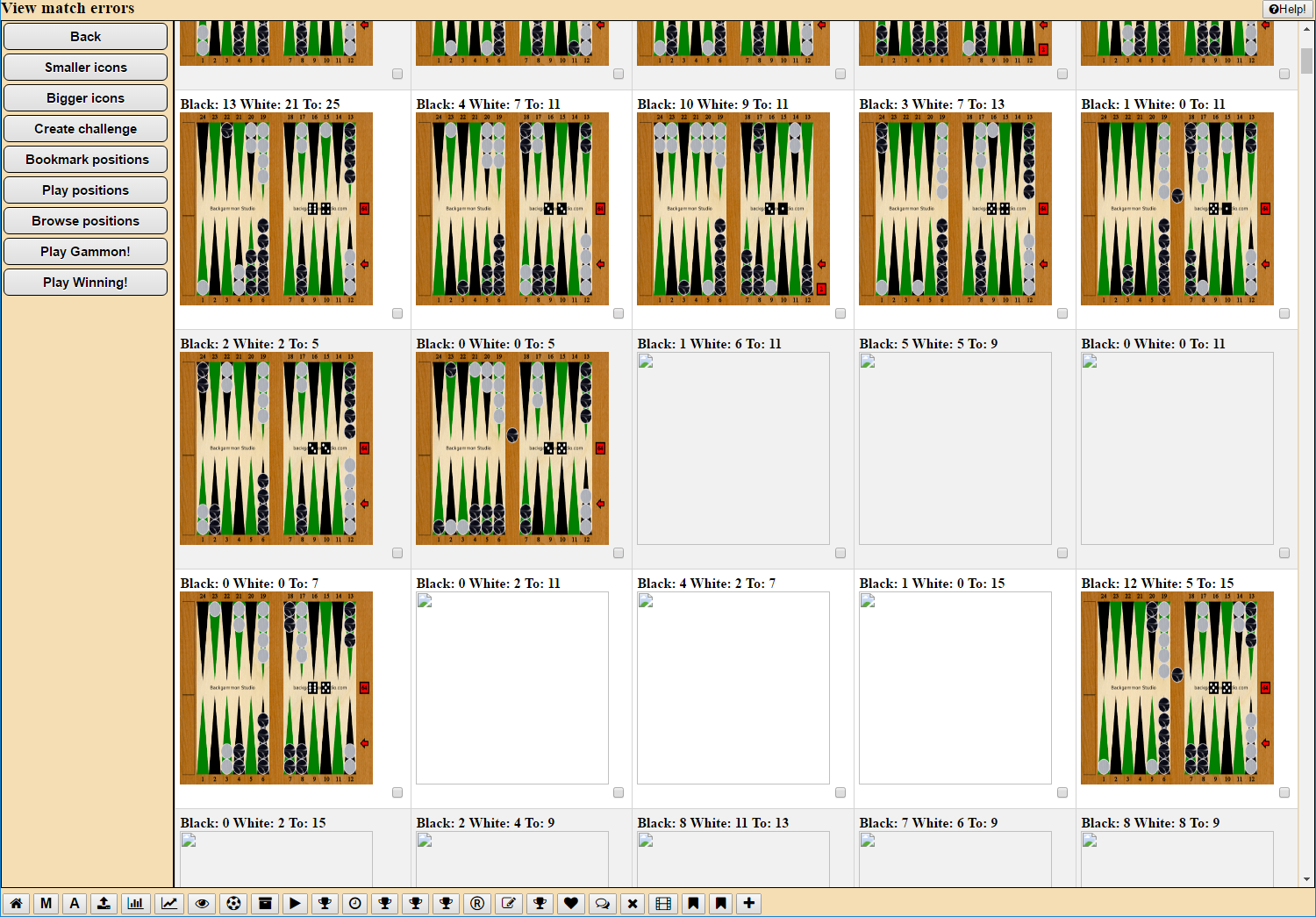 The thumbnail generation is now dynamic and the 50 position limit has been lifted. You may see some missing thumbnails and after a couple of seconds they will start to show up one by one.
In other news
The number of users at Backgammon Studio is steadily growing! Sweet! A big thanks to everybody who are spreading the word and recruiting friends!
The number of matches is also steadily growing! A bit thanks to all transcribers out there who keep providing new matches to add to the database!
If you have any problems registering/logging in don't hesitate to contact me directly and I'll help you out!
https://www.backgammonstudio.com
The swiss army knife of backgammon!
Best regards,
TP
98
Hi!
If the first event is true or not I don't know but today Gothenburg Open beat Nordic Open in matches produced! Gothenburg Open has just reached 64 matches and last year Nordic Open stopped at 62! Pretty amazing considering Gothenburg Open is perhaps only a quarter of the size of Nordic! Jesper Carlsson and his transcription team has reason to be proud of this achievement!
A few more matches:
Michihito Kageyama (3.01) - Yan Kit Chan (2.17) 11pt Gøteborg Open 1-8-2017
Mårten Howe (3.78) - Daniel Tudose (5.07) 11pt Gøteborg Open 2017-01-06
Mårten Howe (4.48) - Mats Westin (3.29) 11pt Gøteborg Open 2017-01-09
Mårten Howe (5.63) - Magnus Helgesson (7.33) 11pt Gøteborg Open 2017-01-07
I have added the rest of the match videos (Perhaps Michy has a couple of more videos stored somewhere?) from the tournament to the match videos section: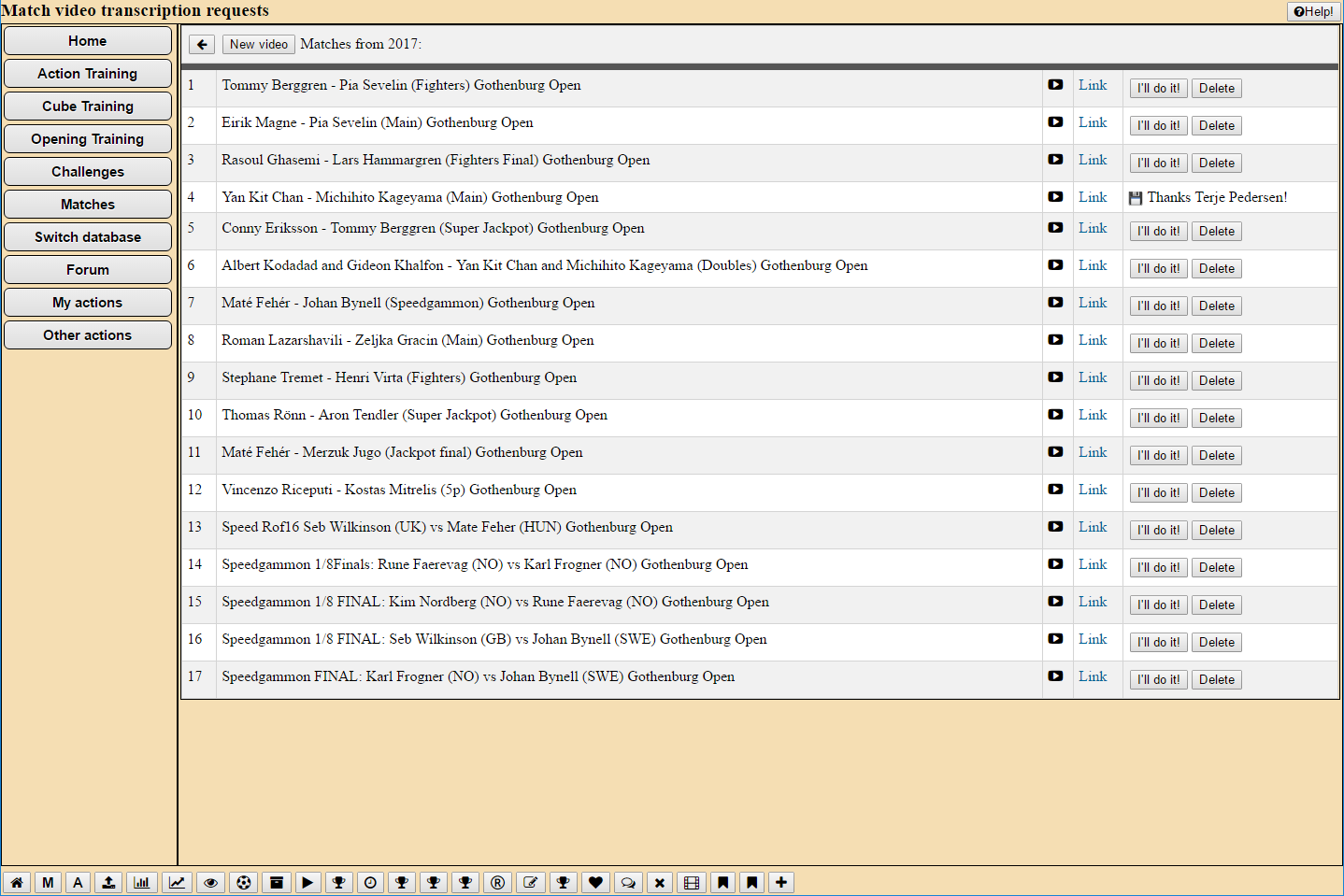 if anybody is interested in helping out. Unless you're busy transcribing other matches you know what to do!
So which tournament did produce the most matches last year?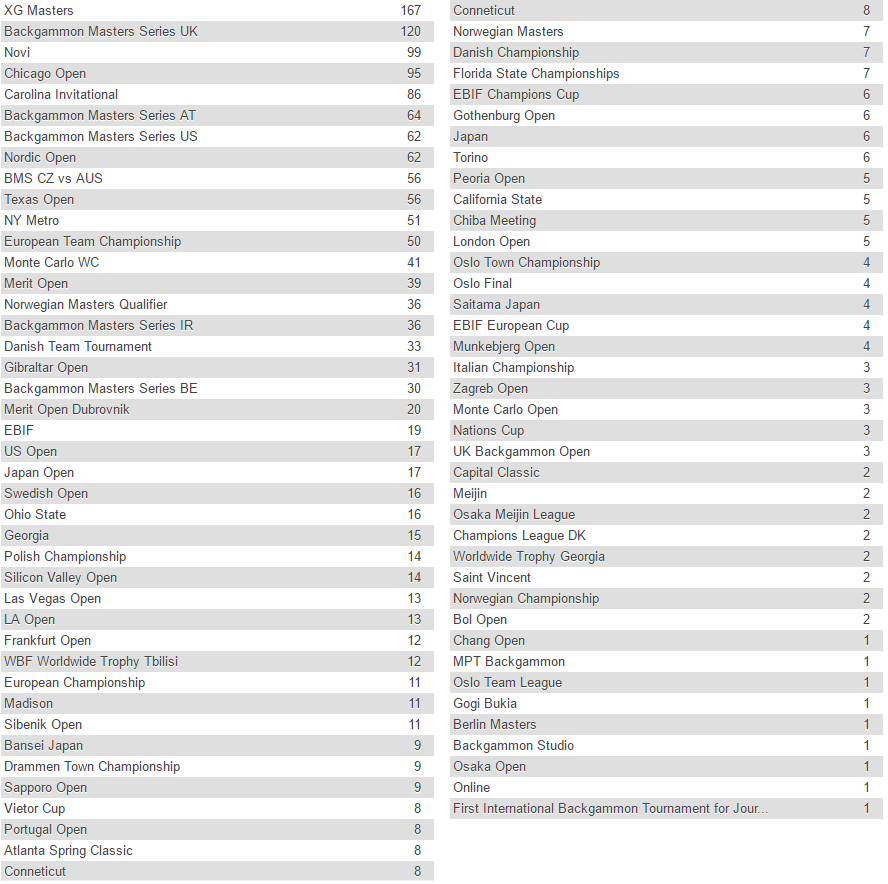 Oh hey! A win for Denmark! I couldn't find a report from Danish XG Masters 2016 but I found one from
2015
. Impressive stuff!
Backgammon Studio
The swiss army knife of backgammon!
Best regards,
TP