Recent Posts
91
« Last post by backwoods on January 13, 2016, 05:06:32 PM »
Hey, I've moved to unfamiliar territory, I've become a Mac user and I am lost now. JavaFIBS won't work for me anymore so I'd like to hear good suggestions what to use instead from couple of dinosaurs, I know you're out there
Bw
Ps. This is my first post and I count myself as a dinosaur too...
well, looks like this is post #2
92
« Last post by socksey on January 08, 2016, 08:50:04 PM »
8 Jan 16
Supreme Champion: rebbeler
Worthy Adversary: maturin
3rd place tie: zbilbo
socksey
93
« Last post by socksey on January 02, 2016, 09:10:56 PM »
2 Jan 16
Supreme Champion: andreas
Worthy Adversary: socksey
3rd place tie: rif_raf
kostasr
5th place: CaroLine
94
« Last post by jade on January 02, 2016, 02:41:26 AM »
Need help from someone with computer savvy. I have accessed fibs via parlorplay for years. With upgrading to windows 10 on my pc parlorplay no longer will load. Tried twice to upload the older javafibs from the website and my computer went wacky both times - had to manually shutdown. I do have java on my computer, but need some help figuring out how to get to fibs to play. Have an HP Envy - gaming quality, but am definitely not a technical person. Any assistance would be appreciated. Jade

95
« Last post by socksey on January 01, 2016, 09:01:06 PM »
1 Jan 16
Supreme Champion: rebbeler
Worthy Adversary: vfr_pilot
3rd place tie: andreas
socksey
96
« Last post by stog on January 01, 2016, 02:37:58 PM »
Happy New Year Tom

many thx for maintaining the FLG League.
i wonder if i might request something for this New Year when you get the chance.

i wonder if you could set up the Masters playoffs and ratings -- i think the last time they were setup was 2012

if folks could see their overall rating throughout the year of 4 sessions together with their Master's points it would further promote the FLG League which offers good free competitive reliable recorded online matchplay

thx again

ps Tom please enable Fibsboard notification emails or turn off notifications as all your notifications (including this post's notification) arrive on my doorstep as mail delivery failed. I cannot change things at this end for various reasons and until this is resolved you will not get email notifications of any threads you are following on the Forum. your help in this matter would be appreciated thx
97
I find XG to be a great tool and I have used it to analyze a ton of matches from playing at fibs, gridgammon, backgammon ace. Now the trick is how do you extract useful information from all these matches? Going through all these analyzed matches manually is rather tedious so this is where Backgammon Studio comes to the rescue. You can have your own private database ($2 a month which i think is reasonable) where you can upload up to 2000 XG matches which is then made searchable. You can then get answers from all kinds of questions about your play. In which position type do I make the most errors?

What type of play do I struggle most with?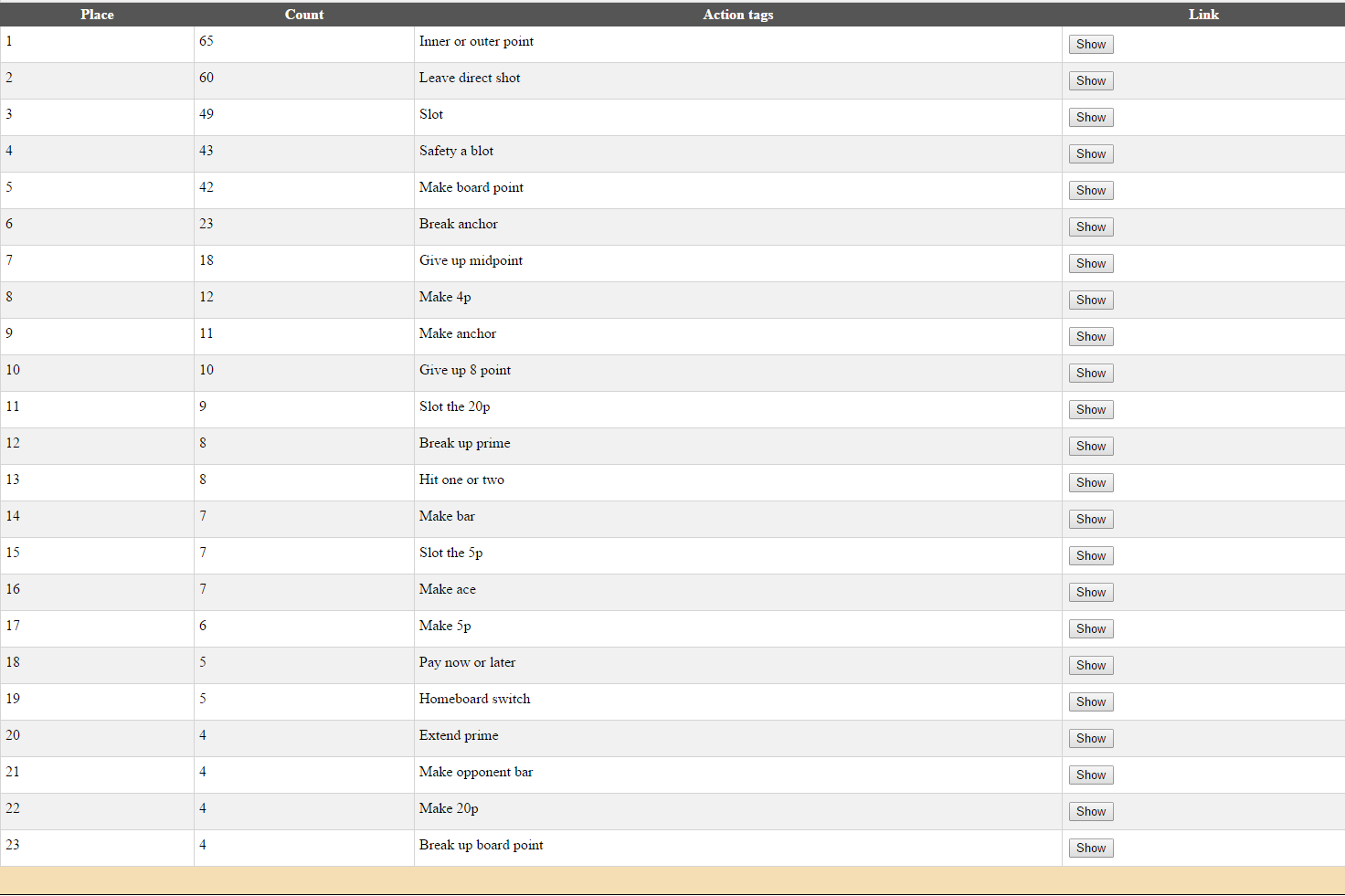 How is my cube performance?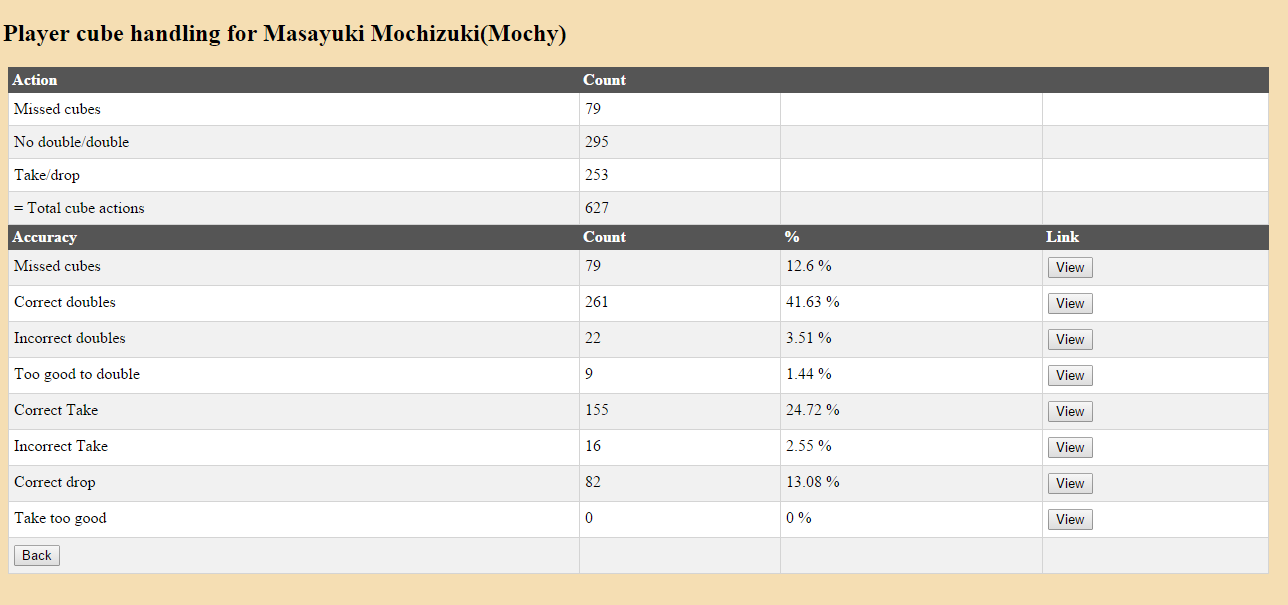 And you can compare your values with top international players as the above image suggests.
And a lot of other interesting statistics. You can also play through past errors in many different ways to see if you are likely to make the same mistake again or if you have improved your play enough to avoid them.
And as you can read from my other postings here there is a lot of other fun stuff to explore! Registration is free and you can enjoy a lot of free content (based on 2800+ matches played by top ranking players) competing with other players for highscores in a lot of different challenges (think of them as training programs for different aspects of backgammon). Good fun!
Best regards,
TP
98
« Last post by Miles42 on December 16, 2015, 07:10:34 PM »
I bought the version for the IPAD and after an up grade by apple it crashes to the point it almost unusable. Maybe I will get the PC version.

99
« Last post by josephmcg on December 11, 2015, 04:36:01 PM »
@chriskay you'll find that all the other apps cheat just as much as the ones you've had trouble with, sorry!
Here's an article that might help you understand the cause of the problem:
https://en.wikipedia.org/wiki/Confirmation_bias
100
« Last post by chriskay on December 11, 2015, 09:56:34 AM »
I have precisely the same problem as the person who posted this Ė I found the post via a Google search. Unfortunately due to the nature of FIBS (as far as I understand it) everyone immediately thinks he is talking about playing with another person. He isnít! He is talking about playing against a computer using an Android or in my case an Apple app.
I have tried numerous backgammon apps and they are all the same. The dice throws the computer makes are biased towards it landing on your unprotected pieces. Also doubles are miraculously thrown by the computer towards the end of the game turning your winning position in any normal game into a loss. I can only assume that by clearly linking the dice throws to aid the computer the developers can dispense with the time and cost of writing any strategy. This issue is confirmed by lots of reviews of these apps too!
This is past annoying and makes all these apps unplayable unless you are a masochist. Maybe someone knows an app which genuinely has a random unbiased dice so that play against the computer is fair?
Yes I know play against someone on line might be superior but a lot of us like to play when we are off line especially as wireless access is so poor in lots of the UK as well as on trains and planes.