Recent Posts
1
« Last post by triadgod on July 08, 2017, 12:54:04 PM »
2
Hi!
Yesterday Backgammon Studio reached 1500 users! Pretty awesome!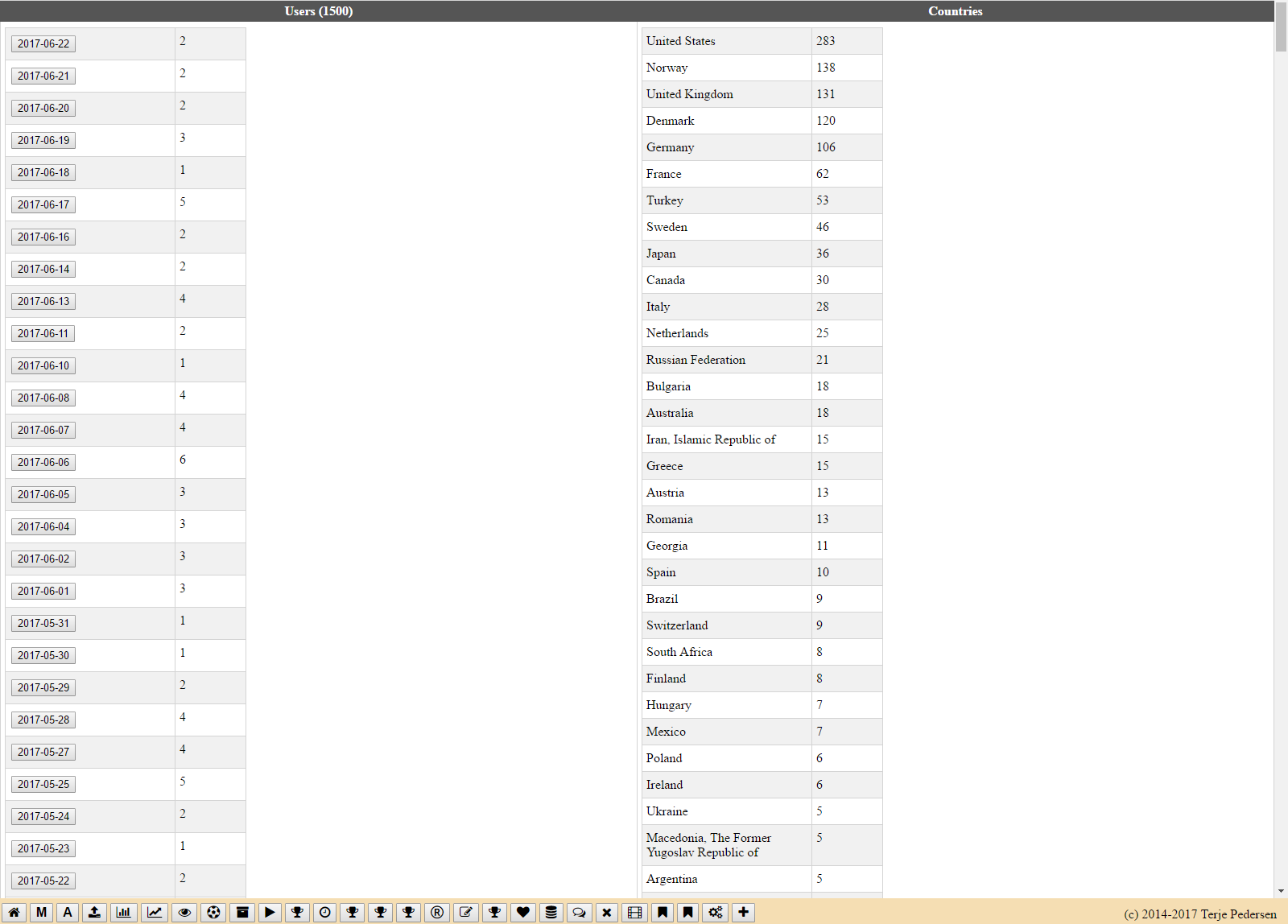 And today I see that the number of online matches has passed 7000! Even more awesome!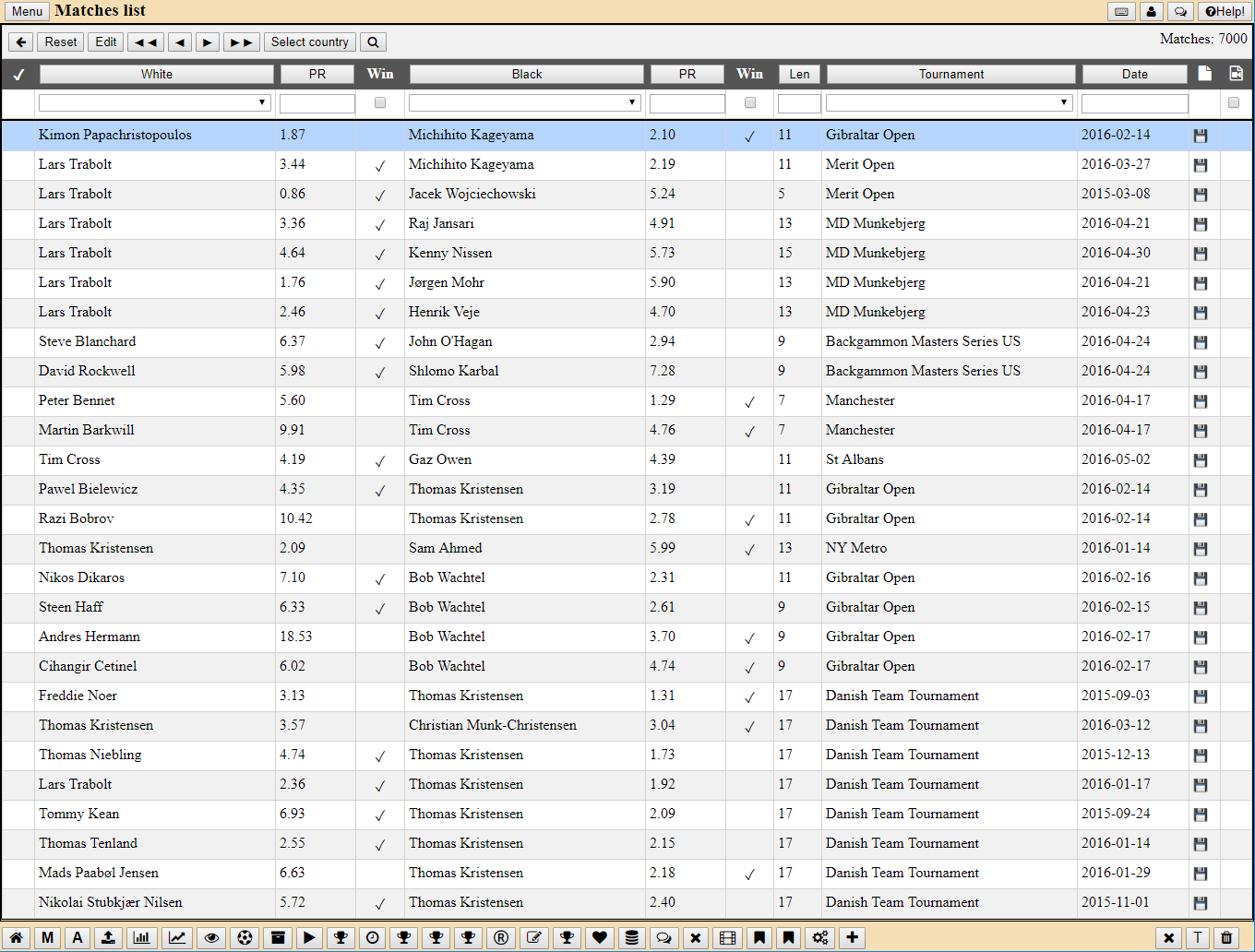 And it is great to see so many flags showing up in the match champ list! If you see your name in that list and the flag is missing don't hesitate to add it! Click on your own name in the users list and you should see a profile button at the bottom.
7000 matches is a nice amount of matches but does this mean that playing matches on Backgammon Studio will work perfectly for everybody? Unfortunately not. I see some users struggle with poor wifi connections which doesn't make for a great playing experience. I have started to look into this problem and one problem I spotted was that if you lose connection and then your opponent does a move the message will fail to reach you and is lost. When you do get connection again you may not see the correct view of the board. It should get corrected after you click undo or do something illegal but ideally the missing messages should be replayed to you (but this could get ugly if you have lost connection for a long time) or perhaps a forced reset of the position from the server should trigger. I'll look into this some more.
One trick you can do if you know you have a bad network connection is to turn off all sounds in the sounds settings before you start a match as these audio clips will be loaded at start (unless the browser has cached them locally) and may cause problems. This might avoid some startup problems. Perhaps adding a loading progress bar and not allow you to start a match until loading is complete is a better solution. I'll take a look.
If something sux (online match play or anything else) please don't hesitate to tell me! I try to do my best to make Backgammon Studio as great as possible and your feedback can be very valuable!
An email to terjepe@gmail.com with a screenshot of some problem that you are seeing can be a goldmine of information to me!
How about the random generator used on Backgammon Studio? I am sure backgammon conspiracy theorists will say that online backgammon games are rigged no matter what you say but yesterday I added a display of 1 million dice rolls: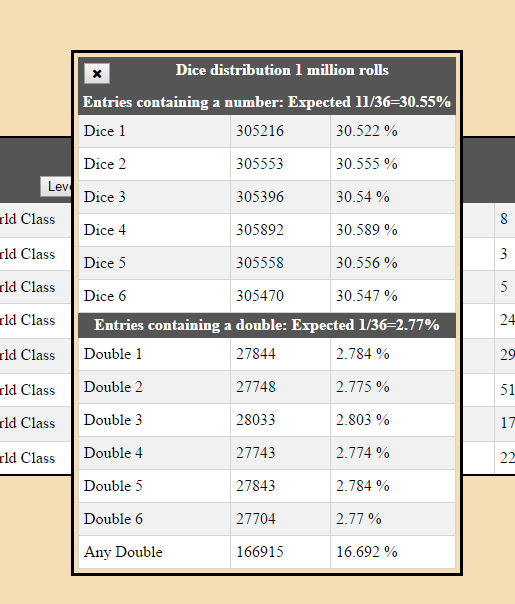 Good enough to fool me! How about you?
And oh! It is Friday so I have added another training track: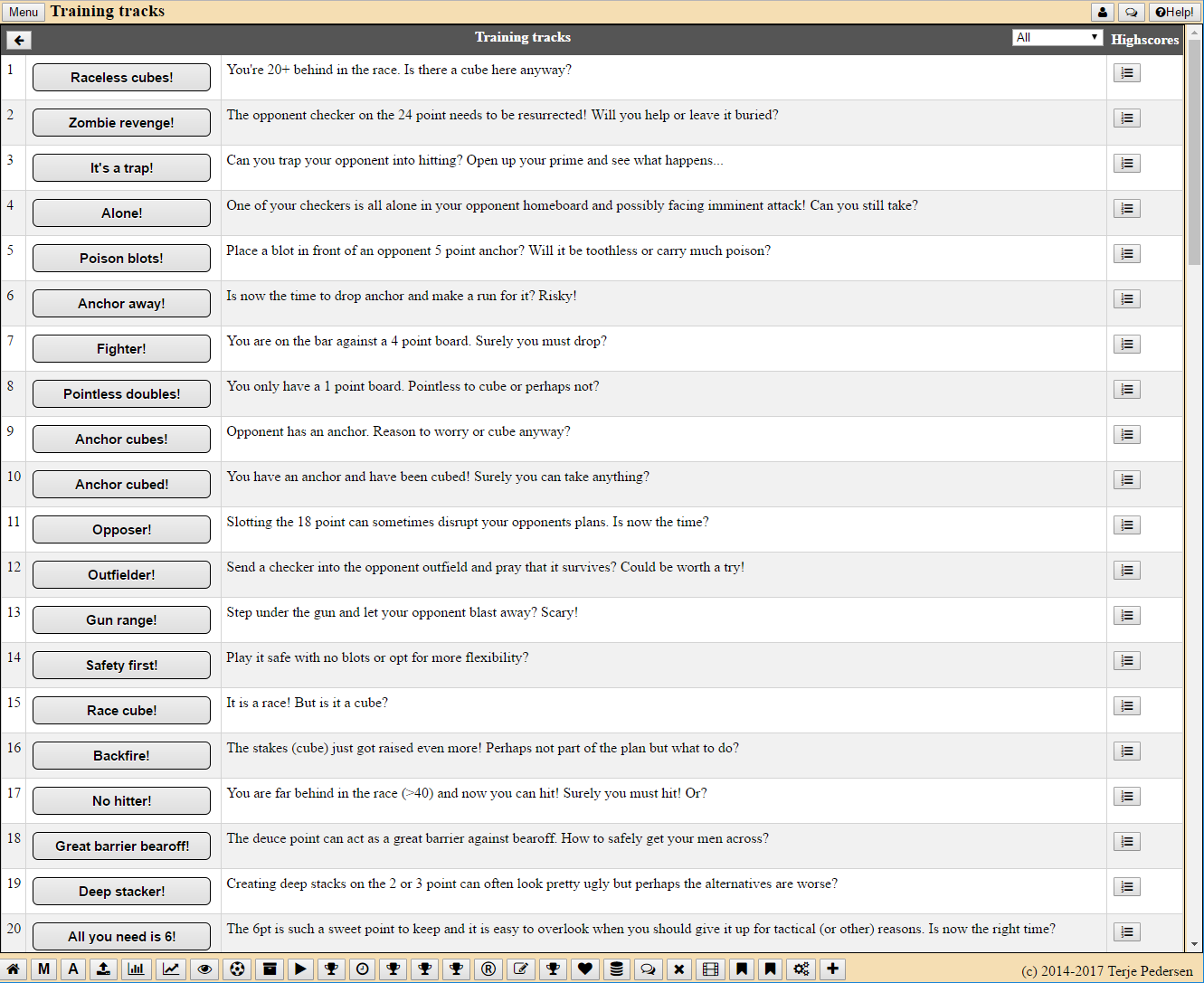 You're 20+ behind in the race. Is there a cube here anyway?
I'm often too reluctant to cube if I'm behind in the race but sometimes the threat and position justifies a cube anyway. Now I can practice more on this situation!
Backgammon Studio
The Swiss army knife of backgammon!
Best regards,
TP
3
Hi!
Backgammon Studio keeps improving and today I have updated the version number to 4.0 with these fine improvements:
Backgammon Studio 4.0
Improvements since 3.9:
New actiontags:


Trap play or not
Homeboard doublehit or not
Hit on the 24pt or not
Hit on the 23pt or not
Hit at front of prime or not

New training tracks:


Zombie revenge! The opponent checker on the 24 point needs to be resurrected! Will you help or leave it buried?
It's a trap! Can you trap your opponent into hitting? Open up your prime and see what happens...
Alone! One of your checkers is all alone in your opponent homeboard and possibly facing imminent attack! Can you still take?
Poison blots! Place a blot in front of an opponent 5 point anchor? Will it be toothless or carry much poison?

Other improvements:


Opening opera! Try the 5 first moves in a random match from the database. Can you ace it?
Premium Trial! Try out all features for a month to see what you're missing as a non premium users. That is a lot!
Saved queries in Week in review section.
Login/registration cleanup. Direct feedback on during registration if an error is detected.
Today top 5 highscore list now only contain one entry for each player.
You can now check your progress while playing training tracks.
Display average PR performance for players in a single tournament.
Display list of tournament matches for a single year.
Check graph of overall average PR performance.
Search view action tag section didn't look too good on iPad. It is now cleaned up and organized by subject.
You can now set the autoplay speed in board settings.
There is now an audio effect when you are being challenged. Suggested by Killercat.
There is now an expand button and filter button for the match champions list.
You can now filter training tracks based on cube only, checker play and opening play to make it easier to locate the training track you are looking for.
You can disable the private db help dialog that shows up whenever you switch to your private database.

Bugfixes:


You couldn't close the upload profile image dialog but it would close if you submitted an image. - Reported lhbraun.
If you use colon in a chat message anything past the colon would dissapear. - Reported by Hall.
The board scale didn't seem to be set properly (client using cached version). - Reported by panda999.
It wasn't possible to select Ed O'Laughlin or other users using single quotes in names in the match list.
Some images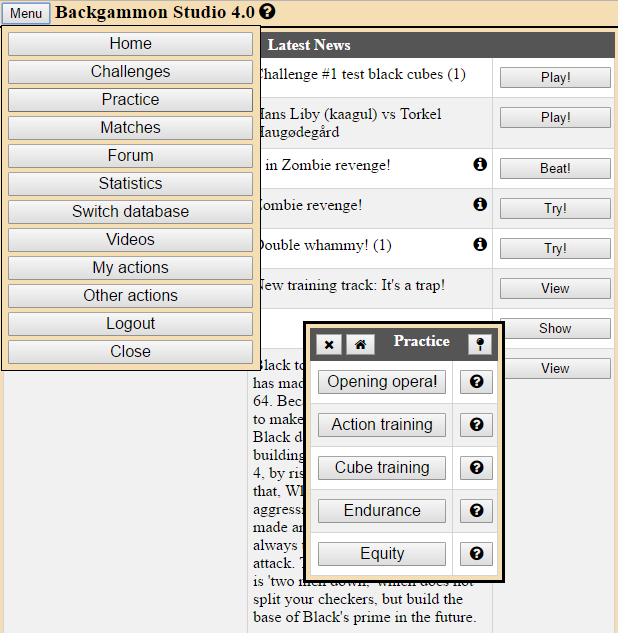 During Norwegian Championship Rune Færevåg mentioned that he had practiced openings by repeatedly playing the 5 first moves against XG. I came up with something similar using a random match from the database. While 6000 matches isn't scratching the surface of the number of different possible openings 5 move openings it should keep you entertained for a while!
Actually I also separated the practice tracks (no highscores) from the other ones into a separate dialog as it looked a bit odd to have it as part of the challenges dialog. Access it from menu/Practice or ctrl-p on desktop.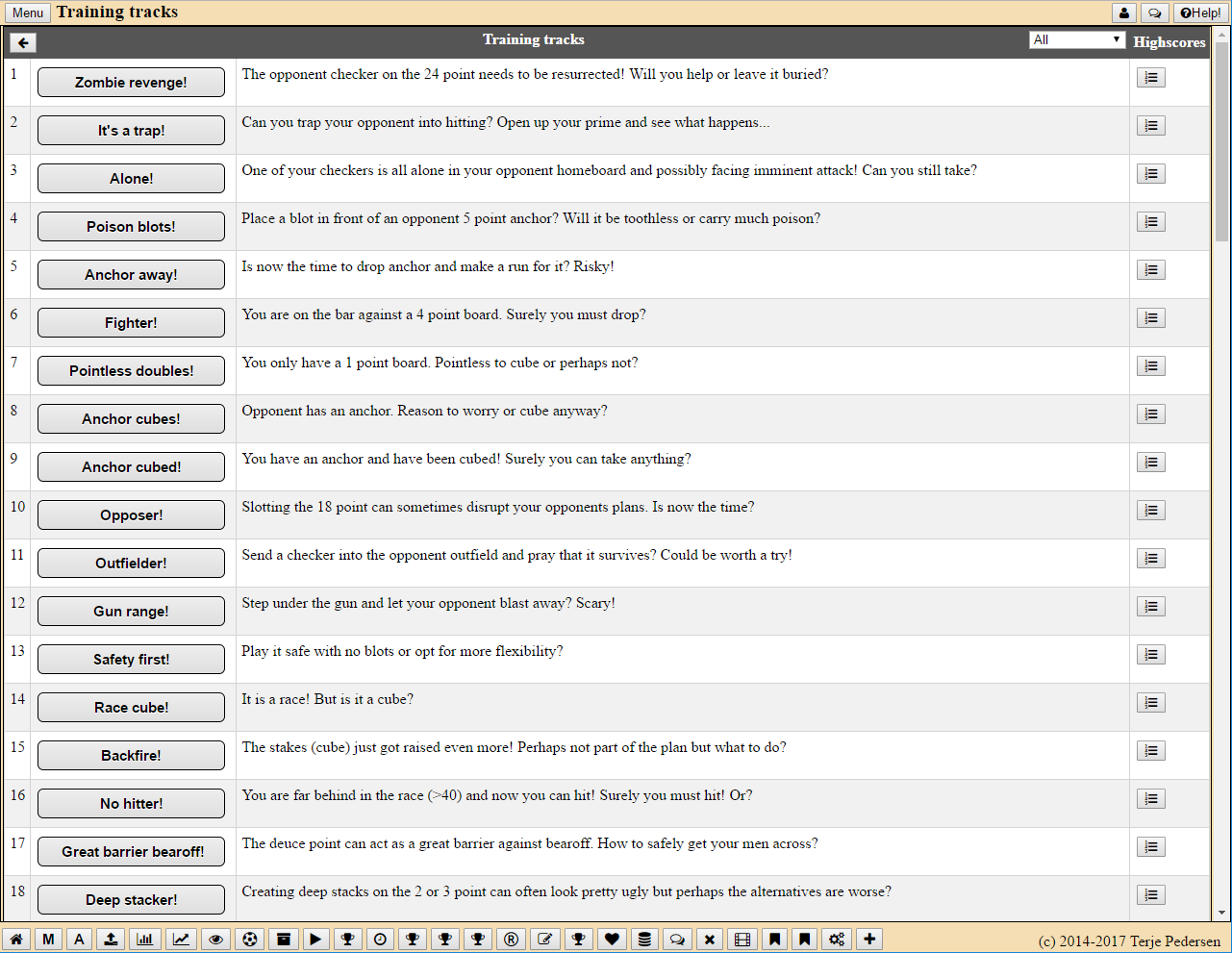 The number of training tracks has reached 80! Not too bad! Zombie checkers was suggested by Mary Hickey from her article on
GammonVillage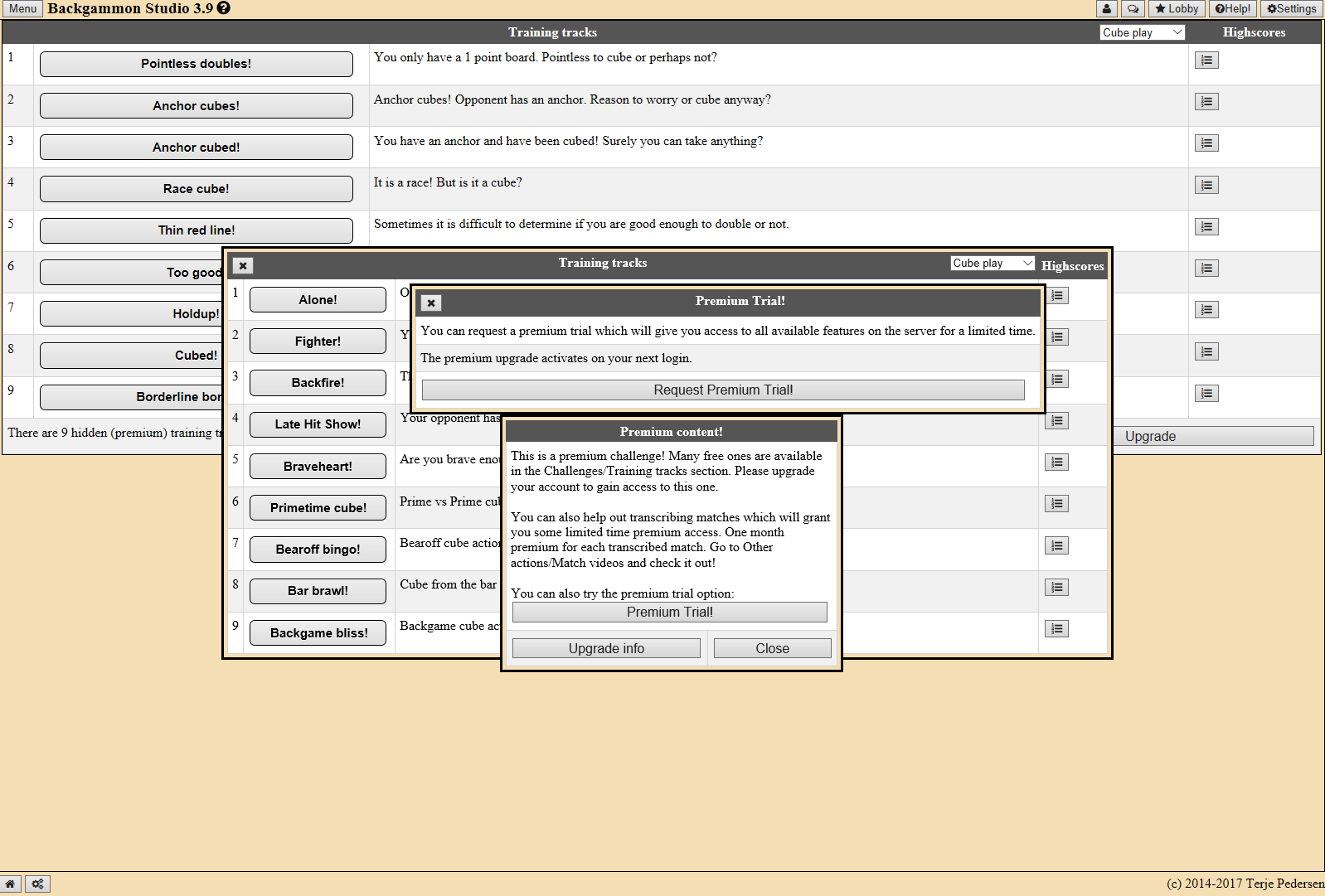 Curious what you are missing out on as a non-premium member? Now you can give premium a try!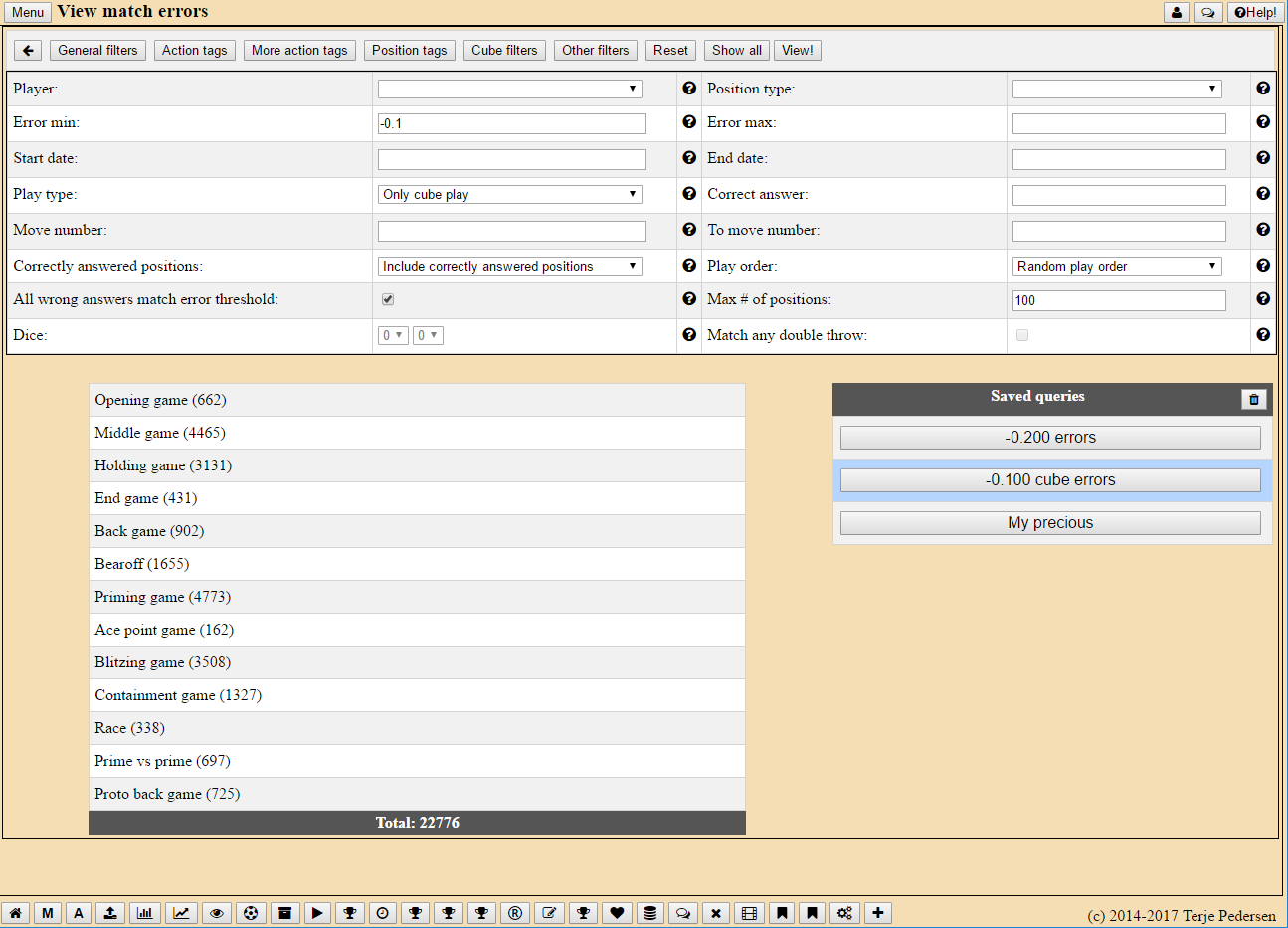 Saved queries is a nifty feature to store a search query for later use. Suggested by Tore.

One interesting use for saved queries is to use it to make a more interesting week in review session. For instance you can create a search query where you focus on missed cubes and then check how many of these you have done recently.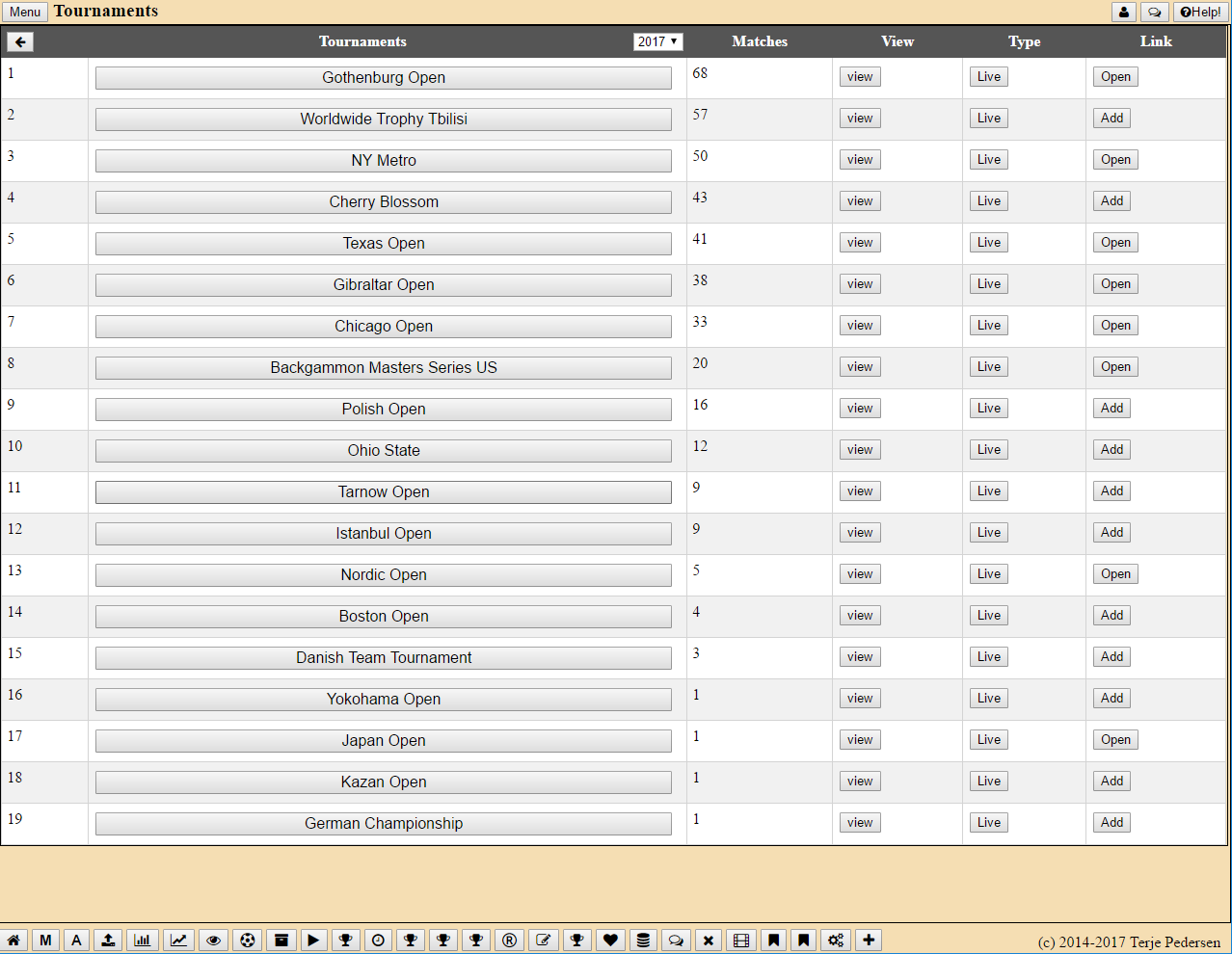 Which tournament has produced the most transcribed matches? Adding a BMAB part of a tournament can be a great way to boost this number!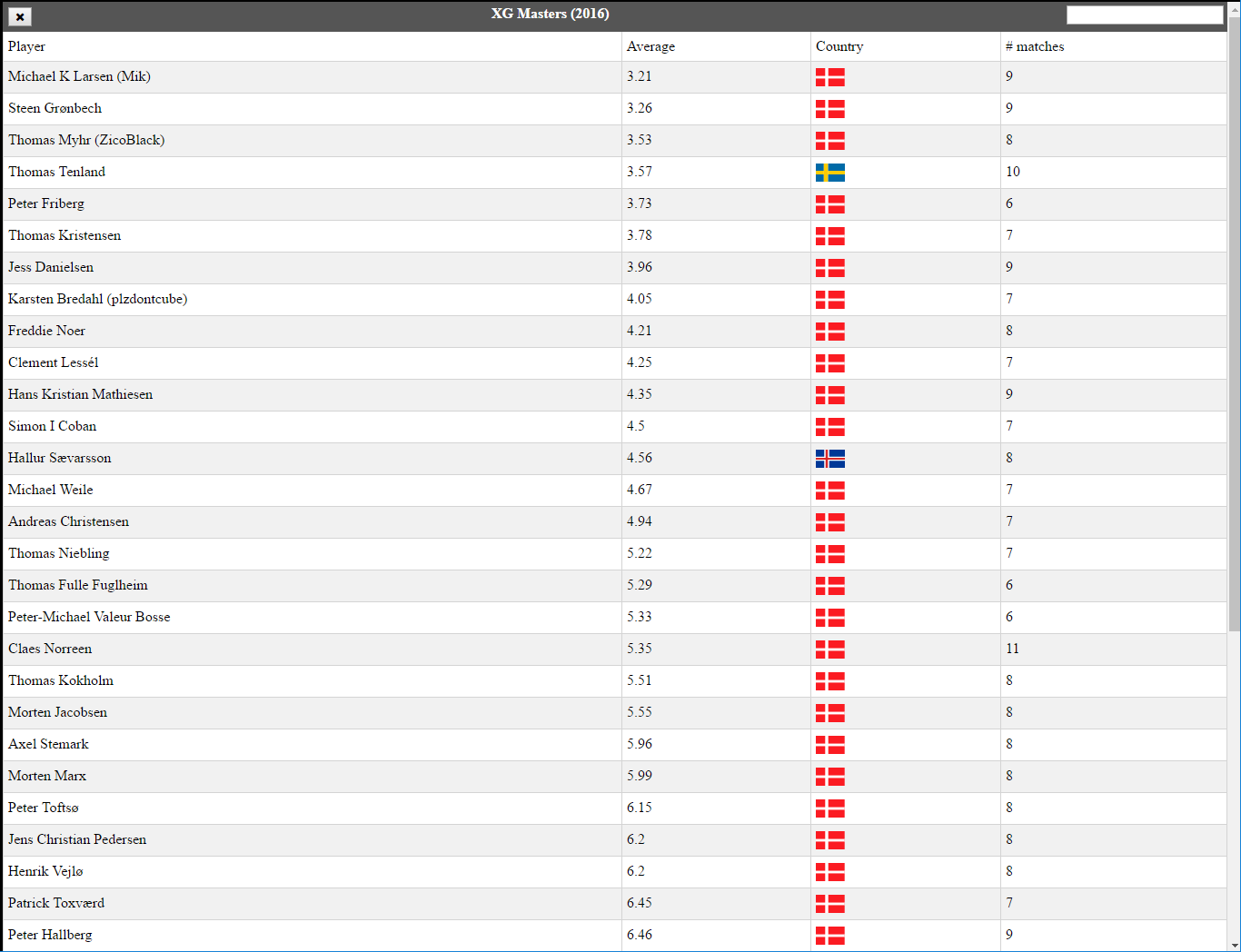 Find out which player played best during a tournament. Comparison is perhaps not so fair unless you have a BMAB type tournament where everyone will have multiple transcribed matches.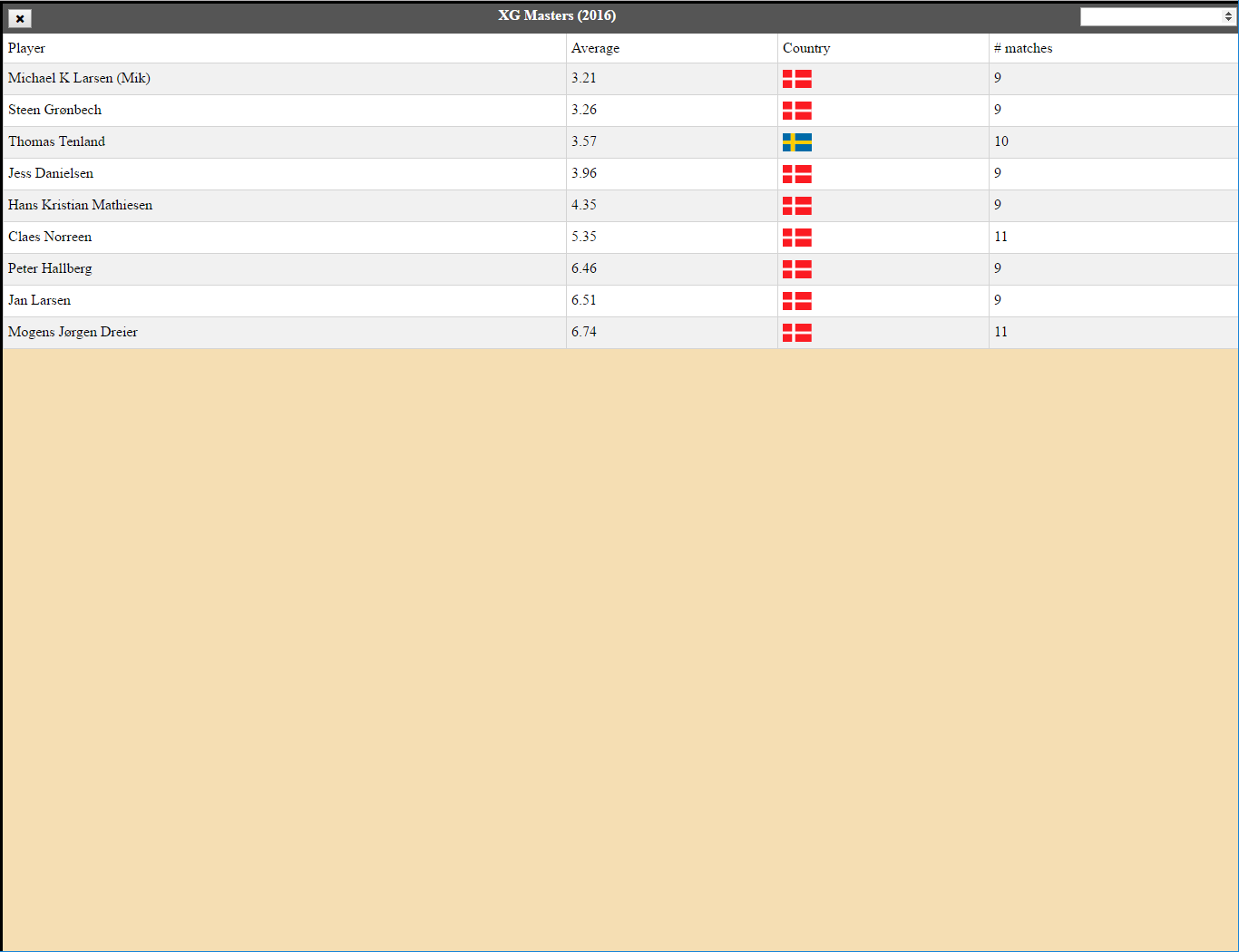 You can also enter a threshold of matches that should have been played (input field in the top right corner. Which should have had some additional info...).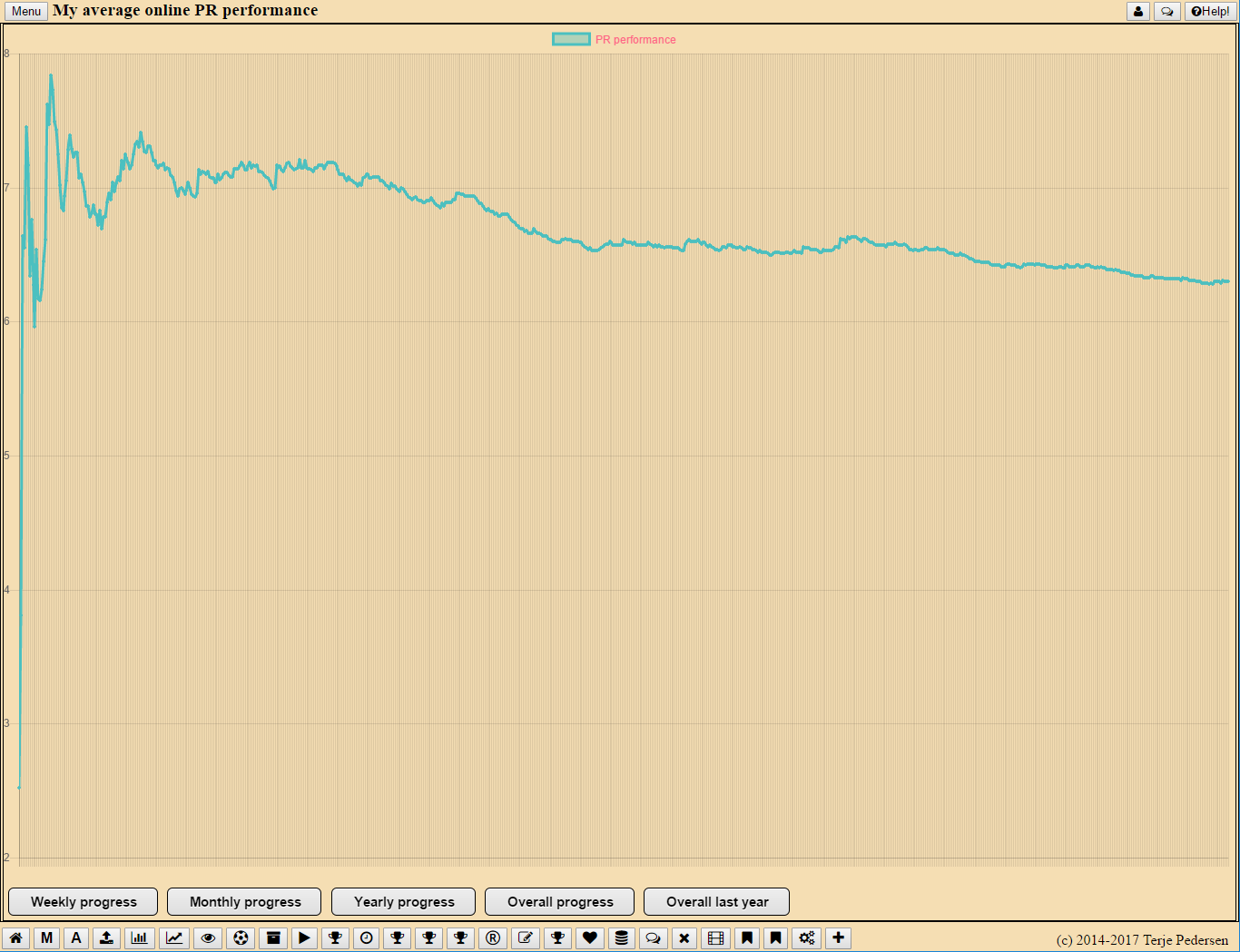 You can now check your overall PR performance which is perhaps more interesting than the original local performance graphs.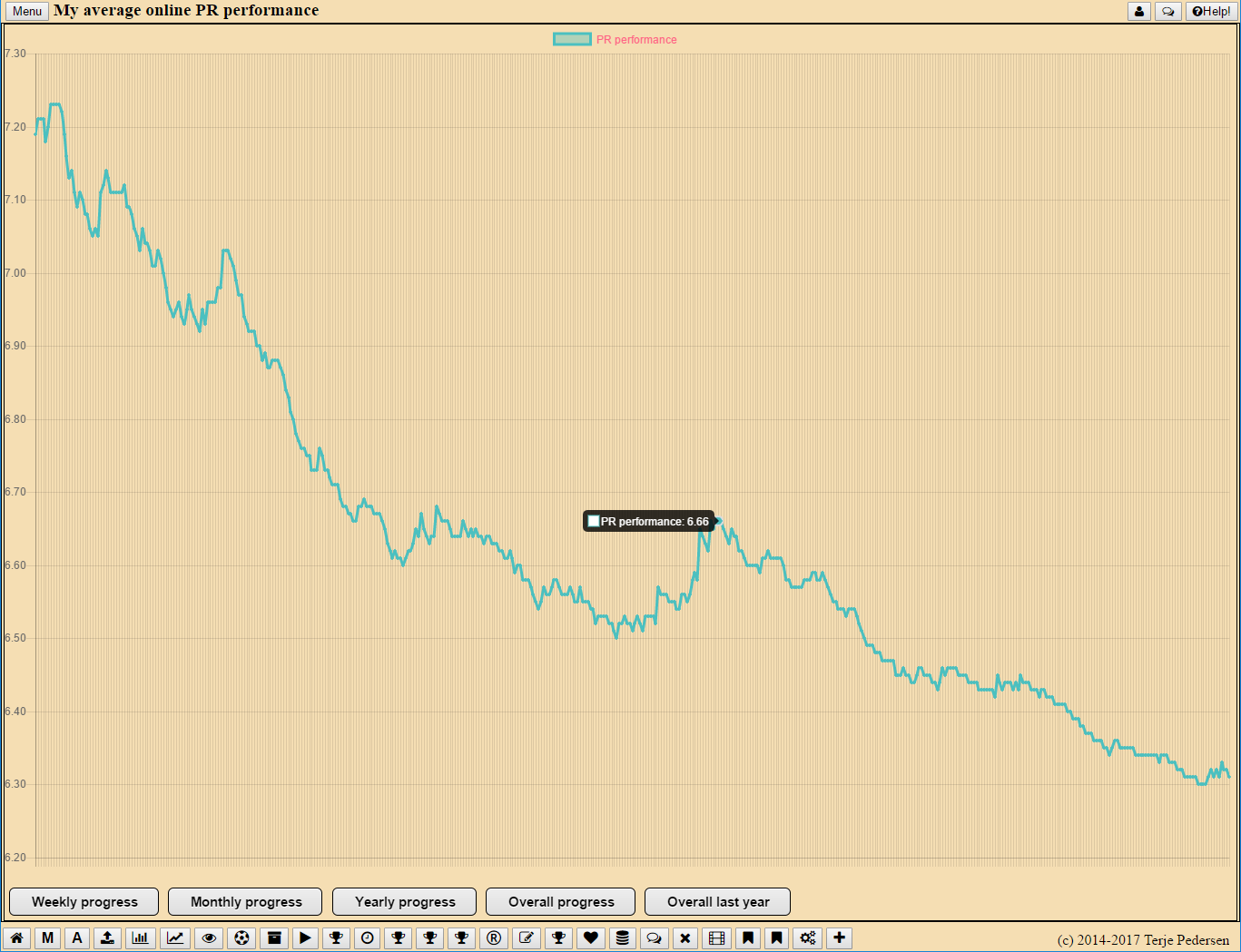 You can also get an overview for the last year.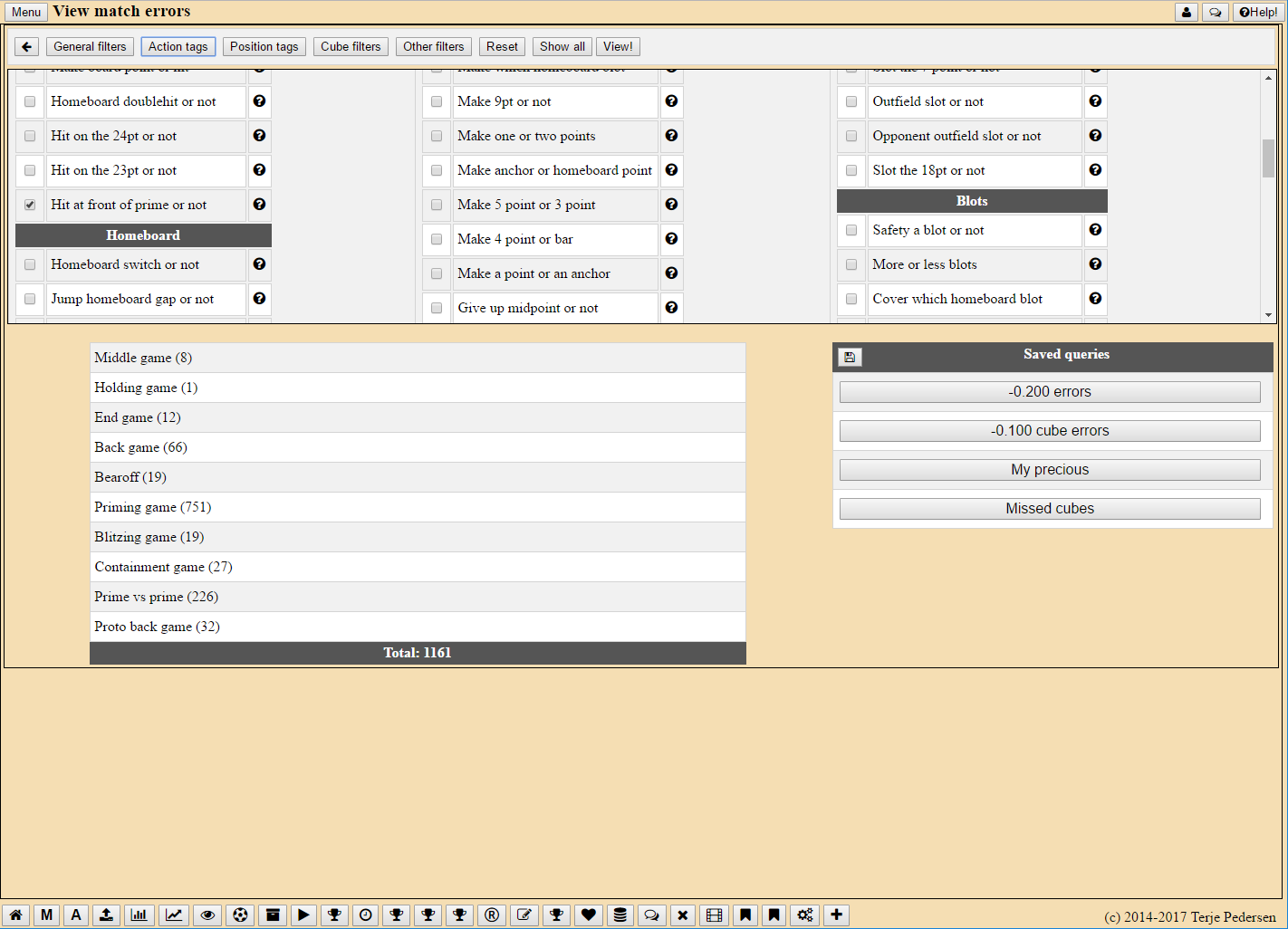 A cleanup of the search view action tags section. Now the tags are grouped on subject. This should also look better on tablet/phones. And oh hey! Several new action tags!
Feedback
Got any questions or feedback? Don't hesitate to email me at terjepe@gmail.com. Think something sux (like the UI)? Let me know or I may just think everything is awesome!
Spotted something that looks wrong? Take a screenshot and email it to me. That can help a lot in locating the problem!
Other news
The number of matches in the database passed 6000 recently (6065 as of today) and the number of online matches also went past 6000 and growing much faster (6654 as of today)!
Backgammon Studio
The swiss army knife of backgammon!
Haven't tried Backgammon Studio yet? You should!
Best regards,
TP
4
« Last post by ushimata on June 10, 2017, 06:39:40 PM »
gnubg does not cheat with the dice. You can verify this by simply setting it to "manual dice", and playing a few matches by rolling a real pair of dice and entering the rolls yourself. You'll still get clobbered.


This is a very old tired topic, as every newbie has the impression that gnubg cheats because it wins almost all the time, when the real reason it wins almost all the time is that it's just a much better player than the newbie.

BTW, if you're frustrated with gnubg winning too much, you can dial down it's playing level to "beginner" or "casual player". This definitely makes it more fun for newbies. Once you start beating it on a regular basis you can increase its level accordingly.

wrong ! i set it to manual dice and i clubbered the SOB. before that i hardly won a game since netgammon stopped.
5
« Last post by Gerard_82 on June 05, 2017, 01:58:50 AM »
A problem I encountered a few times while playing backgammon in the beach and other locations was the risk of losing one's pair of dice and the inconvenience of throwing them on an uneven surface. So I designed and programmed a dice simulator intended for backgammon among other boardgames. It's not meant to replace traditional dice and I'm sure many people would stay loyal to a real pair, but feel free to give it a try, I'm open for any suggestion. The app is made for iOS and you can check it here (it's free):
https://itunes.apple.com/us/app/the-dice-lite/id1023016051?ls=1&mt=8
. Don't hesitate in giving me back suggestions, I hope you like it!
6
« Last post by ZAKARI on June 02, 2017, 11:38:06 PM »
7
Hi!
The other day I noticed that the number of matches in the database was getting close to 6000 matches to I made a little push and dusted off some old matches that weren't present in the database and oh hey! 6000 matches!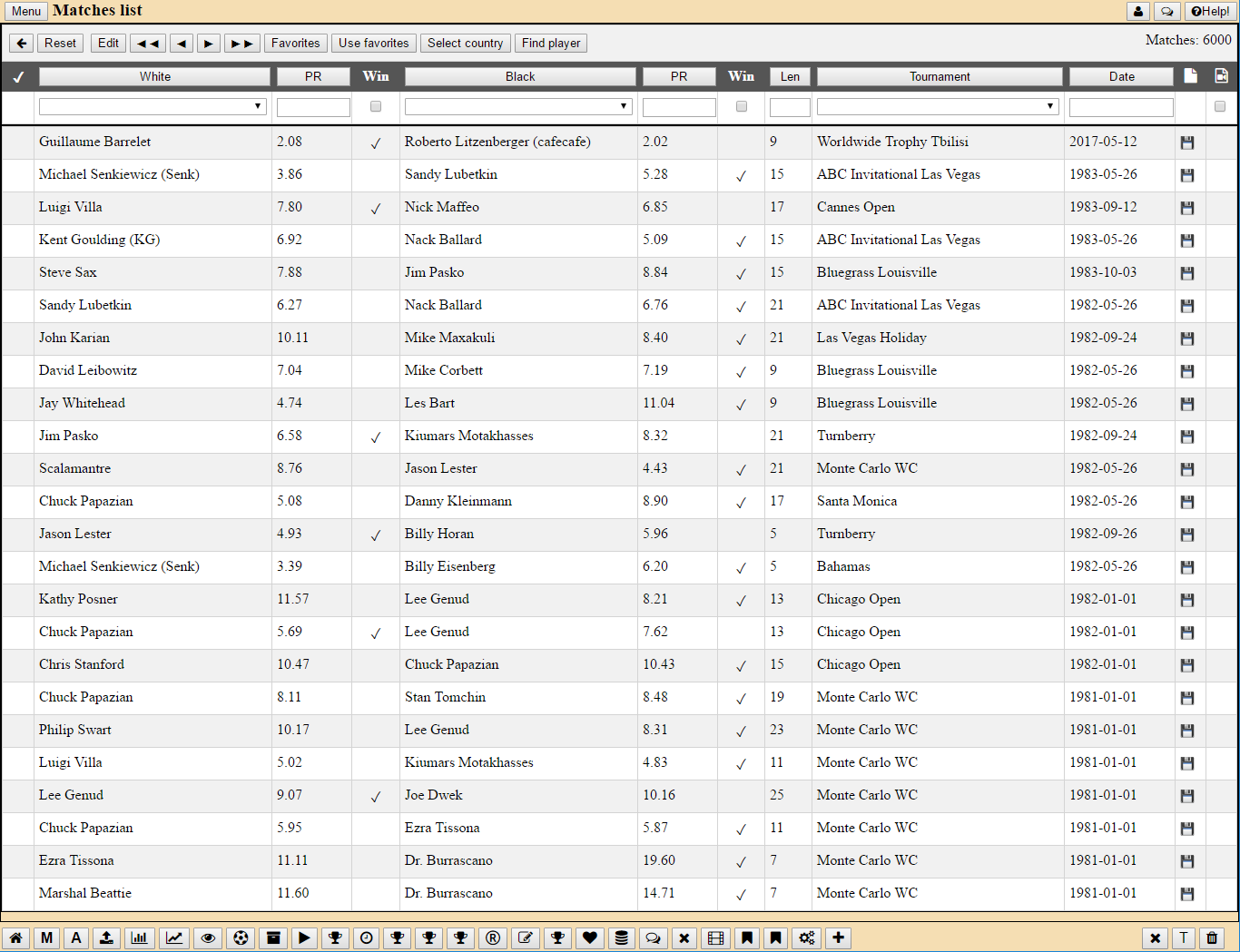 Actually it is a bit above that now as Bob Wachtel sent me his last matches from the Worldwide Trophy Tbilisi tournament and a couple of other matches. Bob, Timur Azizov, János Csendes, Levan Kareli, Bakar Matikashvili and Karen Sarkisyan have all contributed to a great collection of matches from this tournament this year! Thanks a lot!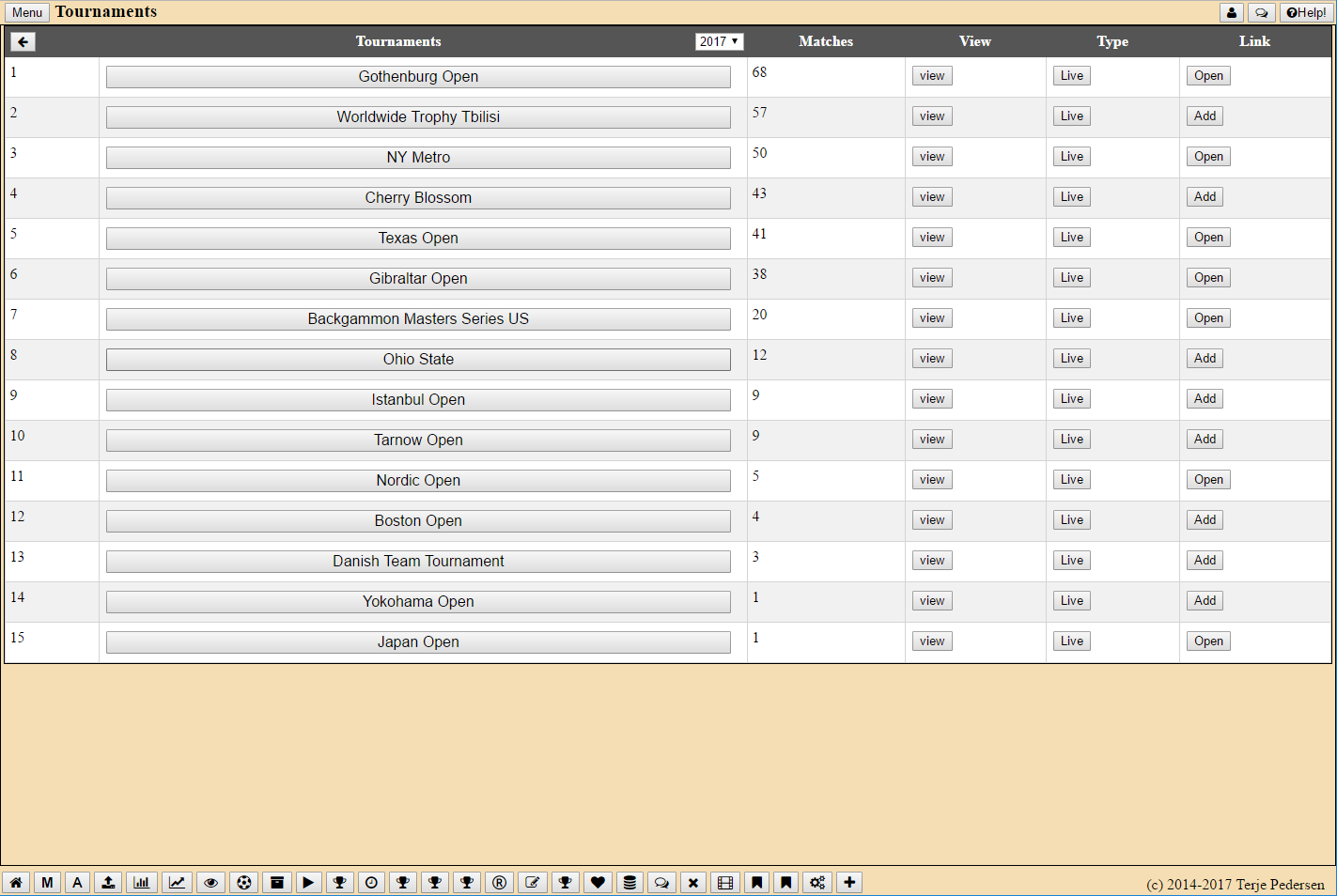 Worldwide Trophy Tbilisi has claimed the second spot in the tournament list that has generated the most transcribed matches this year only surpassed by Gothenburg Open! Pretty sweet!
This yearly tournament overview is also a feature I added a couple of days ago (go to menu/tournaments and select 2017 in the year dropdown). And what happens if you click on any of these tournament buttons? Head over to Backgammon Studio and find out!
It looks like several tournaments have some great potential for improving their position in this list. If you happen to have a few matches played in any of these tournaments you know what to do!
And today the number of online matches played on Backgammon Studio also reached 6000! Pretty sweet!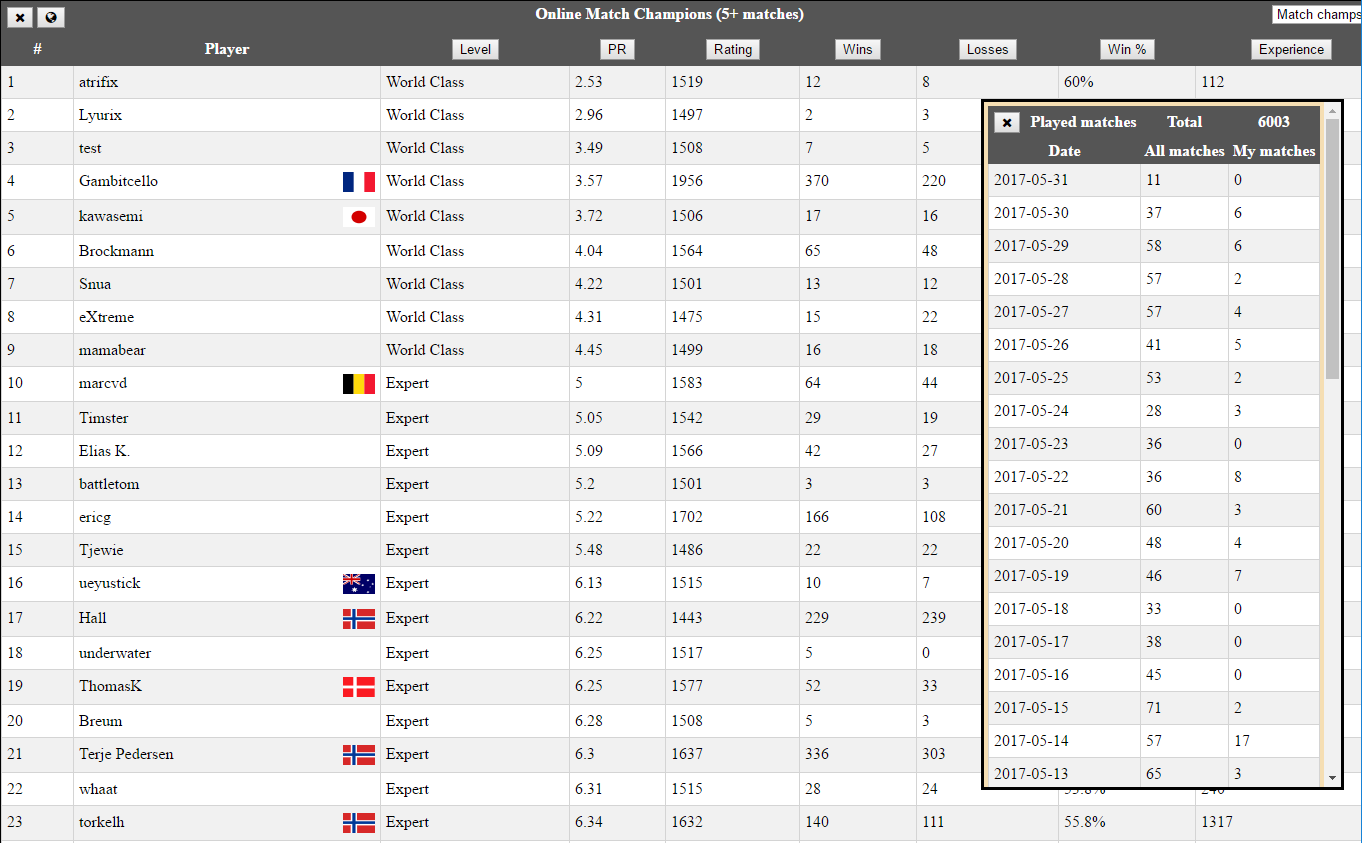 I see some of the top players haven't gotten around to raising their flag just yet (don't be shy!) but I suspect the US and Denmark does have some presence at the top. Who could have guessed?
One of the unique differences with playing matches on Backgammon Studio as opposed to other online play sites is that the ranking list is based on average PR (you can sort it on other criteria if you wish) and I think that changes the focus a bit towards playing as well as you can instead of just playing for wins. At least that is the case for me and I suspect for many others. Win or lose is usually up to the dice but playing well is entirely up to you.
And there is perhaps an additional feature or two on Backgammon Studio which you won't find anywhere else! While I haven't collected enough new features to up the version number one new feature is so sweet it can't wait! Saved queries: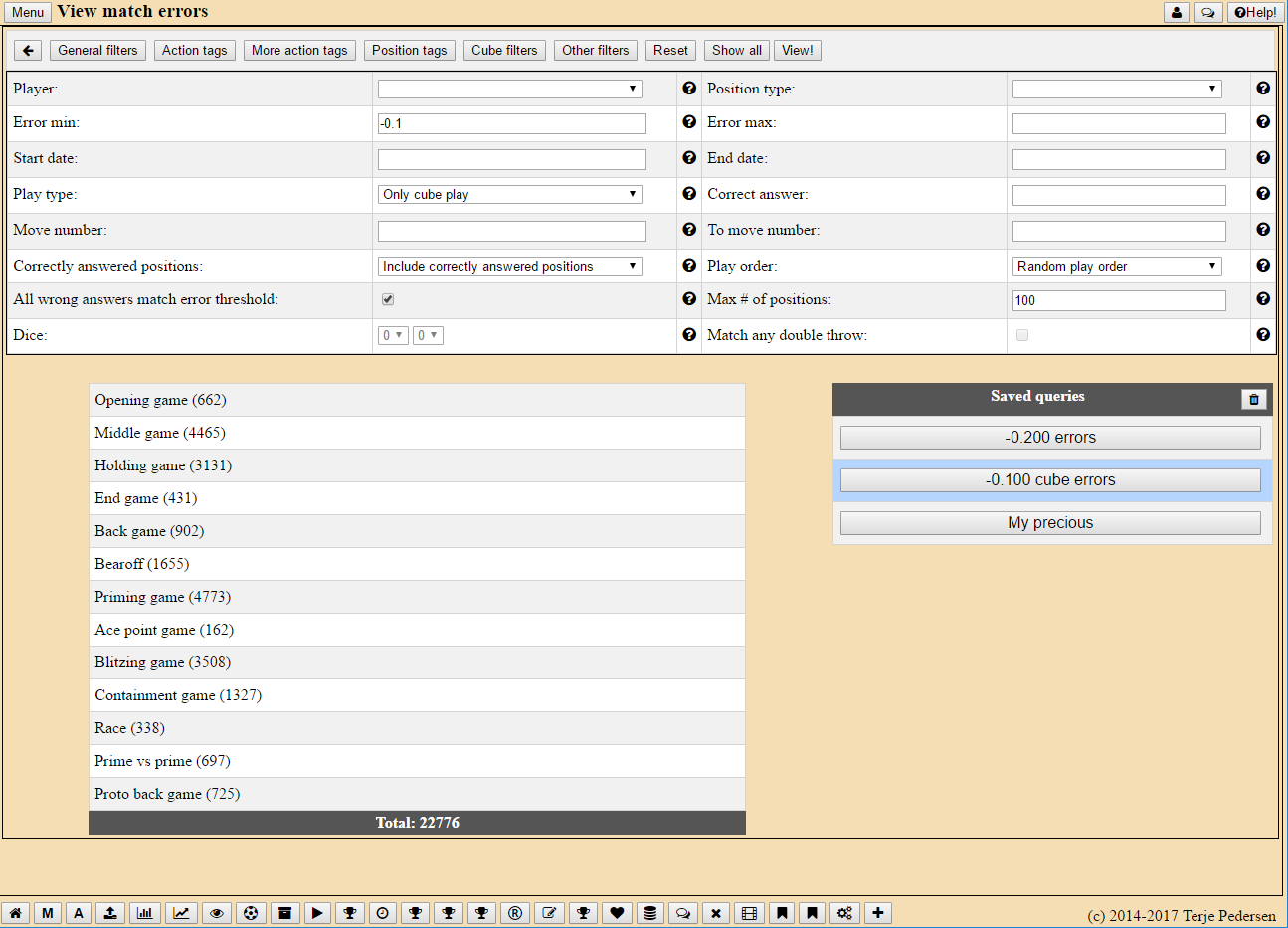 You can set up an interesting search and then save it for later. The same saved queries work in your private database as in the public database. Pretty useful in itself but I can think of a few other amusing uses: Custom week in review categories and custom training tracks could be pretty sweet to add.
I have also made an introduction video for this feature:
Saved search queries
While you wait for another version update you can check out other interesting improvements in the
Improvements section.
or check out the
Backgammon Studio facebook group.
Don't miss out and head over to Backgammon Studio today!
https://www.backgammonstudio.com
The swiss army knife of backgammon!
Best regards,
TP
PS. Several users have tried to register with an invalid email address which would result in the confirmation email failing to be delivered. If you never heard anything back from your attempt to register you can just email me directly: terjepe@gmail.com and I'll help you out!
8
« Last post by john21wall on May 25, 2017, 12:20:53 PM »
Thank you so much for taking the time to write this out!
9
Hi!
The Worldwide Trophy 2017 Tbilisi, Georgia has come up with another trophy! A lot of transcribed matches!
Bob Wachtel (2.68) - Konstantin Bartach (6.23) 9pt Nations Cup 2017 R3 v Russia II
Bob Wachtel (2.81) - Suren Karatorosyan (2.56) 9pt Nations Cup 2017 R2 v Armenia
Bogidar Iliev (4.37) - Tobias Hellwag (3.66) 9pt Nations Cup 2017 R4
Juergen Orlowski (5.21) - Falafel (8.46) 9pt Nations Cup 2017 Israel vs Germany
Karen Sarkisyan (2.25) - Volker Sonnabend (3.69) 9pt Worldwide Trophy Tbilisi 5-16-2017
Karen Sarkisyan (2.69) - Sevdalin Tzvetanon (3.99) 9pt Worldwide Trophy Tbilisi 5-17-2017 M2
Karen Sarkisyan (2.84) - Mohammadreza Moeinfar (8.52) 9pt Worldwide Trophy Tbilisi 5-16-2017
Karen Sarkisyan (4.19) - Mohammadreza Moeinfar (4.44) 9pt Worldwide Trophy Tbilisi 5-18-2017
Karen Sarkisyan (4.30) - Sevdalin Tzvetanon (3.95) 9pt Worldwide Trophy Tbilisi 5-15-2017 M1
Karen Sarkisyan (4.60) - Wayne Felton (8.51) 9pt Worldwide Trophy Tbilisi 5-16-2017
Levan Kareli (3.25) - Bogidar Iliev (8.95) 9pt Worldwide Trophy Tbilisi 2017-05-17
Levan Kareli (6.65) - Edik Nazaryan (2.53) 9pt Worldwide Trophy Tbilisi 2017-05-14
Sergey Erokhin (2.56) - Bakar Matikashvili (3.35) 9pt Worldwide Trophy Tbilisi 2017-05-19
Simon Pankvelashvili (3.00) - Tobias Helwag (6.18) 9pt Nations Cup 2017 R4
Simon Pankvelashvili (3.99) - Khachik Melikyan (3.46) 9pt Worldwide Trophy Tbilisi 2017-05-16
Tim Cross (5.46) - Bob Wachtel (3.05) 9pt Nations Cup 2017 R1 v England
Tobias Hellwag (6.30) - Simon Pankvelashvili (2.88) 9pt Worldwide Trophy Tbilisi 2017-05-16
Tobias Helwag (2.91) - Roohollah Amiri Andy (7.29) 9pt Nations Cup 2017 R1
Tobias Helwag (5.15) - Atsamaz Arsagov (5.55) 9pt Nations Cup 2017 R5
Wayne Felton (2.88) - Massoud Aghdan (8.73) 9pt Nations Cup 2017 R2
Sweet! And some very impressive PR performances from backgammon players which I have to admit I am rather unfamiliar with! Awesome!
A big thanks to Bob Wachtel, Janos Csendes and Bakar Matikashvili for providing these matches!
If you have more matches from this tournament don't hesitate to send them to me and I'll publish them on Backgammon Studio!
Backgammon Studio
The swiss army knife of backgammon!
Best regards,
TP
PS: The name information was a bit lacking so I had to do a bit of google/facebook search to locate the correct ones. I think I got it right but if not let me know!
PS2: I am missing the nationality of a couple of players: Bakar Matikashvili (Georgia?), Edik Nazaryan (Armenia? and is the name correct?), Massoud Aghdam.
10
Hi!
I have been having a lot of fun playing online matches on Backgammon Studio (and watching some awesome videos from Nordic Open!) but I have managed to scrape together a few more improvements:
Backgammon Studio 3.9
Improvements since 3.8:
New actiontags:


Hit and run or not
Hit and switch or not

New training tracks:


Anchor away! Is now the time to drop anchor and make a run for it? Risky!
Fighter! You are on the bar against a 4 point board. Surely you must drop?
Anchor cubes! Opponent has an anchor. Reason to worry or cube anyway?
Pointless doubles! You only have a 1 point board. Pointless to cube or perhaps not?

A truckload of 10s and 20s training tracks added.
Interface cleanup! Several sections are now dialogs (works better on phones). Some actions moved to different locations.
The cleanup also removed two fairly obsolete menu options horizontal and hidden. Classic menu just survived!
Interviews video section and a new section for videos.
Pin dialogs to page. Several dialogs can now be pinned to the page so they won't close when you click on a button inside the dialog.
Bronstein clock add is separate from bank. Suggested by denominator.
Icon for playing a match. Suggested by denominator.
Player profiles! You can now add some profile information about yourself. Suggested by MishyPoo.
Link to player profiles from the match champions list.
You can set different background colors between main and private database. Suggested by NPW.
Match chat - observers and players of a match can use this chat.
Improved use of gnu evaluation. Thanks to Marc Olsen for detecting this!
Some countries are unable to use paypal (Turkey and perhaps others). IBAN number provided.
TCTC is also used for take/drop challenge. Suggested by Hall.
Clicking on a name in the match champions list will display your head-to-head performance against this player.
A couple of users started to abort classic challenges in the middle only to restart directly afterwards. Mysterious. Now unless you complete a classic challenge you will have to wait 1 month until you can try it again.
In the tournaments section if you click on a tournament you can check how many matches there are for each year.
Reassigned shortcut keys to be more consistent: ctrl-c: challenges, ctrl-m: matches, ctrl-v: videos, ctrl-s: statistics, ctrl-a: my actions, ctrl-o: other actions.
Bugfixes:


A couple of dialogs didn't switch to fullscreen dialog on mobile (friends list and users list).
A search query using match id was ambiguous.
Possible fix for not triggering thumbnail generation. Reported by Mochy.
Possible fix for out of order double action.
Some images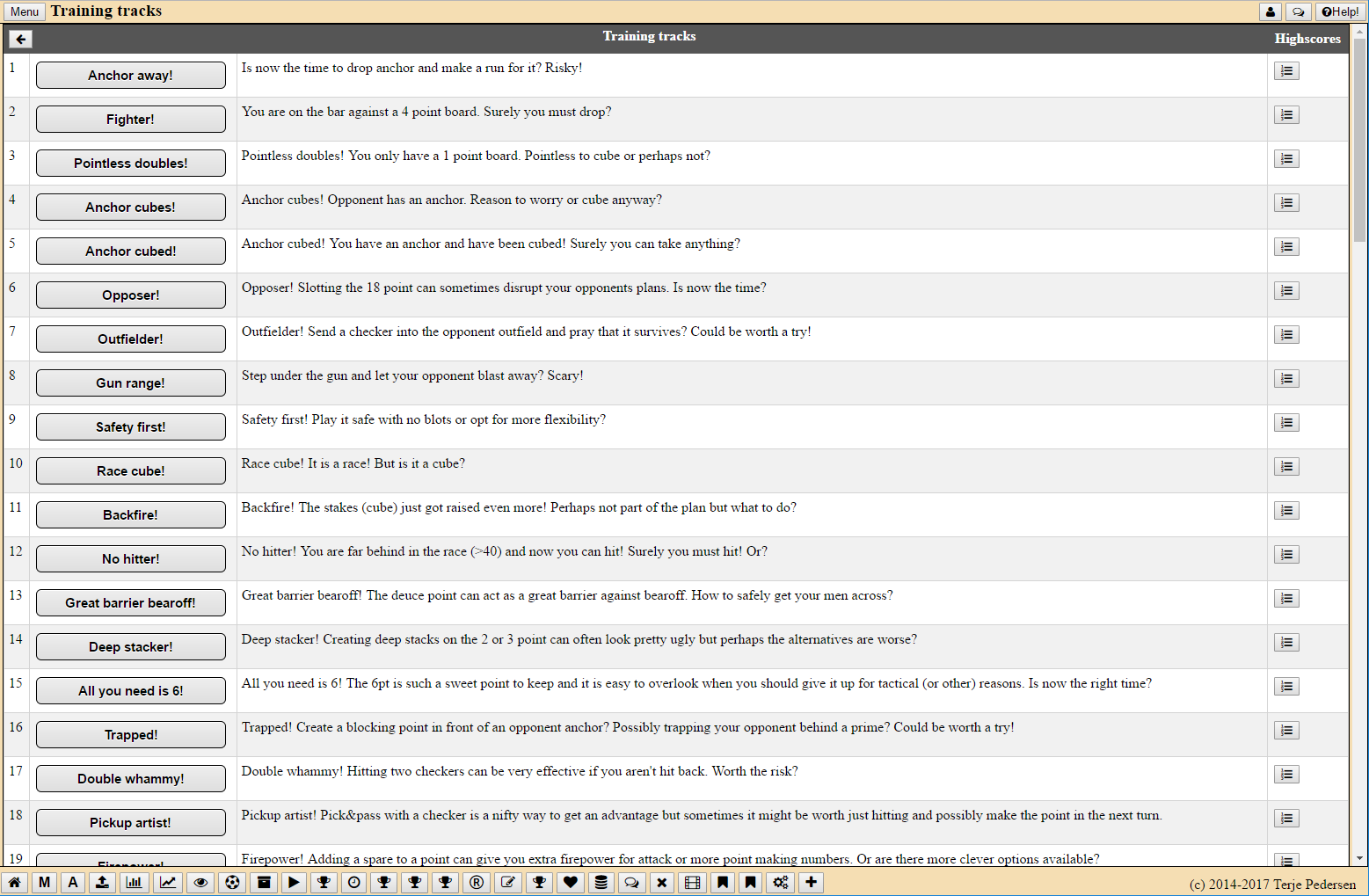 New training tracks! Sweet! :-) I have located a few more missing 10s training tracks so they are now in sync with the main ones. 76 in total!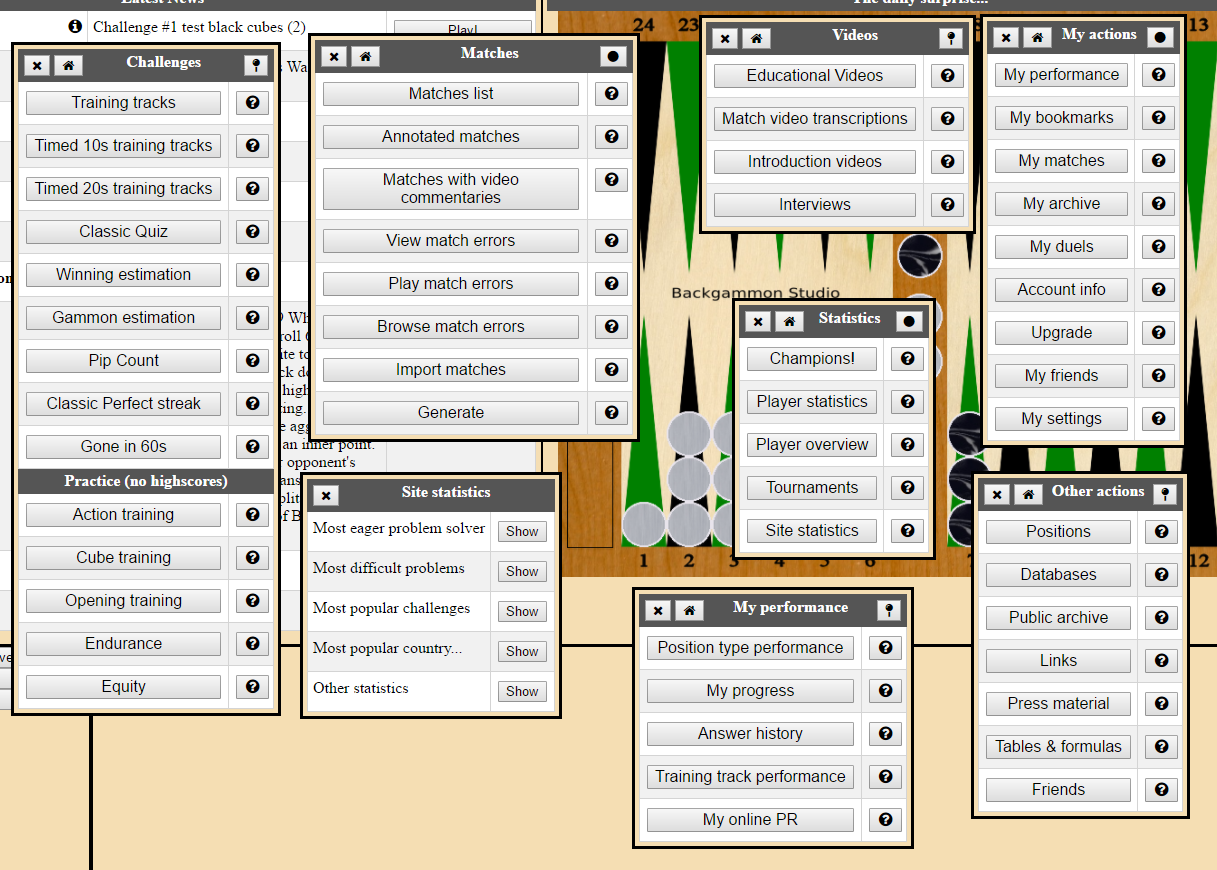 Interface cleanup! Perhaps the most noticeable are that some sections have become dialogs. And you can pin many dialogs so they won't disappear when you click on a button inside it.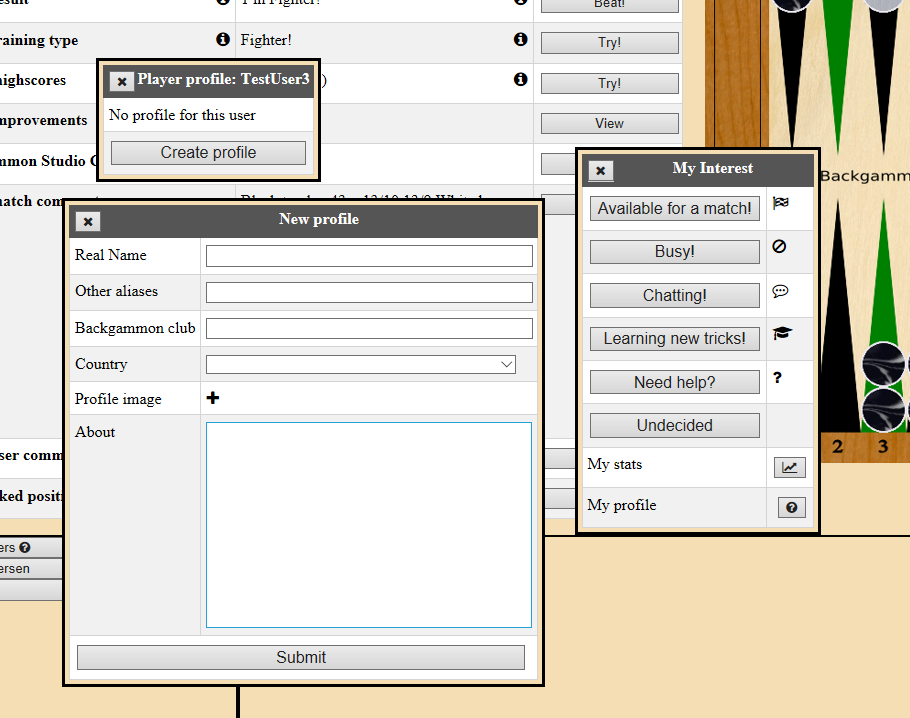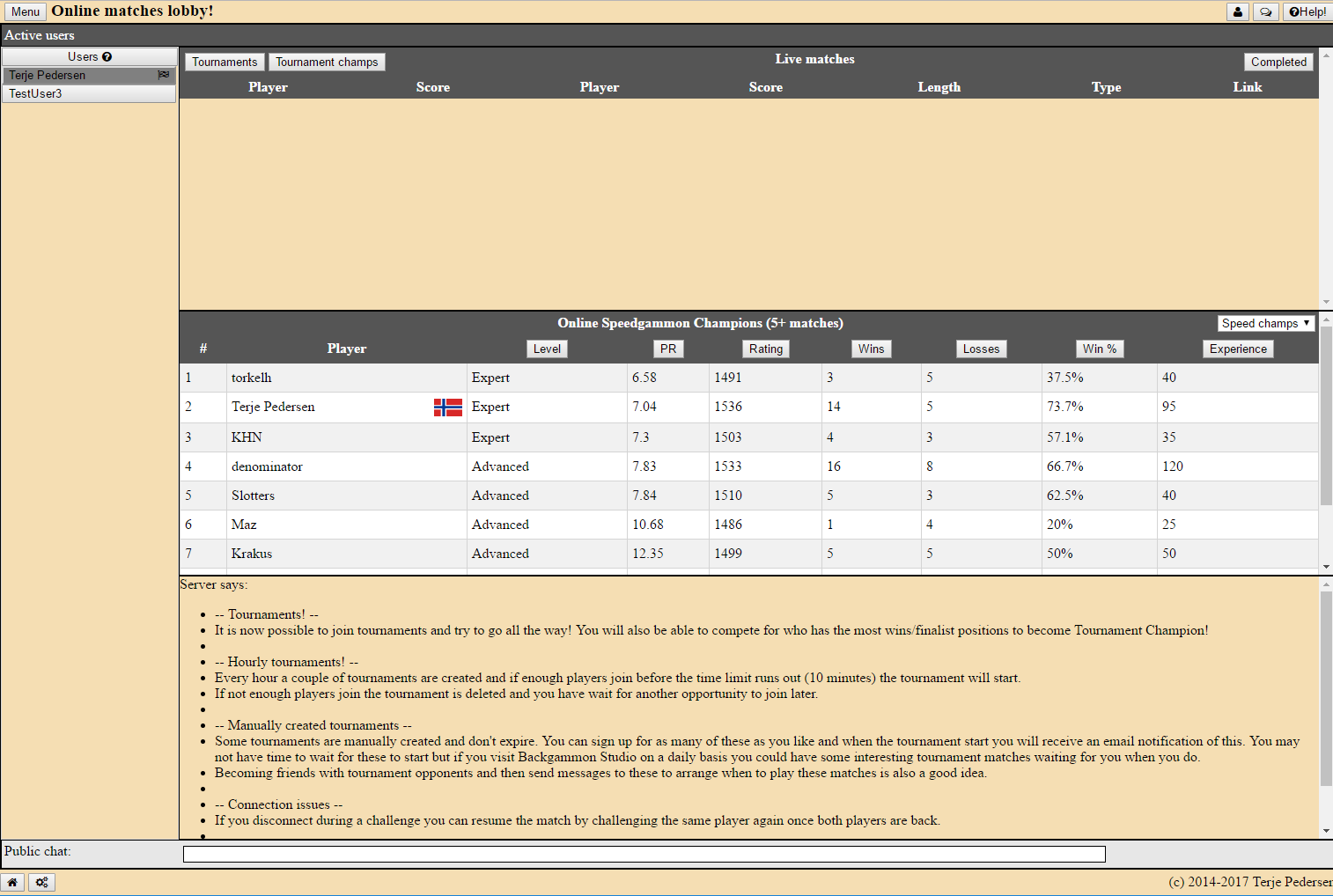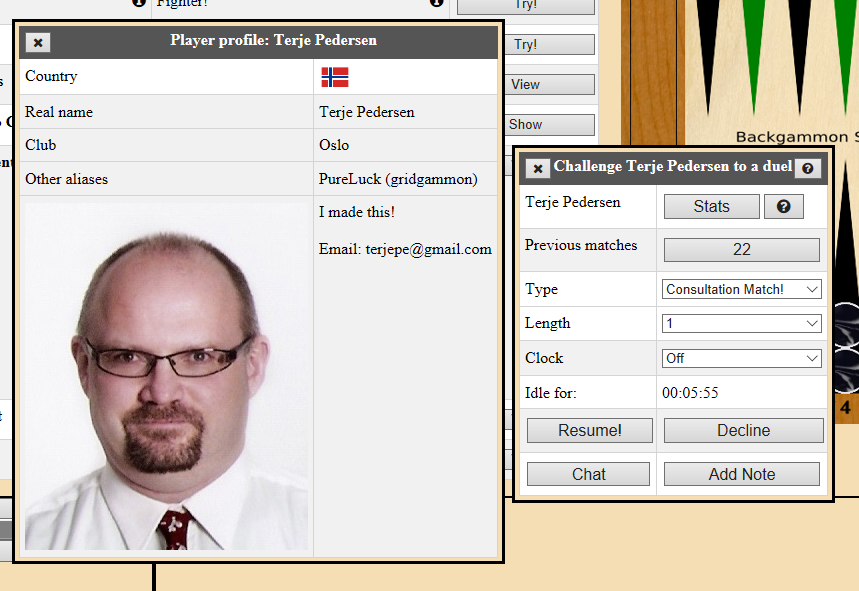 MishyPoo was looking for someone and asked if there were more information available but there weren't any. Now there is! If you would like to add some info about yourself please do!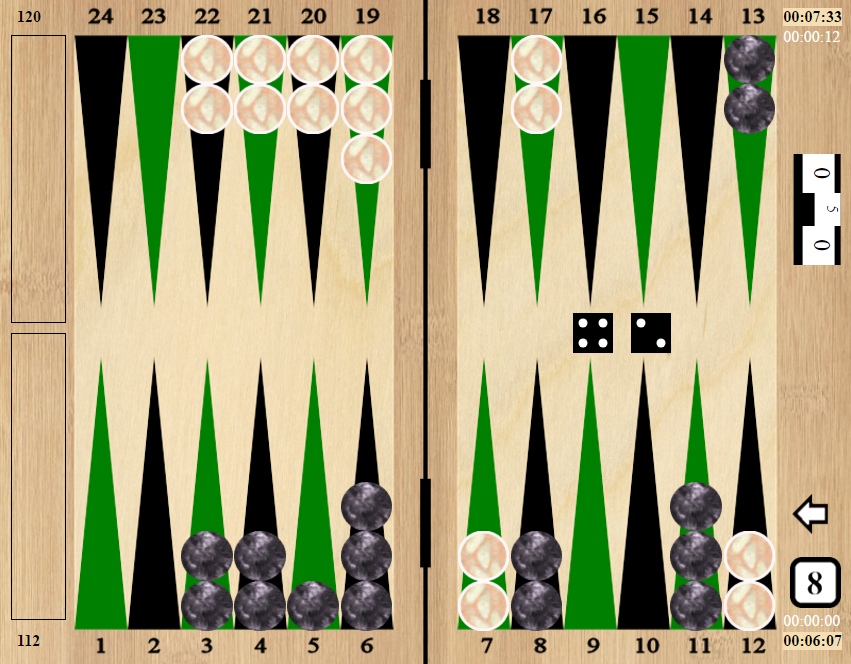 If you are playing a speedgammon match you may want to know how much time you have in the bank. This works best with a separate bronstein clock add part. Suggested by denominator.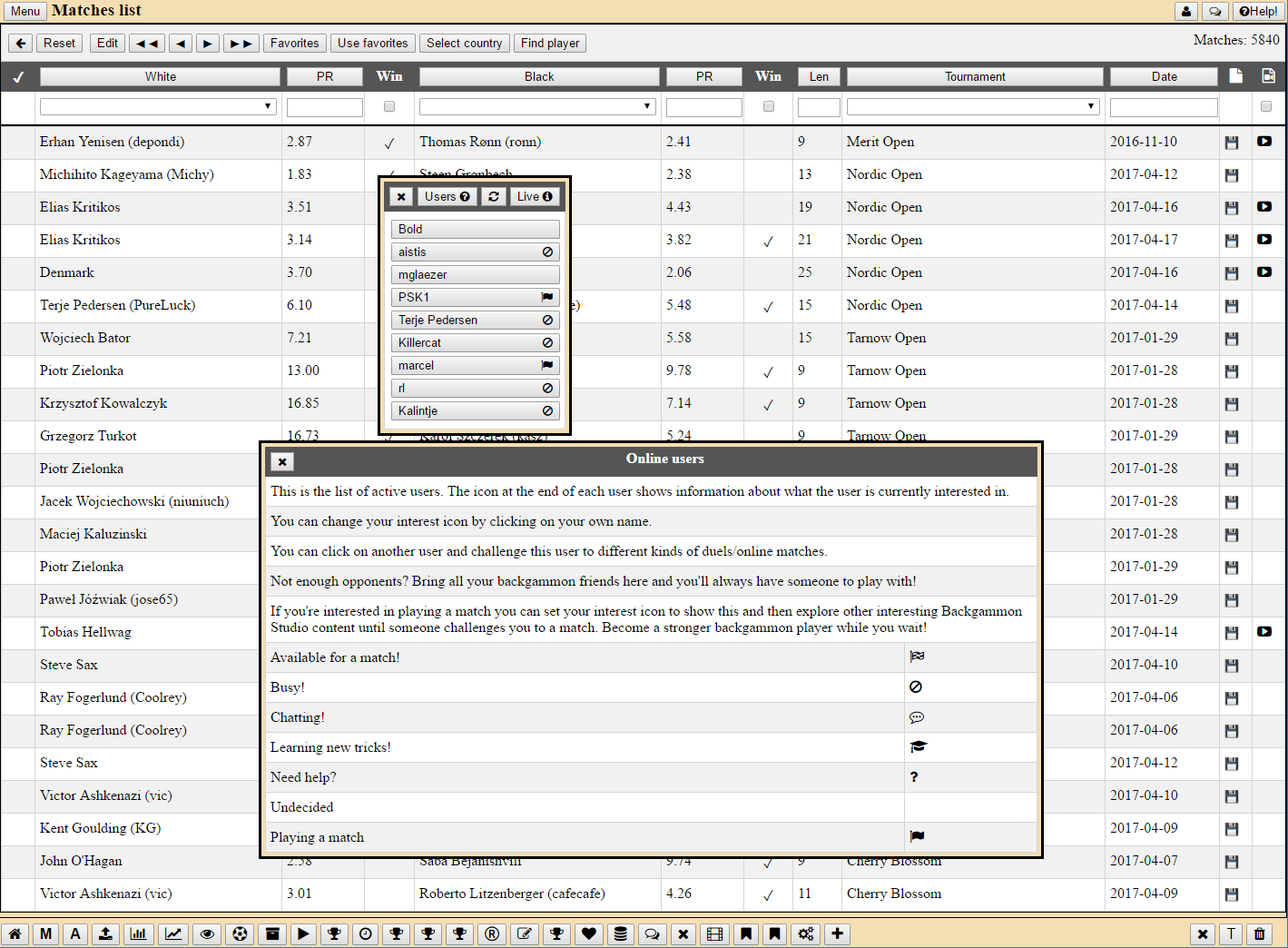 If you invite someone to a match from other locations than the lobby you may not know if this player is already playing a match or not. Now this is visible as a separate icon in the users list (ctrl-u). Suggested by denominator.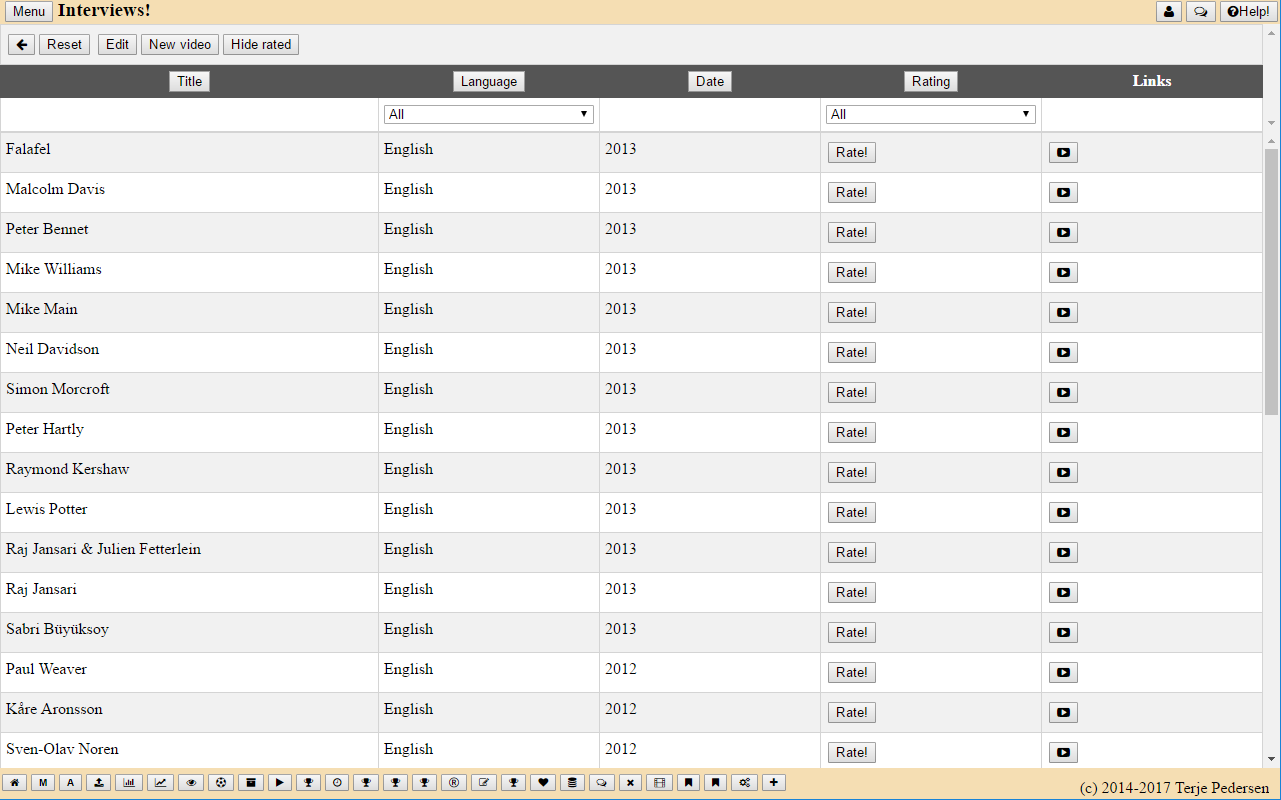 It is nice to put a face to the names in the database and interviews is a great way to learn more about a player. Thanks a lot to those who make an effort to create these videos!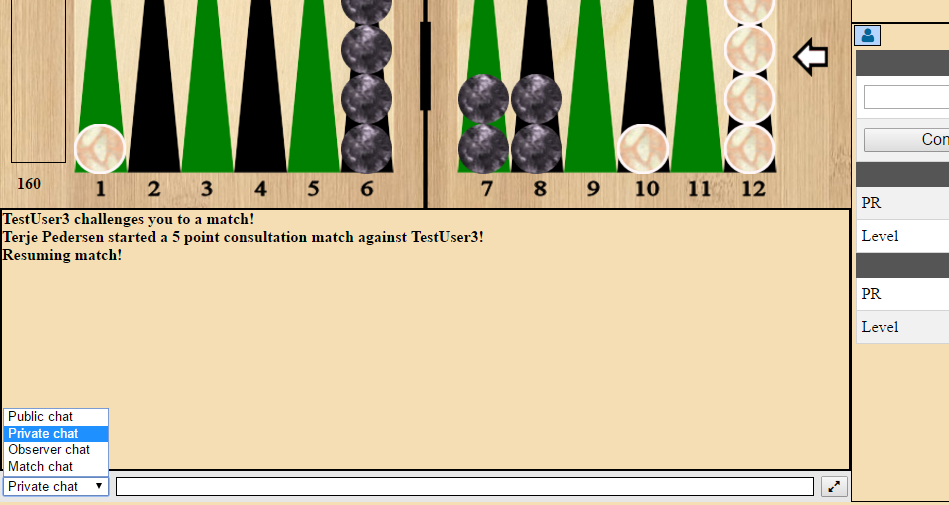 It is now possible for the players of an online match to chat with the observers of a match. Could come in handy in certain situations.
Known issues
On Internet Explorer clicking in input fields may not show the cursor unless you double click. This appears to be an IE bug.

Firefox may have some problems with blinking board. I am not able to see it on my desktop but I did see it on my laptop. I updated firefox and the problem went away. That might be the solution for you too. If not give Chrome a try.
Other news
Almost 5000 online matches have been played on Backgammon Studio so far! Somebody must like it!
https://www.backgammonstudio.com
The swiss army knife of backgammon!
Best regards,
TP